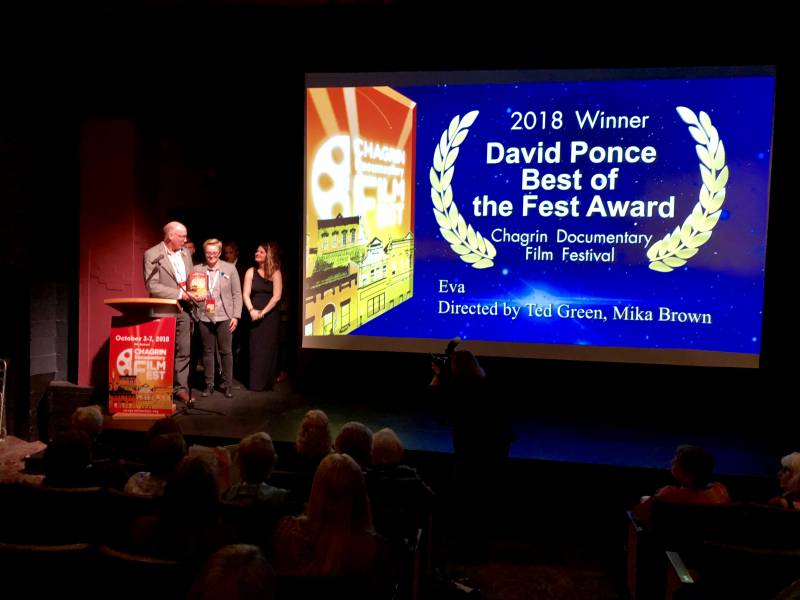 CHAGRIN FALLS, OHIO – "Eva," the WFYI Public Media-Ted Green Films documentary about Holocaust survivor Eva Mozes Kor, took top honors over the weekend at the Chagrin Documentary Film Festival. The film beat out 88 others as the unanimous choice for the David Ponce "Best of Fest" Award given to the production that best exemplifies "what the human spirit is capable of."
"What a tremendous and humbling honor," the show's writer/producer Ted Green said. "I'm increasingly drawn to stories of triumph of the human spirit and I've never seen a greater personal example than Eva Mozes Kor. The good she's doing for others is astonishing and I'm happy people are responding to her story."
After three prior sold out screenings earlier this year, two in Indianapolis and one in Kor's hometown of Terre Haute, "Eva" has just begun its tour of film festivals. It has three showings at the upcoming Heartland International Film Festival, Oct. 12, 14 and 18, and will also be shown at upcoming festivals in Miami, Fla., and Bristol, R.I.
WFYI 1 will offer the world broadcast premiere at 8 p.m. Thursday, October 25 with a special 30-minute behind-the-scenes preview show beginning at 7:30 p.m.
"We have already had a tremendous reaction to this film, which took two years to produce," WFYI President and CEO Lloyd Wright said. "October 25 is the first time people will be able to see this remarkable story without going to a theater, and we're eager to make it available to everyone."
"Eva" will also be featured at the upcoming American Public Television fall conference where it is expected to get picked up by public television stations around the country. Kor will address the national audience with her powerful message of healing and foregiveness.
For more information about Kor or to view a trailer of the film, please visit wfyi.org/programs/eva.
About WFYI Public Media
As a PBS and NPR member station that also produces local and original content, WFYI Public Media serves the public through six 24/7 digital broadcast services. WFYI Public Radio operates on two distinct stations – 90.1 FM and 90.1 HD2 The Point, while WFYI Public Television operates three DTV services (20.1, 20.2 and 20.3). Through intentional community engagement, WFYI has a strong education component, particularly as a hub for the public media initiative American Graduate: Let's Make It Happen, and an ongoing public presence as an organization that amplifies the voices of our community. Additionally, WFYI runs the Indiana Reading and Information Service (IRIS), a reading service for visually - and literacy-impaired people. Learn more at www.wfyi.org.
###