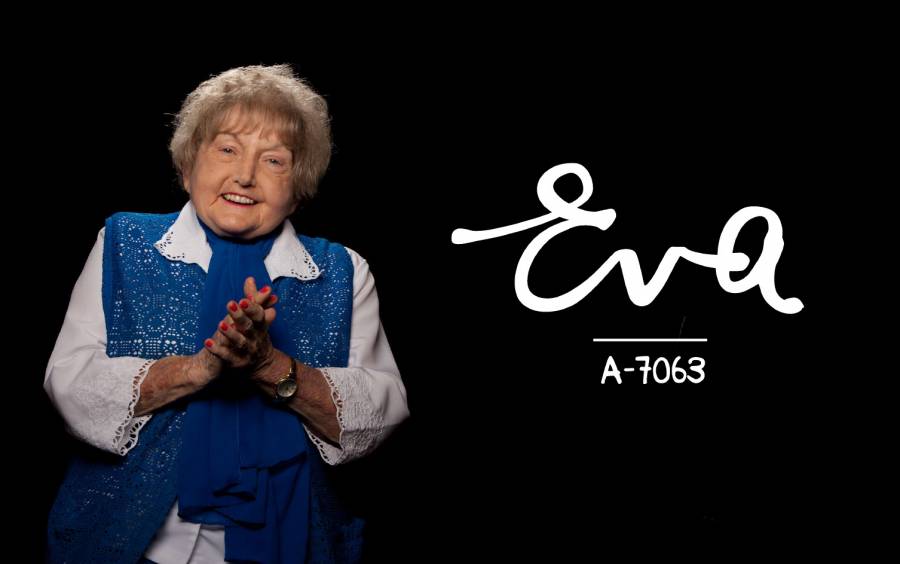 INDIANAPOLIS – Holocaust survivor Eva Mozes Kor stands just 4 feet 9 inches tall, but she'll seem larger than life when "Eva" premieres on the big screen at Clowes Memorial Hall at Butler University Thursday, April 5, 2018. The film, produced by WFYI Public Media in collaboration with Ted Green Films and Mika Brown, offers incredible details about Kor's journey from Romanian Jewish farm girl to Nazi death camp survivor to leading global force on the power of healing through forgiveness.
"I heard (Nazi Dr. Josef) Mengele say that I only had two weeks to live, and I decided I was going to prove him wrong," Kor said about her Auschwitz experience. "I didn't understand what I did. Why did Hitler hate me?"
At age 83, Kor now has a better understanding of why she's endured so many trials throughout her life. Her captivating story doesn't come without controversy, particularly her decision to publicly forgive Mengele, Hitler and all Nazis, and it's all part of "Eva," masterfully written and produced by award-winning local filmmaker Ted Green.
"I've never seen a greater personal example of the triumph of the human spirit than Eva Mozes Kor," Green said. "Her psychological transformation and the good she's doing for others are astonishing."
Green and co-producer Brown have traveled the world capturing heartfelt interviews and stunning scenes of Kor's most significant successes – stories of lives changed after hearing about her experiences and life perspective. The film is narrated by Hollywood icon Ed Asner and includes on-camera appearances from CNN's Wolf Blitzer, former NBA great Ray Allen, TV and movie star Elliott Gould and many others who reveal touching accounts of Kor's impact on their own lives.
Tickets for the April 5 event are $40 and go on sale Friday, January 19 at 10 a.m. through the Clowes Memorial Hall box office and at ticketmaster.com. This premiere is a partnership with Butler University and Heartland Film and is expected to attract an international crowd.
WFYI, CANDLES Holocaust Museum and Education Center and Indiana State University are also partnering together for a second premiere in Kor's hometown of Terre Haute on Saturday, April 14 at Tilson Auditorium at Indiana State. Ticket information and other details for this event will be announced sometime in January.
To view a trailer of the movie or to learn more about Eva Kor, please visit TheStoryofEva.com.
About WFYI Public Media
As a PBS and NPR member station that also produces local and original content, WFYI Public Media serves the public through six 24/7 digital broadcast services. WFYI Public Radio operates on two distinct stations – 90.1 FM and 90.1 HD2 The Point, while WFYI Public Television operates three DTV services (20.1, 20.2 and 20.3). Through intentional community engagement, WFYI has a strong education component, particularly as a hub for the public media initiative American Graduate: Let's Make It Happen, and an ongoing public presence as an organization that amplifies the voices of our community. Additionally, WFYI runs the Indiana Reading and Information Service (IRIS), a reading service for visually - and literacy-impaired people. Learn more at www.wfyi.org.
About Ted Green Films
In 2010, Ted switched to filmmaking after 20 years as a newspaper journalist. Since then he has produced six documentaries, most recently "Attucks: The School that Opened a City," about a long-segregated high school in Indianapolis. Ted's work has won 14 regional Emmys (including Best Documentary for his past three films); first place in the national Associated Press Sports Editors contest; the Fourth Estate Award from the national American Legion; and the Dick Schaap Award of Excellence from the Center for the Study of Sports in Society at Northeastern University. His documentaries have screened on ESPN Classic, at film festivals around the world and at the Naismith Memorial Basketball Hall of Fame. He holds a B.A. from Princeton University and a Masters from the Medill School of Journalism at Northwestern University. More information at tedgreenfilms.com.
About CANDLES Holocaust Museum and Education Center
CANDLES Holocaust Museum and Education Center shines a light on the story of the Holocaust and Eva Kor to illuminate the world with hope, healing, respect and responsibility. CANDLES, Inc. is a registered 501(c)(3) nonprofit organization located in Terre Haute, Ind., with visiting hours of 10 a.m. to 4 p.m. EST Tuesdays through Saturdays. For more information, visit candlesholocaustmuseum.org.
###
Note: Eva Kor and Ted Green are both available for interviews upon request.