WFYI's Commitment To Inclusion, Diversity and Equity
Community Representation Statement Nov, 2023
Public media is for everyone.
WFYI is committed to representing the rich diversity of our community and amplifying stories that represent the experiences of all.
We have created a framework to support our long-term commitment to inclusion at WFYI. Both our board of directors and our staff are working to mobilize our public media resources to serve our communities with an emphasis on diversity, and equity in all our activities.
From its founding, public media has aimed to achieve a core community role: to be a public service that serves all through trusted journalism, inspiring stories and lifelong learning. Our goal is to provide a culture of belonging — on the air, online, in the halls of our facilities and in our interactions with the community — that includes diversity of age, ethnicity, gender and gender identity, language, physical ability, race, sexual orientation, and socioeconomic background. Ultimately, our vision is an informed, inspired and inclusive Indiana.
From Intention to Action
With that vision in mind, WFYI has adopted five pillars of work that center inclusion, diversity and equity in our everyday actions. These pillars are:
WFYI is committed to utilizing our public media resources to serve our communities with an emphasis on equity and humanity in all our activities.
WFYI is committed to impactful journalism and inspiring stories that are fact-based, independent, timely and responsive to the needs of our communities.
WFYI is committed to listening to and engaging with our communities to clarify our focus and to enhance understanding among all, thereby deepening the impact of our programming.
WFYI is committed to universal access, sharing the stories of Central Indiana and delivering our mission on platforms where audiences are now and in the future.
WFYI is committed to the ethical, efficient and effective use of our resources to deliver on our mission of service and ensure our sustainability.
Through these pillars, we can accomplish much. We will insist that our organization, our staff and our work reflect the diversity of the communities we strive to serve. We will include new voices in our storytelling to achieve that goal. We will partner with organizations who share our values to amplify their impact and strengthen our communities. As we realize our commitment to universal access, we will focus on platforms reaching underserved audiences.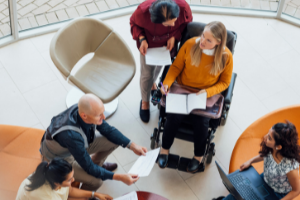 Our Internal Work
WFYI's board will review its Community Representation Statement, strategies and goals annually.
Additionally, WFYI's board of directors has established a committee on Inclusion, Diversity and Equity and included members of the WFYI staff to serve. This has elevated IDE work to the highest level of the organization. The committee's focus is on exploring how the board and staff can mobilize people, resources, and ideas to address issues of inequity impacting WFYI and the communities we serve. That exploration is wide-ranging, including staffing, organizational culture, board composition and culture, programming choices, community partnerships, and community outreach and leadership. The committee helps develop and present recommendations for addressing issues to the board and senior management.
We engaged with an independent organization to conduct anonymous cultural assessment surveys of our employees, board, and organization. The results helped us set a benchmark for where we are and how our internal efforts and impacting the culture of the organization. We will repeat the assessment at regular intervals to measure progress as well as any new areas identified for improvement.
WFYI has signed on to Public Media For All, a diverse coalition of public media stations and individual workers, led by people of color. This commitment comes with several action items that WFYI is actively focused on achieving and maintaining in the years to come. WFYI is working intentionally toward these efforts and tracking our progress for staff, board and our audiences.
The committee's charge, to promote and advocate for diversity, equity and inclusion to be a priority of the organization, is being supported through these 2024 calendar year goals:
Provide regular opportunities for staff to become educated and empowered to be good stewards in this work.
Provide multiple spaces for staff to share concerns and experiences related to inclusion, diversity and equity.
Reviewing and improving internal processes through a lens of equity.
Continuing review and updates of hiring practices with management.
Questions about WFYI's Inclusion, Diversity and Equity Staff Working Group can be directed to inclusion@wfyi.org.
Explore & Support WFYI's Community Impact