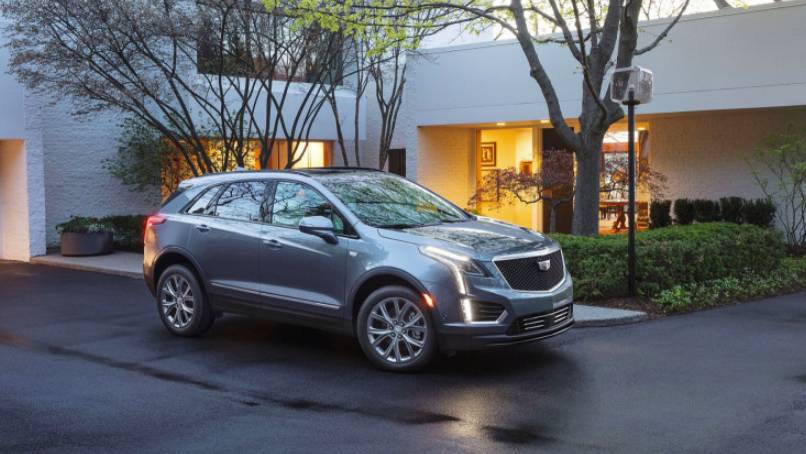 2020 Cadillac XT5 Sport Expresses Its Darker Side
Cadillacs once had an edgy style directly linked to the derelicts of rock and roll. They were big, flashy, powerful, luxurious, and for as long as anybody could remember, befinned. Over the decades, the brand's image has matured into a softer persona. There was clearly room to give the XT5 mid-size crossover a darker personality. Consider the 2020 Cadillac XT5 Sport.
Styling encompasses a modern interpretation of classic Cadillac themes. You see it in the vertical LED headlamps, sharp creases, formal windowline, and rear finlike taillamps that bend into the fenders. I especially like the line that rises from the front door into shouldered rear fenders and accentuates Cadillac's trademark lamps. The Sport package calls for darker trim and a black mesh grille. It all rides over 12-spoke 20-inch wheels with pearl nickel paint. From any angle, it's clearly the Cadillac of mid-size crossovers.
Sliding inside, luxury comes in layers of smooth and perforated materials that cascade from the dash to doors. Sport models get swaths of carbon fiber trim, too. Deep pile carpeting, soft leather seats, and nickel finishes add ambience. Heated front seats and a heated steering wheel keep everybody comfy – as do a twin-pane sunroof and crisp Bose audio system. Click the rearview mirror to switch between glass and unobstructed video display.
Cadillac continues to refine its infotainment system. In previous generations it was a total swipescreen while the newest version employs a console joywheel to augment functions. It's easier to flip through menus for audio, navigation, and phone. Passengers can also command the touchscreen directly or use voice. Apple CarPlay, Android Auto, and 4G Wi-Fi connect devices easily while wireless phone charging keeps them humming.
Being a Cadillac, the XT5 comes with all of GM's safety technology that includes adaptive cruise, forward collision alert, auto emergency braking, and blind spot warning systems are a good start. There are also rear pedestrian alert and driver safety alert seat that vibrates in the direction of danger. Keeping kids safe in summer is a rear seat reminder that detects little humans. A reconfigurable head-up display hovers key driving info over the hood, pointing drivers down-road.
Good place to go. Base models come with a turbocharged four-cylinder engine, but Sport editions roam standard with a 3.6-liter V6 that delivers 310 horsepower and 271 lb.-ft. of torque through a smooth-shifting 9-speed automatic transmission. Cylinder deactivation and auto stop/start optimizes fuel economy, which is rated 18/25-MPG city/highway. I could do without stop/start, but it can be turned off.
While the XT5 shares its architecture with other GM crossovers like the GMC Acadia and Chevy Blazer, Cadillac owners get all of the good stuff. Beyond unique style, real time suspension damping gives the wagon a controlled ride while the drive mode selector adjusts the throttle and steering weight from Touring to Sport. The former stays in front-drive mode unless the computer detects slipping while Sport mode employs all-wheel-drive to improve handling all the time.
The XT5 carries with it a sense of style and heritage no other luxury crossover can match, yet the XT5 is not a dark-souled track blaster. No matter what GM does to the XT5, it will never have the crisp handling of a rear-drive German crossover. There's a lightness to it that are simply part of driving a large front-drive box. But, who cares? Certainly not most luxury buyers. For them, Cadillac delivered an incredibly pleasant and stylish alternative to the Lexus RX, Audi Q5, and Acura RDX. A base price of $44,095 or $59,340 as-tested seems appropriate.

2020 Mercedes-AMG GLC43 Looks Ravishing
She looks ravishing in blue, the 2020 Mercedes-AMG GLC43 that is. And, not just any blue: Brilliant Blue Metallic. That could be because German automakers tend to offer multiple shades of gray, black, and white instead of any other hues from outside the asphalt menu, but it could also be the crossover in question looks ready to ravish fast roadways, spit out quick turns, and spoil four lucky passengers in clubroom luxury – no matter its color. Let's take this Jezebel for a spin around the ballroom.
Get a load of sassy attitude curbside. It begins with the AMG family grille with menacing vertical chrome fins and continues to the angry LED headlamps, glistening 21-inch wheels, and accentuated side sills that visually lower and elongate the compact crossover. A wide spoiler and long hatchback tell everybody you went for sexiness over practicality. Around back, the rear diffuser, twin exhaust outlets, and LED taillamps' unique signature raise a finger to slowpokes who quickly realize they just got the full AMG treatment.
Basic interior design is a generation behind the latest Mercedes models, but you won't care. As in proper C-Class sedans and two-door coupes, the cabin centers on a large slab of curved wood beneath the infotainment screen, which can be accessed via joywheel or touch. Tap in to listen to the crisp Bermester audio system, connected to devices via Bluetooth, Apple CarPlay, and Android Auto.
Navigation and dual-zone automatic climate control add conveniences fortified with an array of safety gear: Blind spot warning, active park assist, surround-view camera, and rear cross traffic alert. There are also active lane change assist, adaptive cruise with lane centering, forward collision mitigation braking, and evasive steering assist to keep wheels out of ditches and fenders out of paint shops.
You would expect all of that, but the GLC43's passenger zone is awash in upscale decadence from natural grain black ash to aluminum trim and the Nappa leather flat-bottom steering wheel. Sport seats are trimmed in black MB-Tex for easy cleaning and long wearability. It all smells like wealth, but get out and pop the hood.
The red aluminum insert with AMG lettering tells you this crossover is special. Larger turbochargers stoke the 3.0-liter biturbo V6 to 385 horsepower and 384 lb.-ft. of torque. In a car this size, planting power to pavement with 4MATIC all-wheel-drive and a quick-shifting 9-speed automatic transmission, that's plenty – enough in fact to launch from 0-60 mph in 4.7 seconds on the way to a 155 mph top speed. Fuel economy of 18/24-MPG city/highway is unimpressive, but would be worse without auto stop/start.
Further AMG trickery allows the GLC43 to transform from a refined highway cruiser to backroad bruiser. Pilots can choose from five drive programs: Slippery, Comfort, Sport, Sport+, and Individual with each adding intensity to the experience. In no mode, however, is the GLC43 an S560. The air suspension adjusts for Comfort, Sport, and Sport+. Individual mode allows owners to configure their personal style. Want a sensitive throttle and comfortable suspension? No problem. In whatever mode, press a button to get the full throated roar from the AMG sport exhaust system.
The GLC43 Coupe is a strange concoction, drawing inspiration from generations of C-Class coupes, the original ML SUV, and a healthy helping of gullwinged supercars. It looks radiant dressed for formal affairs, or elegantly sporting for backroad romps – however you want to enjoy it. Just skip the boring color palette and choose something more beautiful than all of the cars in Mercedes press shots…something like Brilliant Blue Metallic.
Base GLC coupes start at $50,000, but the GLC43 rises from $63,000. Our well-equipped model rumbled its exhaust for $71,160.
Storm Forward!
Send comments to Casey at AutoCasey@aol.com; follow him on YouTube @AutoCasey.
2020 Cadillac XT5 Sport
Five-passenger, AWD Crossover
Powertrain: 3.6-liter V6, 9-spd trans
Output: 310hp/271 lb.-ft. torque
Suspension f/r: Elect Ind/Ind
Wheels f/r: 20"/20" alloy
Brakes f/r: disc/disc
Must-have features: Style, Comfort
Fuel economy: 18/25 mpg city/hwy
Assembly: Spring Hill, TN
Base/As-tested price: $44,095/$59,340
2020 Mercedes-AMG GLC43
Five-passenger, AWD Crossover
Powertrain: 3.0-liter TV6, 9-spd trans
Output: 385hp/384 lb.-ft. torque
Suspension f/r: Air Ind/Ind
Wheels f/r: 21"/21" alloy
Brakes f/r: disc/disc
Must-have features: Style, Capability
0-60 mph: 4.7s
Fuel economy: 18/24 mpg city/hwy
Assembly: Bremen, Germany
Base/As-tested price: $50,000/$71,160