Nissan Armada Platinum Reserve Comes From Solid Stock
With stables of recently redesigned full-size SUVs, Nissan's competition is ramping up expectations for three-row SUVs capable of carrying large families, serving as limousines, or towing weekend toys to the park and back. But, Nissan's venerable second-generation Armada comes from solid stock, proven around the world. Dressed up in posh Platinum Reserve trim, the 2020 Armada continues to find favor with enthusiasts who know this truck well.
If the Armada looks a little too familiar, that's because it is essentially the same big wagon as the Infiniti QX80 domestically and Nissan Patrol, that you usually see with white paint and UN logos, globally. If it seems large, it's actually smaller than the previous Titan-based edition. Still, it's a pretty solid all-terrain platform that's nattily dressed with a big bad grille, LED headlamps, and chrome window trim with upturned line at the rear. Sculpted step bars help move you inside.
There are acres of ritzy woodgrain on the dash, doors, and console. It's all fake, but looks legit unless you go tap-tap with your fingers. Keep tapping to find lots of stitched padded coverings that are pretty posh. Heated and ventilated front seats, heated second row outboard seats, heated steering wheel, dual-zone auto climate control, and 13-speaker Bose audio add luxury – as do air vents for the rear seats, power folding third row seats, and a power hatch. Navigation gets you there. Safety is enhanced by adaptive cruise, forward collision alert with auto brake, lane keep assist, and blind spot intervention systems.
That would all be nice enough, but our Platinum Reserve luxury package elevated the Armada's style to that of a leather-lined, all-capable motor tank. The exterior is belied by dark chrome grille, door handles and outside mirrors while the interior is trimmed in ranch-ready two tone brown/charcoal leather with rough texture, middle row captain's chairs separated by a center console, and illuminated kick plates. Add to that dark painted roof rails and 22-inch wheels for serious panache.
A leather-laden truck deserves an equally sumptuous powertrain, and the Armada gets one: A 5.6-liter V8, delivering 390 horsepower and 394 lb.-ft. of torque, connected to a 7-speed automatic transmission and electronic all-wheel-drive system. It has a nice roar under full throttle and that's plenty of muscle to get the big truck up and moving while empty or towing 8,500 lbs. But, you'll pay for the privilege if you exercise the big pedal too much as fuel economy rates 13/18-MPG city/highway.
There's no mistaking the Armada is a tough heavy truck when you drive it, but the independent rear suspension and meaty tires do their best to take the rough out of roads and to keep it from heaving its way through corners. For a fully framed SUV, it's smooth enough, but it will still make you aware you're driving a big truck if you go bounding over bumps. At the end of the day, it's an off-road machine dressed for the symphony, ski lodge, or just shuttling your offspring in ridiculous comfort.
There are newer luxury-focused full-size SUVs on the market, but the big Armada is a pretty nice SUV for seven lucky passengers. A base price of $47,100, or $71,730 as tested, makes it pricy competition for the Chevy Tahoe, GMC Yukon, Ford Expedition, Toyota Land Cruiser, and Dodge Durango.
Toyota Highlander Is The Enduring Platinum Family Wagon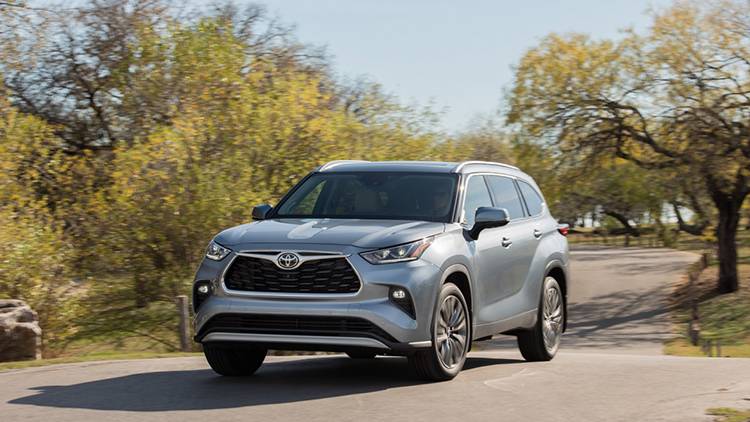 When the Toyota Highlander arrived for 2001 as a more affordable version of the ground-breaking Lexus RX, it changed the industry. Unlike almost all SUVs at the time, the Highlander rode on a version of the Camry's unibody architecture instead of a truck frame. This gave the vehicle the space of an SUV, but the ride and handling of a mid-size sedan. Every automaker followed Toyota's lead since. Completely redesigned for 2020, the Highlander proves it still leads the segment it helped create.
It's not easy to make what is a very large box stylish, but Toyota's designers performed admirably by giving the Highlander a wide stance, beefy hoodlines, deftly chiseled bodysides, and wedgy taillamps. Its rear fenders could be mistaken for classic Mercedes, which feel very upscale on a three-row crossover. Our Platinum trim is further distinguished by a black grille with chrome trim, chrome-plated lower rear facia, projector headlamps, and unique 20-inch wheels. The body is 2.36 inches longer, which appears in the cargo area and by allowing an additional 1.2 inches of slide for the middle row.
That space pays dividends inside where passengers will think they stepped into a luxury limo. Embossed and perforated leather seats look more Maybach than Toyota, especially when heated/ventilated up front and heated in the middle row. A heated steering wheel, panoramic sunroof, three-zone climate control, and 1,200 watts of JBL audio bring it too.
Life in the front row is dominated by a flashy 12.3-inch touchscreen that comes standard on Platinum editions (an 8-inch version is standard). It intuitively controls the audio and navigation systems, employing actual tuning/volume knobs, Apple CarPlay, Android Auto, and Alexa In-Car compatibility. Devices further connect with onboard Wi-Fi and wireless charging in the armrest. From behind the wheel, I especially appreciated the wide head-up display, rain-sensing wipers, and digital image rearview mirror. A birds-eye camera eases maneuvering in tight quarters.
Behind the chrome winged Toyota badge is a 3.5-liter V6 delivering 295 horsepower and 263 lb.-ft. of torque – all routed to the optional all-wheel-drive system through an eight-speed automatic transmission. That's the right amount of power for a vehicle this size – enough to stomp onto freeways and pass on two-lane highways while balancing fuel economy, which rates 20/27-MPG city/highway. Properly equipped, the Highlander can tow up to 5,000 lbs. of RV, boat, or classic car.
If there's a downside to large boxes on car chassis it's that they sometimes feel hollow and bouncy. There's some of that with the Highlander, but engineers tuned the four-wheel independent suspension to provide a controlled and comfortable ride. Thicker windows and more insulation keep things quiet. Dynamic torque vectoring AWD over-rotates wheels to help sharpen corners and give the big wagon a nimble feel. There's also a drive mode selector that configures torque transfer between front/rear wheels and side-to-side. It's all quite sophisticated.
Given the Highlander's key mission of transporting families, safety was a priority. Toyota's Safety Sense 2.0 comes standard on all 2020 Highlanders and includes pre-collision alert with pedestrian detection, crash mitigation auto braking, full-range adaptive cruise control, lane departure alert with steering assist, and lane tracing assist. You can also add a blind spot monitor, rear cross traffic alert, rear auto braking, and parking sensors. The Multi-Terrain Select control system configures the powertrain for Mud & Sand or Rock & Dirt. Hill start assist and hill descent control help too.
The auto industry has changed tremendously since the Highlander first rolled out, but Toyota continues to evolve and adapt the crossover to America's needs. By adding a third row, power, luxury, and advanced safety systems, Toyota kept the Highlander on top. Base models start at $34,600, but rose to $49,225 for our Platinum edition with all-wheel-drive. Key competitors include the Subaru Ascent, Honda Pilot, Kia Telluride, Buick Enclave, and Ford Explorer.
Storm Forward!
Send comments to Casey at AutoCasey@aol.com; follow him on YouTube @AutoCasey.
2020 Nissan Armada Platinum Reserve
Seven-passenger, 4WD SUV
Powertrain: 5.6-liter V8, 7-spd auto trans
Output: 390hp/394 lb.-ft. torque
Suspension f/r: Ind/Ind
Wheels f/r: 22"/22" alloy
Brakes f/r: disc/disc
Must-have features: Interior, V8
Fuel economy: 13/18 mpg city/hwy
Assembly: Japan
Base/As-tested price: $47,100/$71,730

2020 Toyota Highlander Platinum
Seven-passenger, AWD Crossover
Powertrain: 3.5-liter V6, 8-spd trans
Output: 295hp/263 lb.-ft. torque
Towing: 5,000 lbs.
Suspension f/r: Ind/Ind
Wheels f/r: 20"/20" alloy
Brakes f/r: disc/disc
Must-have features: Style, Capability
Fuel economy: 20/27 mpg city/hwy
Assembly: Princeton, IN
Base/As-tested price: $34,600/$49,225