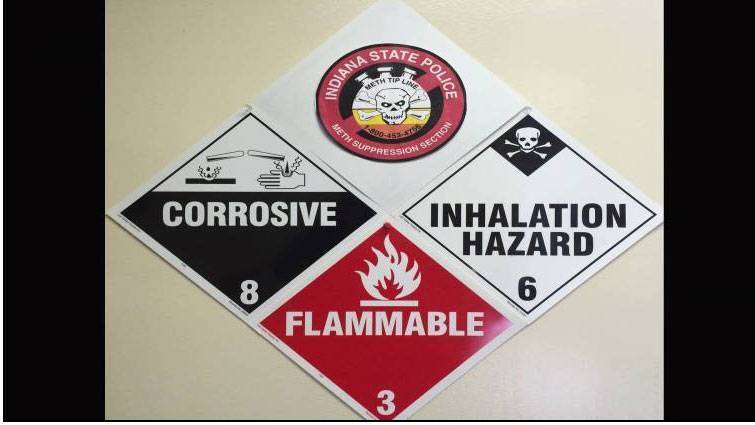 A meth hazard sign. Photo by Leigh DeNoon.

The number of meth lab busts by the Indiana State Police decreased more than a third – down from 1452 in 2015 to 943 in 2016. But ISP Sgt. Mike Toles says there's still a high demand for the illegal stimulant.
"The quality of methamphetamine that's being provided in the crystal form or the imported form for roughly the same (dollar) amount and you don't have to go through the chances of manufacturing. We believe that's had a large impact. We've also seen an increase in heroin use," Toles says.
The north zone supervisor for the state police meth suppression unit says investigators can spend more time on interdiction.
"We're still obviously having to address domestic production – because it's still happening, but now we're able to dedicate some resources to investigating the importation of methamphetamine," he says.
The decline in meth labs began last year, Toles says, even before the new law requiring pharmacists to police sales of pseudoephedrine – the main meth precursor - took effect July first.
On the positive side, Toles says the decrease in homemade meth means fewer Hoosier kids and families are being exposed to the extremely toxic chemicals. But, he says, the decrease in labs doesn't mean the problem has lessened.
"I hope people don't forget about methamphetamine. We have a lot of meth addicts and we have a lot of people that have some serious issues that are self-medicating – whether it be through meth or heroin. That's something we need to get a grasp on here in the Midwest," he says, "and get them the help they need before they start self-medicating."