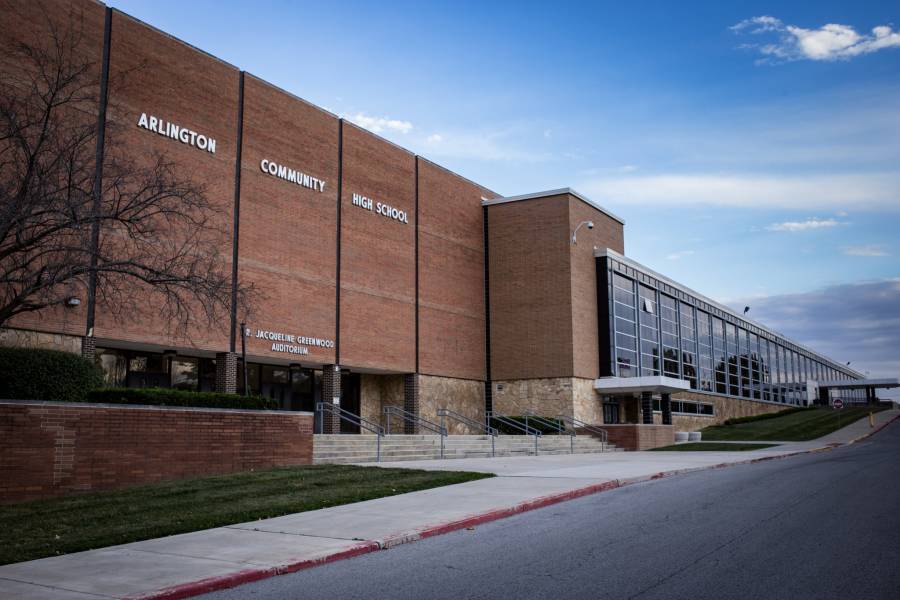 After three years under management of a private charter company and nearly a decade of chronic failure, Arlington Community High School has returned to Indianapolis Public Schools. It's the first school under state intervention to transition back to its home district and school leaders are under pressure from the community and state to make it work. WFYI education reporter Eric Weddle spent the 2015-16 school year reporting from inside the school on its successes and challenges.
Below are some of the reports that were filed throughout the school year:
A New Day Series
Published June 10, 2016 "... there was so many doubters that didn't believe many of you would be here tonight -- but you -- you prove everyone wrong."
Published March 8, 2016 A parent and group of teenagers were arrested Tuesday after allegedly forcing their way into Arlington Community High School over an ongoing feud between students.
Published March 2, 2016 After seven months, there's now hugs and fist bumps between students and staff at Arlington but some students still struggle to focus on learning and make graduation requirements.
Published Feb. 25, 2016 The stage lights are back for the first theatrical performance since the school restarted last summer.
Published Feb. 4, 2016 Violent death of the popular 16-year-old Jaylan Murray plunged the school into a state of shock and mourning.
School, Alumni Rally For Arlington Student Athlete Hit By Vehicle
Published Dec. 23, 2015 A student in need at Arlington High School has forged a common cause for classmates, staff and alumni
Published Dec. 2, 2105 Principal Stan Law told State Board of Education Wednesday that the school had seen a "nearly 100 percent turnaround" in student behavior but there are still much improvement to be made.
Published Dec. 1, 2105 The Indiana Department of Education and IPS remain at odds over whether the 2014-15 grade for Arlington should be assigned to IPS or charter company Tindley.
Published Nov. 4, 2105 Arlington is called a "top concern" by the Indiana Department of Education official overseeing its transition due to the school's ongoing turbulent atmosphere.
Published Oct. 16, 2105 During fall break, 104 students are required to attend remedial lessons in math and English to help them pass exams required for graduation -- yet few take advantage of teacher's one-on-one lessons and calm environment.
Published Oct. 8, 2015 Hall monitors, another dean and more staff for Arlington is approved by IPS administrators, as Peace Learning Center begins Peers Making Peace program and coaching teachers to interact with students.
Arlington Seeks More Staff Amid Struggle To Control, Help Students
Published Sept. 13, 2105 Six weeks into the school year and a combination of factors are emerging that seem to contribute to the unsettled school atmosphere as students skip class, act out and some are even suspected of stealing a teacher's car.
Published Sept. 13, 2015 Observations from reporting inside Arlington Community High School: How a series of events on Aug. 26 impacted every student at the school.
200 Students Are Missing From Arlington High School As IPS Hopes For 'Rebirth' After State Takeover
Published Aug. 19, 2015 It's been 12 days since school began and more than 200 students expected at Arlington High School have yet to show up.
Published July 1, 2015 Students who attended Arlington under charter school company Tindley try to decide whether they will remain at the school under IPS leadership.