Tammey Lindblom is the director of Right Steps Child Development Center, and oversees seven child care centers in the Lafayette area. Since the pandemic began, every day presents a challenge they've never encountered before.
"I was actually on the phone with a director," she said. "A grandma was exposed to her grandchildren, who work in the center. What do we do? So it's like, OK, let's think about this one."
Lindblom counts herself lucky for avoiding permanent closure for any facilities. Since the start of the pandemic, she's had to temporarily close one center due to COVID-19 exposure just two times. After those closures, she and her staff improved social distancing measures by restricting teachers and students to certain classrooms. Now if someone is exposed, they're able to quarantine a single classroom instead of a whole center.
But planning around COVID-19 exposure is not Lindblom's only issue.
"Our enrollment has probably dropped lower than it has been in years," she said. "Our goal is always to be around 90 percent enrolled. And, midstream of all this, none of my centers were over like 65 percent."
Lindblom's facility next to Purdue University was particularly hard-hit. After the university sent thousands of its employees home last spring, that daycare center saw a huge drop in enrollment, from a pre-pandemic level of 70 percent all the way down to below 50 percent at its lowest. Today, that facility is back up to 63 percent.
Right Steps centers' enrollment challenges aren't unique across the state. According to a recent survey by the Office of Early Childhood and Out-of-School Learning, 73 percent of child care providers in Indiana reported that their enrollment was down since the start of the pandemic.
Low daycare enrollment is a new problem for Indiana, especially among child care facilities like the ones Lindblom operates — those graded as high-quality by the state. A shortage of quality child care seats in both urban and rural areas was one of the biggest issues facing the industry even a year ago.
"I think if we'd been having this conversation in 2019, we would have been talking about exactly that," said Maureen Weber, executive director of Early Learning Indiana. "There are places in the state where there are child care deserts, where, for particular audiences especially, there is not sufficient access."
But in the last year, even Weber saw the high-demand facilities that Early Learning Indiana helps operate drop to as low as 15 percent its pre-pandemic enrollment levels — far from the over 80 percent enrollment their centers needed to break even financially. Weber said that even as they watched enrollment start to slowly pick back up at the start of 2021, the organization lost money each month.
"And this is an industry that barely breaks even on a good day," she said.
Child care facilities have many requirements, like staff-to-children ratios and safety regulations within kitchens and play areas. Properly adhering to those requirements costs money, and it means child care margins were razor thin even before COVID-19.
"It doesn't take much at all to put entities out of alignment and make it really hard for them to continue to operate," Weber said. "And that's where lots of providers around the state are."
The Future
It's still unclear what the pandemic will spell for the future of the child care industry. The state of Indiana has helped distribute nearly $70 million to support the state's daycare providers, allowing them to stay open and safe. According to Indiana's Office of Early Education and Out-of-School Learning, less than 20 providers that accept child care vouchers from low-income families have closed in the past year.
Yet, a survey conducted by that same office also found that one in five providers said they weren't sure they could make it to the end of the pandemic.
"I think there's just a lot of ambiguity in the numbers," Weber said. "We're all sort of wondering what this means."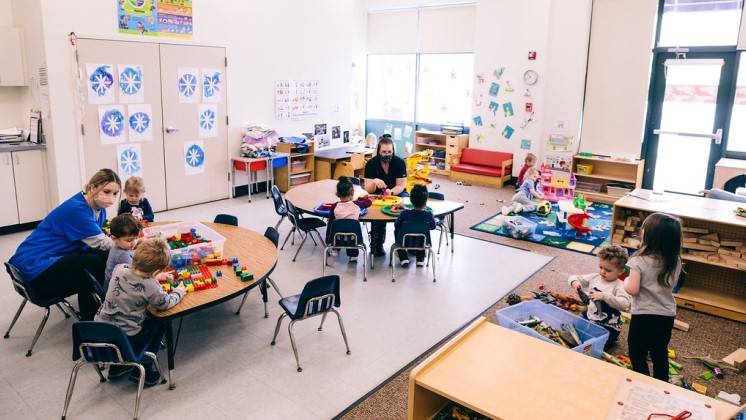 For now, many of the providers that received pandemic support money through statewide grants say it was lifesaving for their business.
Lindblom herself applied for closure assistance grants from the state of Indiana, federal paycheck protection program funds, and Early Learning Indiana's Come Back Stronger grant administered over the summer. She put some of that money towards purchasing personal protective equipment and extra cleaning supplies for her staff, as well as new supplies to keep young learners engaged in a COVID-safe way.
She said that infusion of extra money into her budget was vital to keeping her centers running through their prolonged drop in enrollment.
READ MORE: Lack Of Affordable Child Care Cost Indiana Employers $1.8 Billion Per Year
"Even though we closed down for two weeks, we still have to pay rent," she said with a laugh. "We still have to pay lights. We still have to do all of that. So now that we have this little cushion, we don't have to worry about going out and spending [money] on markers, because we have some support for that."
Looking ahead, all eyes are on the Biden administration's next round of COVID relief funding, which currently allocates $40 billion to distribute to the child care industry. Of that, $25 billion would go towards fulfilling basic needs like rent and utilities.
"I think we'll be okay," Lindblom said of the center's overall outlook. "If we have to close a center, we'll still be okay. We would keep the others open. You know — we want to be here. We want to help."
Contact WFYI business and economy reporter Pria Mahadevan at pmahadevan@wfyi.org. Follow on Twitter: @priamaha.