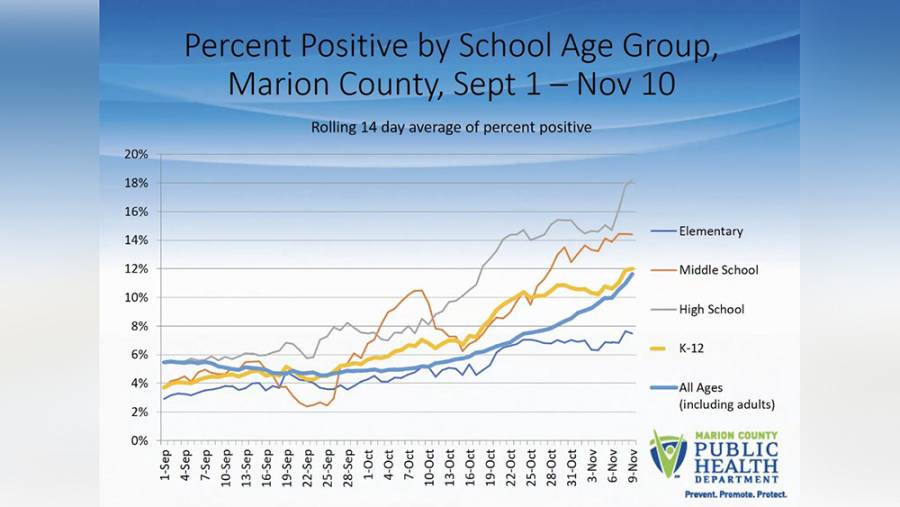 All public and private K-12 schools in Marion County must close buildings and transition to virtual teaching by Nov. 30 and continue remotely into at least mid-January, the Marion County Public Health Department ordered Thursday.
A surge in positive cases for middle and high school students is a top concern. Marion County Public Health Director Dr. Virginia Caine said while students don't appear to be spreading the virus inside school buildings, they are contracting through interactions in the community.
When community spread is rapid as what is happening in the county, it is harder to keep transmissions down inside schools, Caine said.
The change comes as state and local health officials face a steep increase in overall coronavirus cases. Thursday, Indiana set a new single-day record of positive cases for a second straight day. The 6,654 cases reported is 29 percent above the previous day's record.
Marion County's positivity rate is 10.7 percent for all cases, based on a seven-day average with 943 new cases reported.
"This is our critical point where we really have to crack this," Caine said.
For the first time, the county's positive rate for high school age students is at 18 percent and just more than 14 percent for middle school students. Caine warned the positive rate for elementary-age students could reach 12 percent and higher by the end of this week.
Some of Marion County's 11 public school districts have already announced their plans: Wayne Township Schools start remote instruction Monday. Washington Township Schools will transition to virtual learning later next week. Lawrence Township Schools, Indianapolis Public Schools and Franklin Township Schools will start virtual instruction Monday, Nov. 23.
The order to return to remote learning will impact around 200,000 students in public and private schools in Marion County.
Restrictions for businesses
Businesses also face new restrictions, such as limited capacity at bars and gyms. Social gatherings will also be limited. People who want to visit someone indoors at assisted living facilities must have a negative COVID test within 72 hours of the visit.
Indianapolis Mayor Joe Hogsett said it appears community spread of the virus is happening at social gatherings, weddings, funerals and employees returning to work. Private homes are also becoming a new source of infections between extended family.
"I want to again plead with every resident in our city to be safe, wear a mask, avoid crowds and avoid unnecessary trips," Hogsett said. "That way fewer of us will contract the virus and bring it home."
Hogsett warned that the community must change how it celebrates the holidays during the next two months.
"There is no responsible way to pretend this Thanksgiving and the ensuing holiday season that follows will be normal," he said. "I want to urge residents to scale back their Thanksgiving gatherings."
The new Public Health Order goes into effect Monday and it includes:
Bar capacity at 25 percent indoor, 100 percent outdoor capacity
Restaurant capacity at 50 percent indoor, 100 percent outdoor capacity
Special or seasonal events, like concerts, movie screenings, fairs are now limited to 50 people or fewer unless the event has an approved safety plan from the health department.
All other social gatherings of more than 25 people are prohibited.
Funeral homes must return to 50 percent capacity.
Museums, cultural sites, music venues, movie theatres, bowling alleys, and other cultural and entertainment venues are limited to 25 percent capacity.
Gyms, private clubs and fraternal organizations are reduced to 25 percent indoor capacity.
The public health order is available on the county health department website here.