After a month of processing more than 6,000 evacuees, Department of Homeland Security officials invited journalists from 10 news organizations to get a glimpse of operations at Camp Atterbury, which held Italian and German prisoners of war during World War II.
Now, it's being used to give new lives to nearly 7,000 Afghans who fled the Taliban at the end of August.
One of them is Sulaman Akbarzada, who worked as a civil engineer in Afghanistan.
"I did a lot of jobs, I worked like as a plumber, an electrician," he said. "I was happy. I had money to earn."
Akbarzada said things were going well back home and got even better when he met his future wife, Arzo. But what initially wasn't an issue eventually became one – Arzo's father helped the U.S. with the Afghan military.
"I told him, 'If you stay here, you're gonna die. So it doesn't matter how you're gonna die, but we have to try our best to save our lives," Akbarzada said.
The couple, along with their parents and siblings, were able to escape Kabul when the United States left Afghanistan at the end of August.
Arriving at Camp Atterbury was a new chapter for the Akbarzadas in more ways than one – Sulaman and Arzo were married last week at the chapel on base. Sulaman said he was particularly excited to give Arzo a kiss on the forehead.
"It was beautiful, yeah, it was just like a dream come true," he said.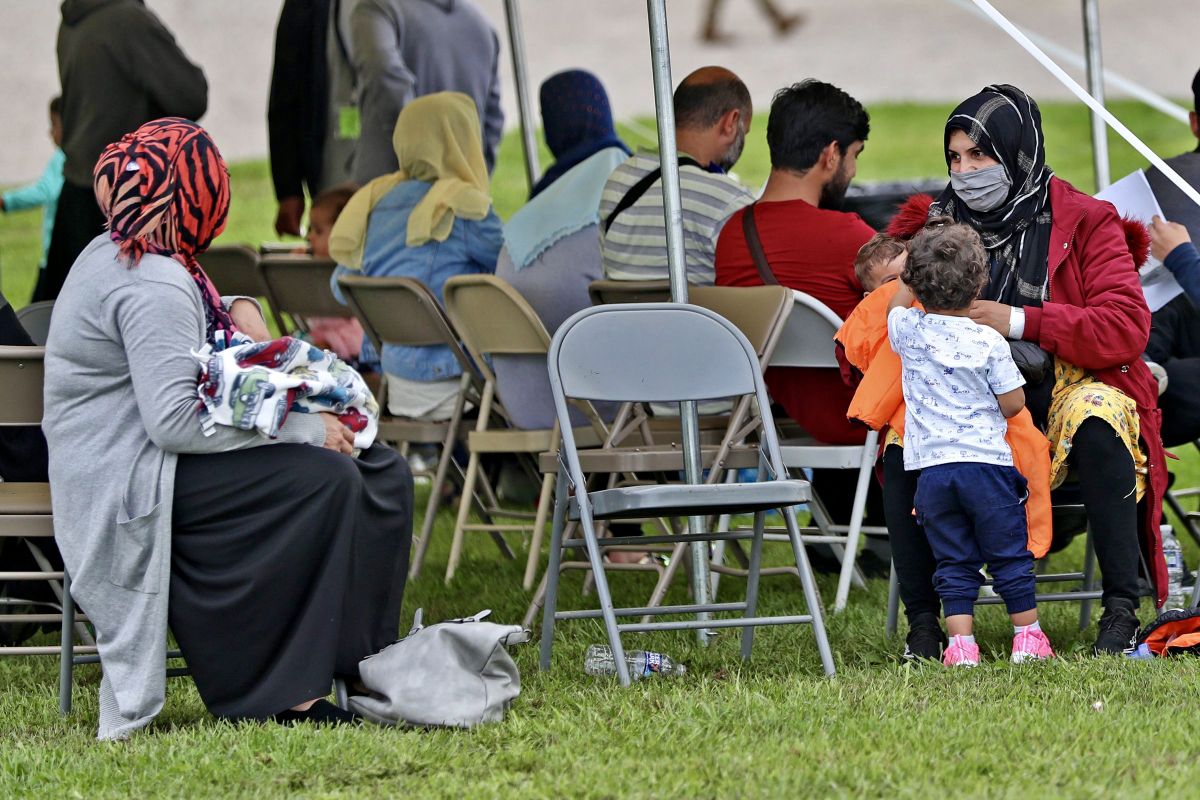 Making it to Camp Atterbury has been a dream come true for many evacuees. Most helped the U.S. government during its occupation of Afghanistan, or are family members of people who did.
About 6,700 evacuees are living at Camp Atterbury. Three hundred thirty have completed their processing and have left the base, though officials say they don't know how many have settled in Indiana.
Those who are waiting to be approved live in military-style barracks where they sleep in bunk beds. Forty to 120 people live in each barracks, depending on the setup.
Women and children sleep together in separate barracks from the men, but officials try to keep families together in neighboring buildings.
Clusters of barracks are known as blocks or "mayor's cells" and function as neighborhoods.
Evacuees pray in designated prayer tents and grab meals at mess halls, convenience stores or hot dog stands.
Officials say the evacuees are generally single or are married with lots of kids – the average family size on base is seven. Forty percent of the people are 14 and younger.
"The kids went from just kind of looking at us and running away to approaching us like, 'Hey, good morning. How are you?'" said Army Sgt. First Class Richard Hernandez, who was called to Camp Atterbury from Fort Hood in Texas.
Children run around the base in sneakers and long-sleeve shirts. They play with each other and seem particularly keen on the soldiers. Some are already shooting baskets – Camp Atterbury is in Indiana, after all.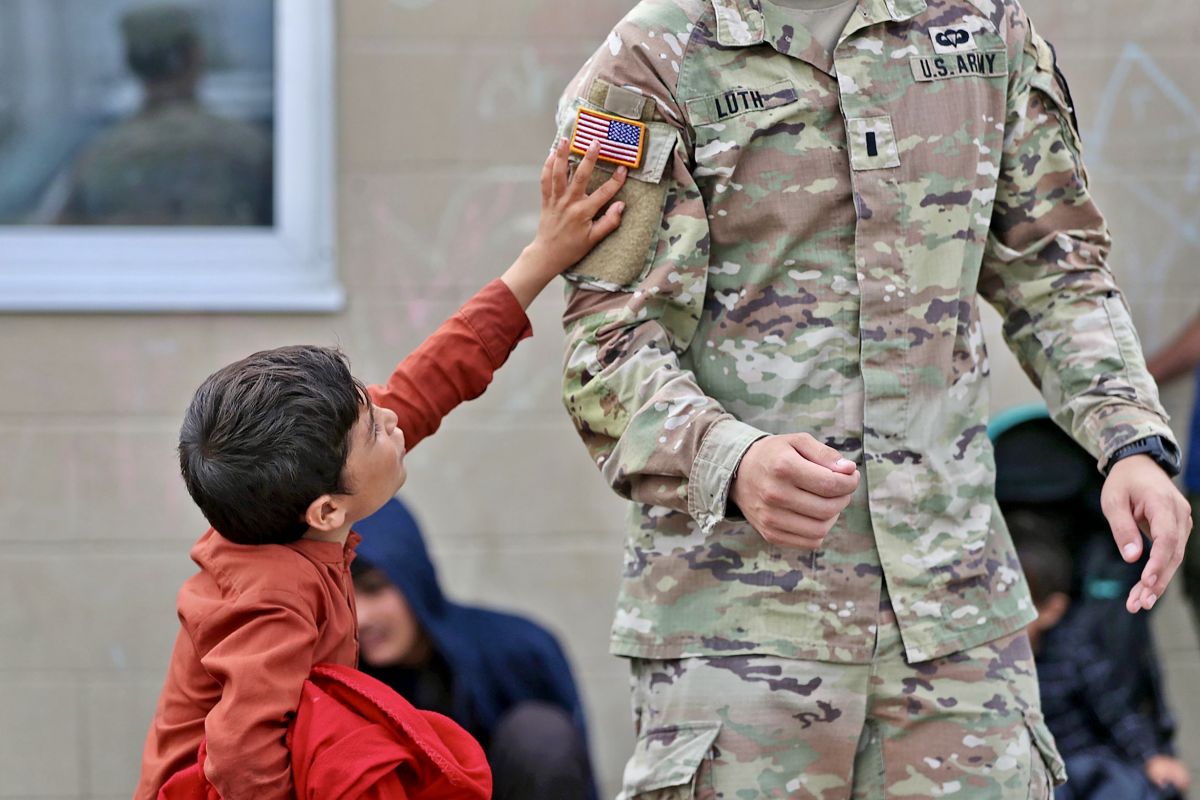 Kids in the base's "500 block" go to classes once a week. Ellettsville teacher Sara Jallal instructs them on basic English and American culture each Sunday.
"We started with the alphabet and kind of getting them familiar with the letters," Jallal said. "And then we moved on to like simple phrases and greetings, what school will be like once they leave here."
Officials hope to increase education opportunities for both children and adults now that many evacuees are nearing the end of their processing. The 500 block is starting to have movie nights to help evacuees pick up English. They've watched Wall-E and The Lion King so far.
Jallal says she appreciates the opportunity to teach because she immigrated to the U.S. from Afghanistan when she was 5.
"It means a lot it just being able to kind of pay it forward. I was once in that situation where I moved to a new country, I didn't know the language, I had an ESL (English as a Second Language) teacher and all that. So it's really nice."
Older residents of the 500 block attend town hall meetings three times a week. Residents of each building choose an English-speaker to represent them; they bring their concerns to the soldiers, who will provide information that is passed along back at the barracks.
Sgt. First Class Hernandez helps oversee meetings at the 500 block. He says women are incrementally increasing their participation. He's hopeful some of those cultural differences are beginning to change now on base.
"We slowly got the single women involved, and then the kids and then the married women started going in there," Hernandez said. "Across from the husband, mind you – even they still have kind of that boundary, but they're still interacting and voicing their opinions as needed to."

The barracks serve well enough as a temporary home, but most evacuees have been at Camp Atterbury since early September – and they're looking forward to leaving after they're authorized to work and meet the qualifications for humanitarian parole. Those include identification and security checks and making sure everyone is up to date on their vaccines.
The Akbarzadas are hoping to head west once they're approved to leave. Sulaman wants to get his master's degree, while Arzo would like to study to become a doctor.
"I wanted to be an educated man, I want to study all my life," Sulaman said. "Even when I got old, I will teach other people."
There is currently no timeline for when operations at Camp Atterbury will end.
Officials say about 10,000 evacuees are still waiting overseas, and the Wall Street Journal reported the Biden administration is aiming to resume regular evacuation flights by year's end.