State Superintendent Glenda Ritz says Arlington has undergone much positve change in just one month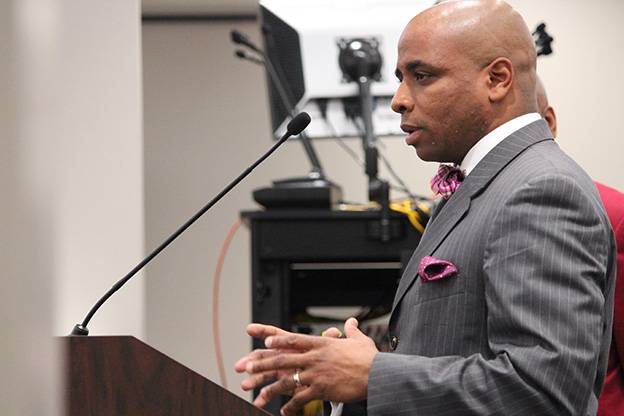 Arlington Community High School Principal Stan Law answers questions at the Indiana Board of Education meeting Wednesday, Dec. 2, 2015 in Indianapolis. Photo: Rachel Morello/StateImpact Indiana
After three years under management of a private charter company and nearly a decade of chronic failure, Arlington Community High School has returned to Indianapolis Public Schools. It's the first school under state intervention to transition back to its home district and school leaders are under pressure from the community and state to make it work. In the series A New Day, WFYI education reporter Eric Weddle is spending a year reporting from inside the school on its successes and challenges.
---
Arlington Community High School Principal Stan Law faced the State Board of Education Wednesday to offer an inside look into the Northeastside school that's faced a troubled restart.
Law described the 7-12 grade school as "a tale of two cities" because the widespread disruptions and discipline problems that marked the first months of classes have subsided after additional staff were hired and classrooms reconfigured.
Asked to rate the progress, Law said Arlington had seen a "nearly 100 percent turnaround" in student behavior during the past month but there are still much improvement to be made.
"A lot of the kids come with challenges -- social, emotional, academic challenges. Some have not had academic success in years," Law said. "So we need to get to know these students. That has been and still is an ongoing process."
Arlington was taken over by the state in 2012 after six consecutive years of F grades under Indiana's A-F grading system. Charter operator Tindley Accelerated Schools was then contracted by the state to manage Arlington. But a dispute over funding in 2014 lead Tindley to break its contact and allow the school to return to IPS.
Arlington remains under purview of the state board. While one member remained uneasy about the progress State Superintendent of Public Instruction Glenda Ritz and others were pleased with ongoing improvements.
During last month's meeting Rachael Havey, the Indiana Department of Education's intervention school coordinator, described the school as a "top concern" due to student's acting out.
Arlington staff have struggled since August to set a culture and tone at the school. Most of the 607 students are new to the building and unfamiliar with the IPS staff. Of those students, 24 percent receive additional services for varying type of learning disabilities.
The school is 89 percent black, 10 percent white and 1 percent Hispanic and Latino.
During the first few months of school it was not uncommon for group of students to roam the 380,000 square-foot building during class time. Vandalism, fights and drug use were also regular occurrences.
But a few weeks ago the school was reconfigured.
'Finding The Right People'
Middle school students were removed from the first floor and their classrooms consolidated into a single hallway on the second floor near admistrative and student support staff offices. The first floor is now closed outside of the cafeteria and special education classrooms.
Additional staff were hired, including three "behavioral specialists," who work directly with students, and a second dean.
Law said the changes have reset the culture in the building though more than 100 students continue to break the rules. The focus now, he said, is improving academics in the classroom and finding staff who are a good fit for a challenging, urban school.
So far, three math teachers have quit.
"We still have a ways to go in getting the right people on the bus, so to speak," Law said about filling up to nine vacancies.
Tim Bass, president of Arlington's alumni group, gave an impassioned testimony about Arlington's potential -- saying it could one day rival area private schools for academics and prestige.
Bass explained how around 300 former Golden Knights are putting time and energy back into their alma mater. He said alumni are supporting sports teams, student groups and volunteering to walk the hallways.
State board members priased Bass' dedication and said support of outside groups, such as Greater Indianapolis NAACP, were vital to weaving Arlington into the community.
"It was rocky at first," Bass said. "When you go up there today, there are not students in the hallway, they are in the classroom."
Progress too slow?
Despite the reassurances, board member David Freitas said he believed Arlington was "struggling" and asked whether Charter Schools USA, the for-profit company operating three former IPS schools under a state contract, should get involved at the school.
This year IPS and Charter Schools USA's collaborated to create Emma Donnan Elementary school for students to feed into Emma Donnan Middle, a school under state intervention and run by CSUSA.
"I am concerned about Arlington. I am concerned that we are not ramping up our abilities as fast as we can," Freitas said. "I guess we got spoiled by Emma Donnan's good work that's been done there and expecting the same kind of dynamics."
Based on the most recent data, Emma Donnan Middle School remains an F and ISTEP pass rates have fallen since CSUSA took over the school. But a record number of students have passed the algebra part of the end of course exam.
Countering Freitas' suggestion, IPS Superintendent Lewis Ferebee said that Arlington has been in a state of flux over the past years and is only now beginning to stabilize under IPS.
He also credited Arlington staff's outreach to attract 600 students -- more than double the enrollment last year under Tindley.
"We really have the making of a new school," Ferebee said. "I think we need to echo the comments from the principal about the time it takes to build relationships."
Yet, Ferebee said, effort is needed to improve the quality of elementary schools that feed into Arlington. The model now in use at Emma Donnan, he said, could be something to replicate.
Ritz said Arlington is moving in a positive direction through support of her department and IPS.
After the meeting she said there was no reason to suggest, as Freitas had, that new management would benefit Arlington.
"The report that we gave at the prior meeting seemed to indicate that (Arlington staff) were starting to put some things in place," she said. "And it was nice to hear in one month's time they've put several measures in place to move forward in a good manner."
Contact WFYI education reporter Eric Weddle at eweddle@wfyi.org or call (317) 614-0470. Follow on Twitter: @ericweddle.