On a hot evening at the Broadway Neighborhood Center in Iowa City, home to the University of Iowa, student volunteers set up a mobile COVID vaccination clinic among the apartment complexes that house many immigrant and refugee families.
But the clinic struggled to attract residents.
Andrew Coghill-Behrends, the center's site director, hit the streets.
His goal was to get at least 20 people in for the shot.
"It's really about talking to people and seeing if you can find them where they're at and encourage them to come over," he said.
Coghill-Behrends approached several people outside, but they all turned him down.
The university's mobile clinic has given more than 1,000 shots in vulnerable communities since March. But at the end of the clinic's hours, just five people were vaccinated.
Coghill-Behrends said he's concerned because he hears a lot of misinformation about the vaccine from this neighborhood.
"They range the gamut from they're putting microchips into in you, straight up to ... the vaccine is going to kill you," he said.
A little more than 60 percent of Iowa's adults are fully vaccinated for COVID-19. This puts the state above the national average, but lately, demand for the vaccine has dropped sharply.
In a recent Commonwealth Fund poll of 12,000 Americans, 66 percent reported two or more barriers to getting the shot, like being too busy or not knowing they were eligible.
It found 37 percent were hesitant about getting the vaccine. Republicans had significantly higher rates of hesitancy than Democrats.
The unvaccinated individuals listed a number of concerns, like the idea that President Joe Biden has distributed unproven vaccines, the shots make people sick and that people have a personal right to opt out.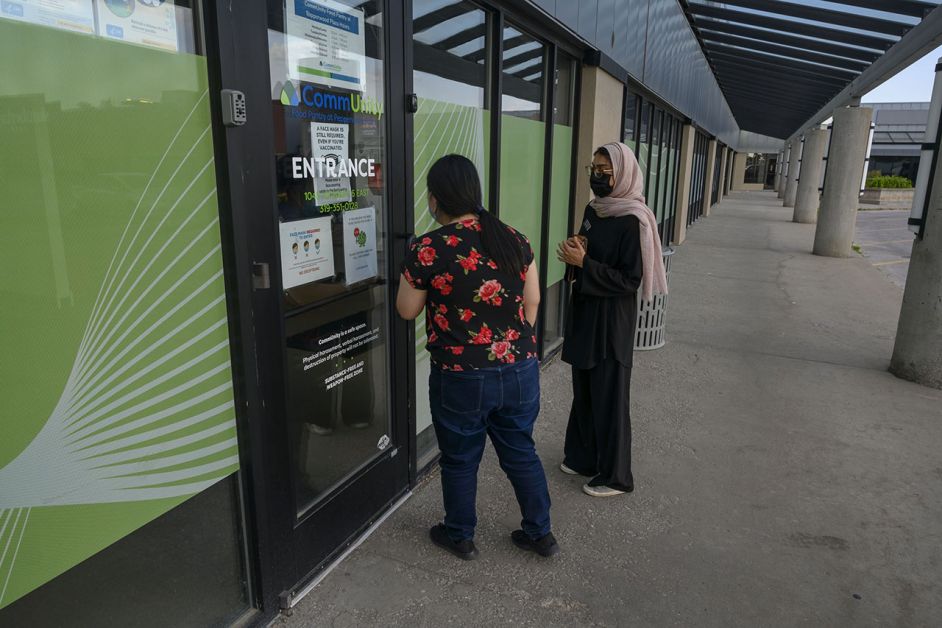 Lindee Thomas said she hears that last reason a lot. She heads a local health department in rural southeast Iowa.
"It's mainly personal choice, you know, on what they think," she said. "I think a lot of this has been, I guess, party-driven or government-driven. And so I think there's a lot of mistrust and misinformation."
In Thomas' county — Van Buren County — just 42 percent of adults are fully vaccinated. It's one of the lowest rates in the state.
But Thomas doesn't feel it's her place to persuade people to get the shot.
"I think all we can do is educate people, and they have to make that choice," she said.
Last month, state officials launched an ad campaign to push more people to get vaccinated. The ads features clips of people socializing and attending large events. It encourages everyone to do their part by getting vaccinated.
Some counties have set up vaccine lotteries, but experts say there's little research on whether lottery incentives really work.
Elvin Geng, a professor of medicine at Washington University in St. Louis, said one study found incentives only work to persuade those who are more open to getting the shot.
"If you are resistant to it, or you think there's something wrong with it. And they say, 'Oh, you could win some money,' it actually makes people think of that entire thing as less attractive," he said.
Geng said what does work is getting primary care physicians to encourage their patients to be vaccinated.
"The reason why people trust their doctors is because there's a relationship, right?" he said. "You know this person as a human being, and you know that you've seen them in the past, and you expect to see them again in the future."
Meanwhile, counties with low vaccination rates are at a greater risk for COVID outbreaks.
This worries Chris Estle, who heads a county health department in southeastern Iowa. Just 45 percent of adults are fully vaccinated there.
"Honestly, at this point, I don't know that we're going to move the needle," she said. "People don't want to hear me say that. They don't. But that's the reality of where we're at."
Estle said the highly contagious delta variant has been confirmed in the county. She expects to see a spike in cases at some point. She just doesn't know when.
This story was produced by WFYI's Side Effects Public Media, a news collaborative covering public health.