Betsy DeVos -- President-elect Donald Trump's choice for education secretary -- is no stranger to Indiana politics or its education policy battlefield.
The prominent Michigan Republican is a proponent of private school vouchers. As chairwoman of the American Federation for Children she has overseen political contributions to expand private school vouchers, education tax credits and charter schools access around the country. (Chalkbeat Detroit has a great primer on DeVos here).
In Indiana, the American Federation for Children PAC has given $1.3 million in donations focused mostly on those efforts. The 501(c)(4) organization describes itself as: "a leading national advocacy organization promoting school choice, with a specific focus on advocating for school vouchers and scholarship tax credit programs."
Instead of giving to individual campaigns in Indiana, DeVos' group has focused heavily on one Indianapolis-based organization.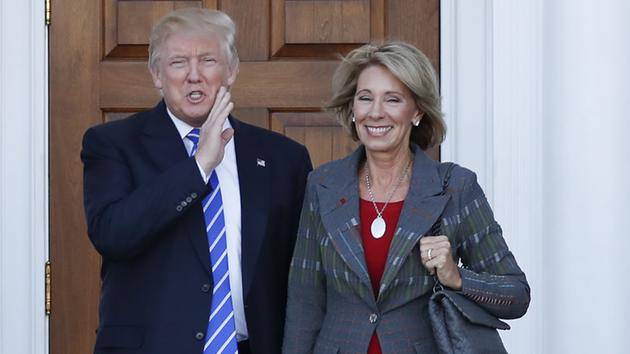 Since April 2010 nearly all of the contributions from American Federation for Children have gone to Hoosiers for Quality Education Political Action Committee, formerly known as Hoosiers for Economic Growth. The committee is chaired by businessman and school choice advocate Fred Klipsch.
Those contributions -- $1.225 million in total -- account for a third of Hoosiers for Quality Education Political Action Committee's $3.6 million in expenditures since 2008, according to Indiana's campaign finance database.
Betsy Wiley, Hoosiers for Quality Education PAC president, said the two groups are similar. Both have political arms that support candidates who favor private school vouchers and separate not-for-profit organizations that work to educate the public about school choice.
"They understand that policy making is political in nature," Wiley said about the amount of financial support DeVos' group has provided.
Hoosiers for Quality Education PAC has mainly supported Republicans and contributed large amounts to the campaigns of former Indiana State Superintendent of Public Instruction Tony Bennett and incoming state schools chief Jennifer McCormick.
McCormick's successful campaign this year to oust Democrat Glenda Ritz received $130,000 from the PAC, according to the most recent campaign finance filing.
Bennett's campaign received $80,150 between for 2008 and 2012.
Spending by the American Federation for Children in Indiana has long been documented by Doug Martin, the author of Hoosier School Heist, and at School Matters, a blog by former Bloomington Herald-Times education reporter Steve Hinnefeld.
Here's our breakdown on how American Federation for Children donated $1,297,040.80 in the past six years:
$1,225,000 to Hoosiers for Quality Education Political Action Committee, formerly known as Hoosiers for Economic Growth
$61,465 to Bennett for Indiana -- campaign committee for Tony Bennett in 2010 and 2012 elections
$10,000 to Eric Holcomb for Indiana -- Holcomb's successful 2016 campaign for governor
$475.80 to Carlin Yoder 2008 -- Yoder's successful campaign for Republican State Senator in the 12th district
$100 to McCormick for State Superintendent -- Jennifer McCormick's successful 2016 campaign for Republican Superintendent
Devos, under her own name, has donated only once in Indiana it seems -- $5,000 in September to Holcomb's campaign for governor.
Devos is also head of Alliance for School Choice -- a 501(c)(3) organization that advocates for private school vouchers and other school choice options. She is currently head of the Windquest Group, a privately held Michigan-based investment and management firm and previously was chairwoman of the Michigan Republican Party, according to her website.
In 2011 Indiana passed a law allowing tax dollars to be used for private school tuition. The state Supreme Court upheld the voucher law in 2013.
Photo credit: Donald Trump with Betsy Devos by Carolyn Kaster/Associated Press
Contact WFYI education reporter Eric Weddle at eweddle@wfyi.org or call (317) 614-0470. Follow on Twitter: @ericweddle.