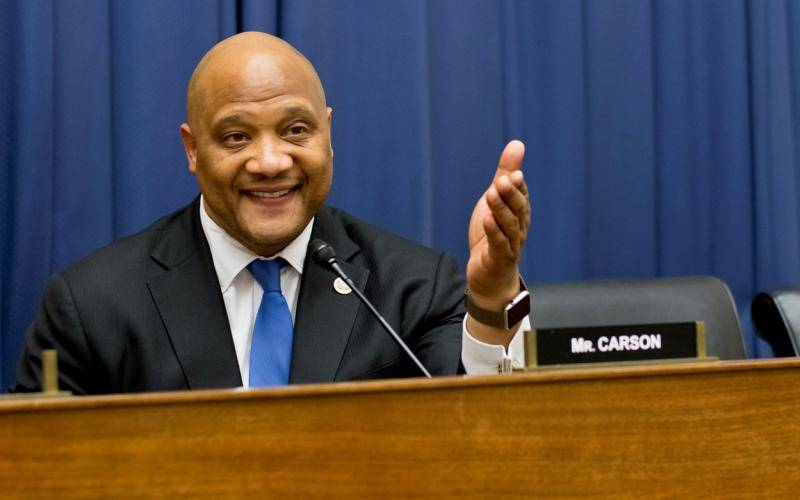 Congressman André Carson says he would support a mandatory training course for those seeking a firearm permit, in an effort to curb gun violence in the United States. (Photo Courtesy carson.house.gov)

Congressman André Carson represents Indiana's 7th Congressional District, covering most of Indianapolis.
One week after the mass shooting in Las Vegas, Carson backed legislation that limits high-capacity ammunition magazines. WFYI's Drew Daudelin sat down with Carson to talk about gun control, healthcare and tax reform. Below are excerpts from that conversation.

---

Drew Daudelin, WFYI: To start out, I wanted to talk about the gun legislation. You're backing the Keep Americans Safe Act, which would prohibit the transfer, import or possession of magazines that can hold more than 10 rounds of ammunition. Why this restriction, why this specific restriction on guns?
André Carson: Well, I think it's important to note that no one gun law will prevent every shooting. But we know that there are proven solutions that are effective at reducing gun violence.
So policies like universal background checks and prohibiting dangerous people, like domestic abusers and even terrorists, from accessing guns will make our communities even safer.
Daudelin: As I'm sure you're aware, pistols are used in the vast majority of gun deaths. Obviously, if you get into those gun deaths it becomes a very complicated picture. But do you think that any restrictions should be put in place that directly impact pistols?
Carson: I think solutions to gun violence have not moved at the federal level because for far too long the gun lobby has made it uncomfortable for lawmakers to really talk about gun safety, or even oppose any active measures.
And whether you're talking about a pistol or a rifle, it's clear that if you seek to hold a permit—I'm a lifelong permit holder—but if you wish to hold a permit in our country I think you should go through the necessary background checks, mental health assessment. And I personally think a training, a course on firearm safety, how to clean a firearm, how to properly handle a firearm. I think those things are critically important.
Daudelin: Do you think it's a potential problem that Republicans in the House might refuse to take action on healthcare because it could be seen as support for the ACA?
Carson: Oh, without question. I think in a very real sense, my Republican colleagues are having to wrestle with the reality that…you know, kudos to Senator John McCain and those Republicans who switched positions quite recently.
I think in a very real sense they're having to deal with, not having their constituents covered, but aligning themselves with Republican leadership so that they don't get primaried. In some districts, a tweet or a critique from President Trump could jeopardize their primary reelection possibilities. But in another sense it's about voting with conviction. Looking out for your constituents who need healthcare coverage.
Daudelin: You mentioned tax reform, and I'm curious what your ideal tax reform plan looks like.
Carson: I think for me, in a very real sense, real tax reform closes the loopholes, unfair loopholes, and ends the complexities that allow some of the wealthiest to avoid paying taxes that working people can't get out of, as I said before.
But a real tax reform should help grow jobs in the United States, help working families—like deductions for rent, not just mortgages—and provide incentives to get a good education, without getting stuck in debt.
Daudelin: When you hear conservatives talk about the tax reform plan that they're going to push, are there any parts of it that you would support?
Carson: Well I think for me, any tax proposal that doesn't benefit the middle-class, and doesn't benefit working families, is something that I can't be a part of. It's something that I can't co-sign, ever.
Daudelin: So even if there are parts of it that you would support, you would just, on the whole, not be able to back it?
Carson: I'd have to see a proposal that would have to persuade me in such a way. But if it doesn't benefit the middle-class and working families I can't be a part of it.