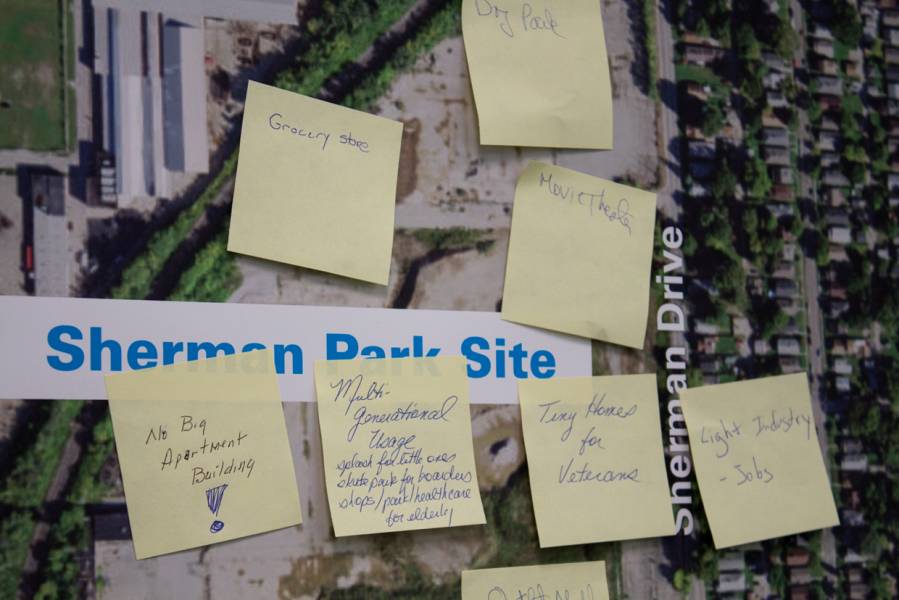 Attendees stuck post-it notes on a map of the 50-acre plot of land, writing down their dream projects. (Photo by Drew Daudelin)

The RCA factory on Indy's near-east side is almost completely demolished, after sitting abandoned for over 20 years.
The first of many community meetings was held Tuesday night at the John H. Boner Community Center, to give residents a chance to tell the city what they want in its place.
Attendees stuck post-it notes on a map of the 50-acre Sherman Park, writing down their dream projects. Their ideas were wide-ranging, from affordable housing, to retail space, to a waterpark.
But the final decision might be limited by contamination, left sitting in the soil for decades.
Vince Epps, an environmental scientist working on the plan, says they can measure the contamination, thanks to a grant from the EPA, and define the project's constraints in the process.
"Or if there is something that we want to do and there's an environmental impediment to it, well what's the cost of getting rid of that impediment?" Epps says.
Epps says high levels of contamination can make residential projects especially expensive.
The cost of the study is not yet determined.
Near East Area Renewal, the nonprofit group leading redevelopment at Sherman Park, says it wants to use the space to bring jobs back to the neighborhood.
The city owns the land and will make the final decision, but NEAR Director John Franklin Hay says city leaders will be involved in the ongoing conversation, so he doesn't expect drastic last-minute changes.
The planning process is scheduled to take 18 months. Regular public meetings will be held along the way.