Renee Contreras is an undocumented student born in Mexico, who graduated from an Indianapolis high school. When Contreras began looking at options for higher education, she struggled to figure out which institution was affordable.
"Being a first-gen Latino student, you kind of have to navigate that on your own, which is, like, pretty scary," Contreras said. "So a lot of students just kind of feel unmotivated, and feel like there's not any opportunities for me. So why even try?"
That's because Indiana is one of 10 states with a law specifically blocking undocumented students from paying in-state tuition at public universities and colleges. It's a law that advocates and some lawmakers say can cause immigrant students to drop out of high school, and prevent them from earning a degree that can set them up for a successful, self-sustaining life.
The law forces students like Contreras who attend and graduate from a public high school to pay double or even triple the cost of their peers. An undocumented student could pay nearly $17,000 more in tuition for some of Indiana's largest universities.
Students and immigration advocacy groups hoped Indiana's 12-year-old law would finally be rolled back during this General Assembly. There appeared to be enough momentum for a change to finally happen.
Lawmakers from both parties authored bills intended to ease the financial burden for immigrant students and provide a clear path to college and career.
But the legislation never received a vote.
Rachel Santos, the Indiana Latino Institute's director of education policy, spoke in support of the bills. Some lawmakers understand that toddlers are brought to America as their parents run toward better economic futures, or even flee other countries for safety. But, she said, some policymakers are still hung up on how the children arrived in Indiana.
"There's still this discussion of, 'Well, they did something illegal, therefore, we cannot legislate on it,'" Santos said. "And we just can't seem to get past that."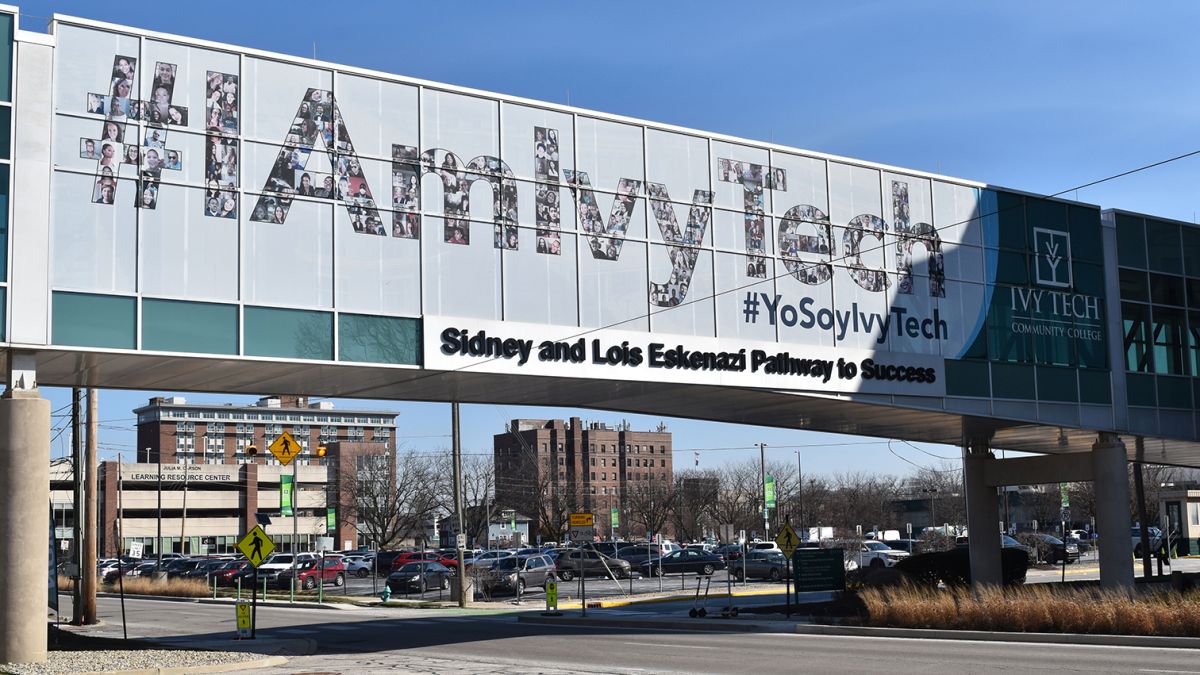 Difficulty finding affordable college options
Undocumented students are not eligible for state financial aid programs or federal student aid such as Pell Grants. Santos said this financial barrier forces many students to work while going to school or enroll part-time.
Some also consider non-public options.
"A lot of undocumented students actually go to private institutions because private institutions can offer more scholarship[s] because they're not restricted to the federal funds," Santos said.
Recent Indianapolis graduate Contreras considered that option when deciding between local public institutions. She received some scholarship money from an out-of-state private university, but it still wasn't enough to make it affordable. That's because many scholarships and state financial aid money require proof of citizenship or be qualified for the federal Deferred Action for Childhood Arrivals program.
Contreras would have qualified for DACA. It's designed to protect immigrants brought to the U.S. illegally as children from deportation, and provide some other benefits. In Indiana, DACA students qualify for in-state tuition. But the federal program was paused in 2021 due to legal challenges.
So Contreras enrolled at Ivy Tech Community College because it's a more affordable option. But she still pays a base tuition amount of $4,300 a semester compared to her peers who only pay half that amount. Although Contreras chose a less expensive institution, not everyone makes that decision.
Karina Garduño, director of the Multicultural Center, is the primary contact for DACA and undocumented students at Indiana University–Purdue University Indianapolis.
Garduño said students can get into debt as they attempt to find a way to attend a college.
"And then they come to us at the end of the semester, and they tell me, 'Hey, I owe thousands of dollars and I can't register.' And we don't have thousands of dollars to give really anybody," Garduño said. "So then they have to make that hard decision of what their next step is."
A patchwork of laws across the country
Indiana remains one of the few states with laws blocking undocumented immigrants from in-state tuition.
Roughly 23 states have specific legislation allowing undocumented students to receive in-state tuition and others states don't have laws at all. Other states allow or prohibit immigrant students from receiving resident tuition through policies passed by a board of regents or a department of education — a governing body that oversees all public and or private institutions in a state.
Last year, a voter-approved proposition in Arizona created in-state tuition and access to state-funded financial aid for immigrant students. But other states are moving in the opposite direction. Florida Gov. Ron DeSantis is trying to reverse current legislation so undocumented students wouldn't be eligible for in-state tuition.
Identifying this information across state lines can be difficult, said Miriam Feldblum, executive director of the Presidents' Alliance on Higher Education and Immigration.
The organization created the Higher Education Immigration Portal in March 2021, which tracks legislation changes across the country. The resource was made because the organization was unable to find comprehensive information on which states provide in-state tuition, financial aid, and access to higher education institutions and the workforce licenses for people who identify as undocumented or qualify for DACA.
At least three states, including Indiana, have legislation only allowing DACA students to receive in-state tuition.
"Three-quarters of students graduating from high school now do not have access to DACA and do not qualify for DACA," Feldblum said. "And in fact, the majority of students in college do not have DACA."
But as the number of students who qualify for DACA steadily decreases, states like Indiana, which only allows DACA students to receive in-state tuition, will need to pass new legislation if they want to continue providing in-state tuition to people who aren't residents.
It's unknown how many undocumented students in Indiana are in a situation similar to Contreras – qualified, but unable to receive DACA status. As of last summer, there were 8,350 active DACA recipients, of which an estimated 1,250 are enrolled in public or private colleges, according to the The Migration Policy Institute.
No room to dream
Last month, Gov. Eric Holcomb wrote an op-ed in The Washington Post with Utah Gov. Spencer Cox, urging federal lawmakers on both sides of the political aisle to meet in the middle and provide better immigration policies to fill jobs and boost the economy.
"To help us do our jobs as governors, we call on Congress to end its two-decade standoff on setting immigration policy — one of its most basic duties," they wrote. "And, as leaders of states, we pledge to share the accountability."
Holcomb and Cox did not directly address undocumented students or the cost of higher education. But they raised alarm on the unfilled jobs in both states.
Currently, Indiana struggles to fill more than 200,000 open positions, according to the U.S. Bureau of Labor Statistics. And the state also faces an ongoing decrease in college enrollment — just 53 percent of Indiana high schoolers who graduated in 2020 went straight to college.
Indiana lawmakers referenced both those challenges when supporting legislation to allow undocumented Hoosiers pay in-state tuition.
"[The] more people that we can get into university, into college, [to] continue their education, the better it will be," said Rep. Earl Harris (D-East Chicago), author of HB 1043. "Not only for that individual, but it'd be better for our businesses, it'd be better for our state."
Sen. Blake Doriot (R-Goshen), author of SB 135, said high school students were dropping out because they couldn't afford college.
"This problem has come to us, not from what the state of Indiana has done, but what the federal government has failed to do," Doriot said during a committee hearing.
But neither bill that would have addressed the issue received a committee vote.
"Unfortunately, the committee chairs did not see this as something they wanted to hear this session," Harris said. "Sometimes it takes years to get things through. I believe the average is something like seven years. So we'll keep plugging away."
Holcomb's office declined to respond to questions about the failed legislation.
Santos of the Indiana Latino Institute will continue to push for the legislation and look for ways that would allow institutions to decide how to charge undocumented students, such as having lawmakers revoke the 2011 law altogether.
In the meantime, Contreras wants to transfer to a four-year college to pursue a degree in political science, but she's remaining realistic about her next steps. Since the proposed bills didn't advance this year, undocumented Hoosiers will continue to pay exorbitant tuition costs or choose not to pursue higher education.
"I'm still deciding because I feel like I have to keep my options open," Contreras said. "There's not a lot of room to dream."
A previous version of this story said Dreamers are a subset of people who qualify for Deferred Action for Childhood Arrivals. That was incorrect. DACA recipients are a subset of Dreamers. A previous version of this story misidentified Karina Garduño's title with IUPUI as the director of Diversity, Equity and Inclusion. She is the director of the Multicultural Center.
Contact WFYI education reporter Elizabeth Gabriel at egabriel@wfyi.org. Follow on Twitter: @_elizabethgabs.