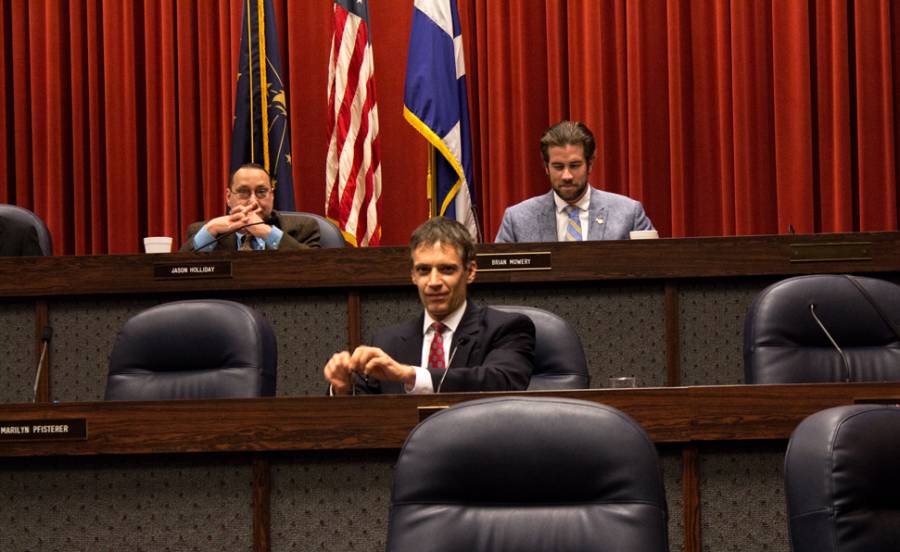 Jeff Miller attended the full City-County Council meeting on Monday, about one hour after he was removed from three committees by council leaders. (Photo by Drew Daudelin)

Republican Councilman Jeff Miller attended the City-County Council meeting Monday night, his first council appearance since he was charged with three felony counts of child molestation.
His attendance comes amid growing pressure from Miller's colleagues that he resign from his position. About one hour before the meeting, Miller was removed from three council committees.
Republican Minority Leader Michael McQuillen motioned for his removal during a special meeting. McQuillen reiterated after the vote that he is asking Miller to resign from the Council, calling him "a distraction."
"I have asked Jeff to resign his position, so we can get a councillor on there who will be able to attend the community meetings that are necessary to be a good representative or a good councillor for the area. I renew my request for him to resign," McQuillen says.
Miller has attended a handful of community meetings since the charges were filed against him, according to his Twitter account.
The committees from which Miller was removed are Community Affairs and Education, Metropolitan & Economic Development, and Public Works. McQuillen placed three different Council members into the newly open seats, all of them Republican.
Miller can still attend the committees' meetings, but will no longer have a vote. Members of the Council cannot force Miller out, unless he is convicted of his felony charges.
During the full Council meeting, Miller recused himself from any agenda items involving the Marion County Prosecutor's Office.