Education Secretary Betsy DeVos would like to see more school districts across the country follow the "out-of-the-box" school management approach used by Indianapolis Public Schools, IPS.
DeVos, speaking to a gathering of leaders from the country's biggest school districts in Washington, D.C. Monday, praised the IPS' "innovation" management program that allows schools to shed much of the oversight from the district's central office.
"... they are freed up to operate independently and thus better attune themselves to the unique needs of their students," she said, according to a transcript.
DeVos, who wants less federal oversight in education, said IPS gives parents and school leaders more control and choice over their classrooms.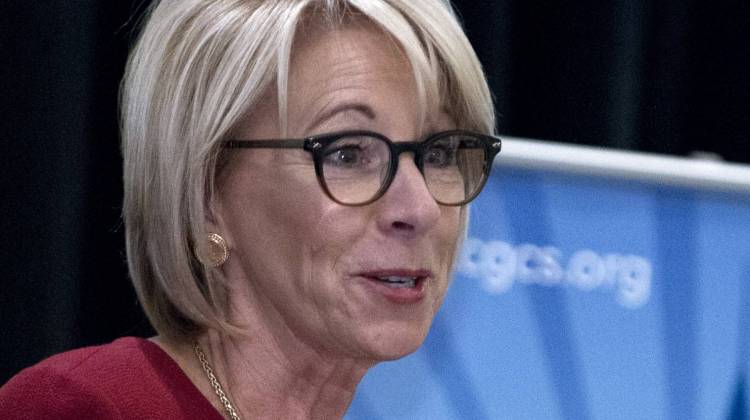 Nine schools currently make up IPS' Innovation School Network, a management system created by state law in 2014. The law allows IPS to contract with principals, nonprofit organizations or charter operators to run schools autonomously. School leaders set their own curriculum, culture, spending, and hiring practices. Educators at these schools are not part of the district's teacher union.
DeVos, in her comments, focused on eastside school Thomas D Gregg School 15. Parents are pushing to transform the F-rated school into a neighborhood-led elementary program. A new nonprofit 501(c)(3) organization would manage the school and oversee additional support for students and their families, personalized learning curriculum and a longer academic year.
"This isn't a school run by an outside, third-party operator -- this is a school where parents are in direct control. The community takes ownership of developing the school's structure, staffing and performance," DeVos said during the legislative conference of the Council of the Great City Schools. "This type of proposal gives everyone in the community a greater say -- and greater responsibility -- in the education of their children. It's this kind of local control that we want to empower, because when parents are in charge, students benefit."
Thursday the Indianapolis Public School Board will vote whether to let School 15 become an autonomous school led by current principal Ross Pippin.
Former IPS Board members have questioned the "innovation" method, calling it a "gamble" since many of the programs approved under the law are upstarts with no academic track record.
So far, IPS is the only district in the state to use the law allowing districts to contract with outside entities to manage schools.
Also on Monday, in Indianapolis, IPS Principal Lewis Ferebee asked a Senate subcommittee to consider increasing the grant funding for innovation schools as a way to entice more schools to take part. The House budget bill calls for a $5 million increase in grants for charter and innovation schools in 2017-2019.
Photo: Education Secretary Betsy DeVos speaks at the Council of the Great City Schools legislative conference in Washington, D.C. on Monday, March 13, 2017. (Jose Luis Magana/AP).
Contact WFYI education reporter Eric Weddle at eweddle@wfyi.org or call (317) 614-0470. Follow on Twitter: @ericweddle.