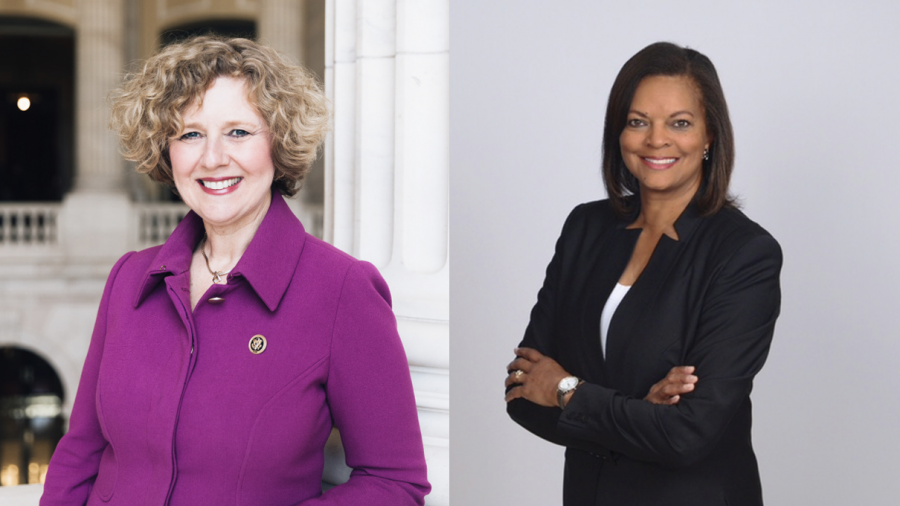 Incumbent Republican Susan Brooks (left) will face Carmel businesswoman and Democrat Dee Thornton (right) in the election for the Fifth Congressional District next month.
---
Carmel businesswoman Dee Thornton is the Democratic candidate for the Fifth Congressional District of Indiana. She'll face incumbent Republican Susan Brooks in the election next month.
WFYI's city reporter Drew Daudelin spoke with Thornton about her views on healthcare and the political challenges ahead of her.
Listen to the complete interview:
Interview Highlights
On what voters care about:
"There's a wide range of issues. Those who are very close to what's going on, and are following the issues, what rises to the top is healthcare, and the state of healthcare in this country. You know, that's followed very closely with just the lack of working together in Congress. So all of the partisan politics, people are really sick of it."
On moving toward Medicare for All:
"The way I have found it to be is that we have a gap. There's a group now who are, say, 55 to 64, that for whatever reason have had a change in their situation. And they're confronted with rising premiums, high deductibles, as well as increased need for healthcare, because they're at that stage of life where it becomes more important, and they need preventive care and preventive medicine.

And so for those people, rather than having them exhaust, you know, large portions of their life savings for retirement, we have an opportunity to help them by giving them access to Medicare a good 10 years earlier. And not only is it good for that demographic but it's also good for those employers who, particularly small business, that would like to provide healthcare benefits to their employees, and really keep workers. So there's an economic factor as well."
On the Democratic Party after the 2016 election:
"Our politics, our government, our parties are ever-evolving. And you know, I think at the end of the day, Bernie running for office and Hillary running for office was good, not just for the Democratic Party, it's good for America.

You know, no one party has a monopoly on ideas and solutions for this country. The combination of both Bernie and Hillary brought forth some ideas that would be good for all of America. So I think we have to keep encouraging all groups to be innovative and forward-thinking, and not hesitate to come up with sometimes what appear to be radical ideas."

---
Susan Brooks is the incumbent Republican candidate for the Fifth Congressional District of Indiana. She'll face Carmel businesswoman and Democrat Dee Thornton in the election next month.

WFYI's city reporter Drew Daudelin sat down with Brooks to talk about the opioid crisis, healthcare reform, and the current political climate.
LISTEN TO THE COMPLETE INTERVIEW:
Interview Highlights
On the opioid crisis:
"We have a real challenge with treatment and recovery. We don't have enough different types of treatment and recovery, not just facilities but providers, clinics, outpatient, inpatient. When someone is ready and or has been convinced they really need to get that treatment, there still is far too long of a wait or a difficult time to find what's called a bed.

Part of the problem is, we don't actually have enough trained workforce to actually staff and run these kinds of facilities and clinics. So it's a difficult problem, part of the funding we're putting on is focusing on the workforce needs of the treatment and recovery community."
On the push for Medicare for All:
"Free healthcare is never free. It has to be paid for, and paid for by the taxpayers. I do believe and want to ensure there's affordable, accessible healthcare for all. But that's where I believe more in the free market, and in competitors and providers competing to try to help lower the cost of healthcare.

I do believe there are definitely a lot of options we need to explore like associations or small employers pooling together and providing options, like opening up affordable insurance across state lines, and being able to buy. And that's difficult, but I think there are a lot of things we could be doing. But I think Medicare For All is not the way to go."
On political polarization:
"The philosophy of my office and my team has always been to try to find the middle-ground. That's why there are so many issues with the Affordable Care Act, it was pushed through completely with one side rather than both sides collaborating and working on it together.

I think it's critically important to partner. I think that's the best legislation. It also ensures when you have a partner in the House that there will be bipartisan partners over in the Senate. And that's I think the best way forward, that's I hope what we move toward, whether it's with healthcare solutions, it's gotta be with immigration."