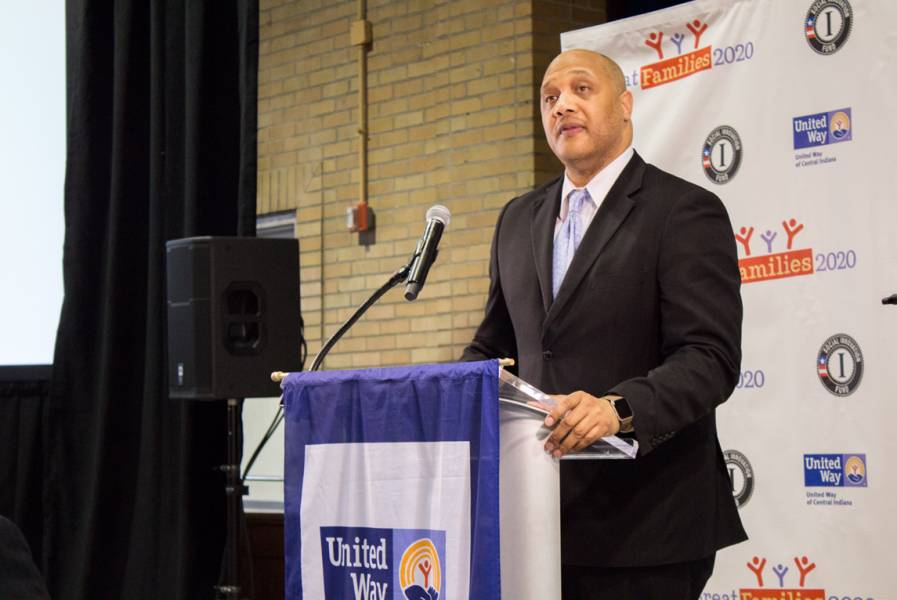 Rep. André Carson spoke at the Tuesday event, saying the program is a new chance to strengthen Indianapolis. (Photo by Drew Daudelin)

United Way of Central Indiana announced Tuesday the first grant recipients of its Great Places 2020 initiative.
The goal of the five-year project is to help families become financially stable in four key areas of Indianapolis.
The first recipient of Great Places 2020 is the Edna Martin Christian Center. The east side facility, which provides social services for families in the neighborhood, will receive $350,000.
Ann Murtlow, president and CEO of United Way of Central Indiana, says they're using what's called the two-generation approach to choose grant recipients and work with community centers.
"If you establish a neighborhood network, of comprehensive integrated services that serve the whole family," Murtlow says, "then more children will enter kindergarten ready to learn, more parents will acquire the skills necessary to have career track jobs, and then the result is that more families can be financially stable."
Other recipients announced are the John H. Boner Community Center, Englewood Christian Church, and East 10th United Methodist Children and Youth Center.
U.S. Senators Joe Donnelly and Todd Young spoke at the event, as did Rep. André Carson and Indianapolis Mayor Joe Hogsett.
United Way says it will announce a second round of grants for the project this August.