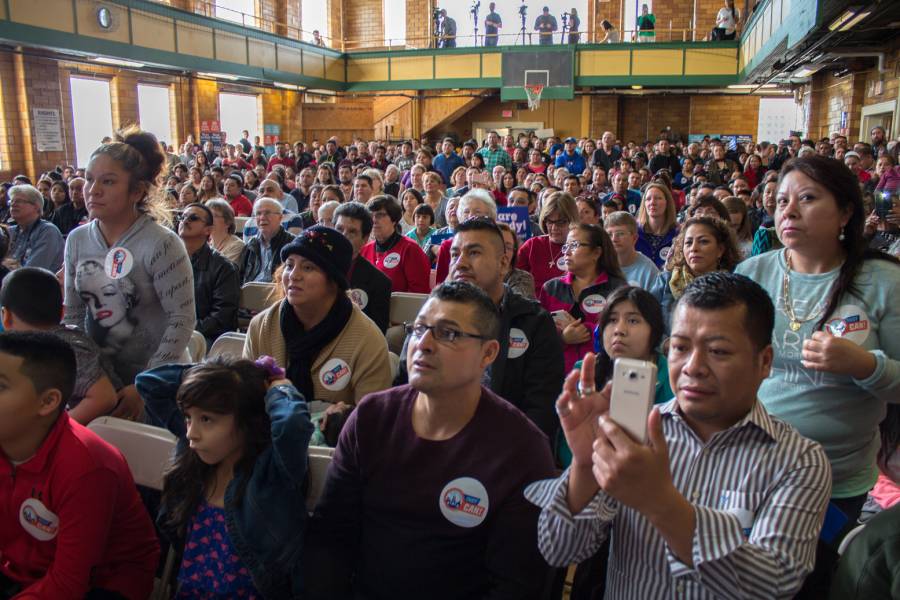 Hundreds gathered Sunday to rally for immigrant protections at St. Philip Neri Catholic School on the east side of Indianapolis. (Photo by Drew Daudelin)

Faith leaders, lawyers, politicians and local residents spoke Sunday at a rally to support immigrant protections in Indiana. They spoke to a crowd of hundreds in a gymnasium at St. Philip Neri Catholic School, on the east side of Indianapolis.
The rally, organized by the Indianapolis Congregation Action Network, or IndyCAN, comes at the end of a tense weekend for immigrant communities, after reports that Immigration and Customs Enforcement (ICE) has been conducting aggressive deportation raids in a handful of states.
ICE officials said in a statement that the raids were routine. But coupled with the ongoing legal battle over President Donald Trump's ban on certain immigrant and refugee populations, some advocates are scrambling to put protections in place.
Alicia de los Santos, a local resident, told the crowd her husband is currently being deported.
"On the 14th of September, my husband took his car to the mechanic and he never came home," de los Santos says.
De los Santos has four children, and her story highlights the worry some have that mass deportations Trump has vowed to carry out would tear families apart.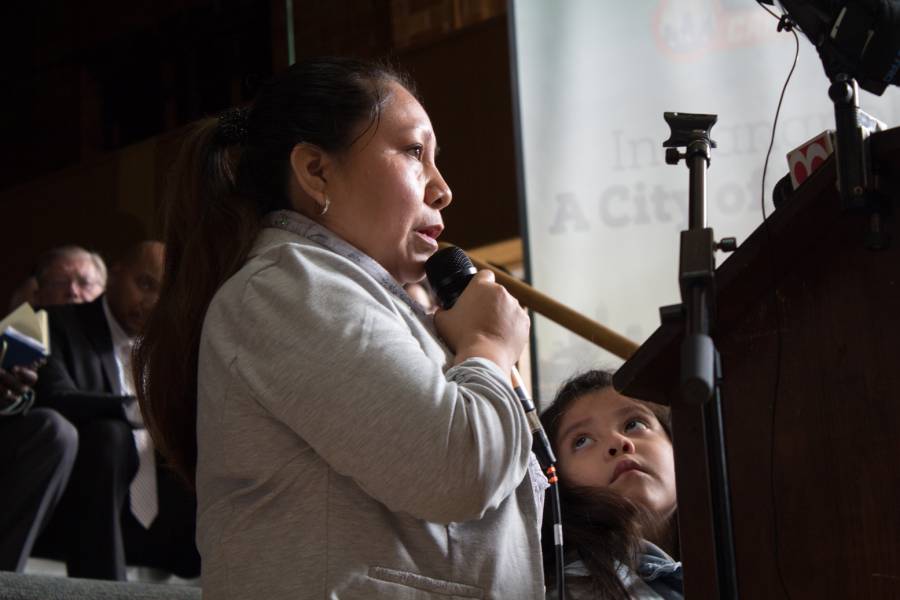 Alicia de los Santos told the crowd Sunday that her husband is being deported. She says she's lived in the United States for 22 years and has four children. (Photo by Drew Daudelin)

"In September my daughter had her birthday, and her birthday wish was that her father returned," de los Santos said. "I had to tell her that her dad couldn't be there because he was working."
She says her children were able to see their father in January at the prison where he's being detained.
Rev. Linda McCrae announced that the rally is the start of a "sanctuary movement" in the city. If Indianapolis became a so-called sanctuary city, it would mean that local officials could act as a shield between non-citizens and the federal authorities looking to deport them.
But Indiana law prohibits sanctuary cities. Since 2011 local governments cannot refuse to cooperate with federal immigration authorities to protect non-citizens.
Indianapolis Mayor Joe Hogsett did not mention sanctuary cities in his speech. But he said his administration would make a commitment, "To ensure that not one dime of city resources fund anything that a court has determined to be discriminatory or unconstitutional."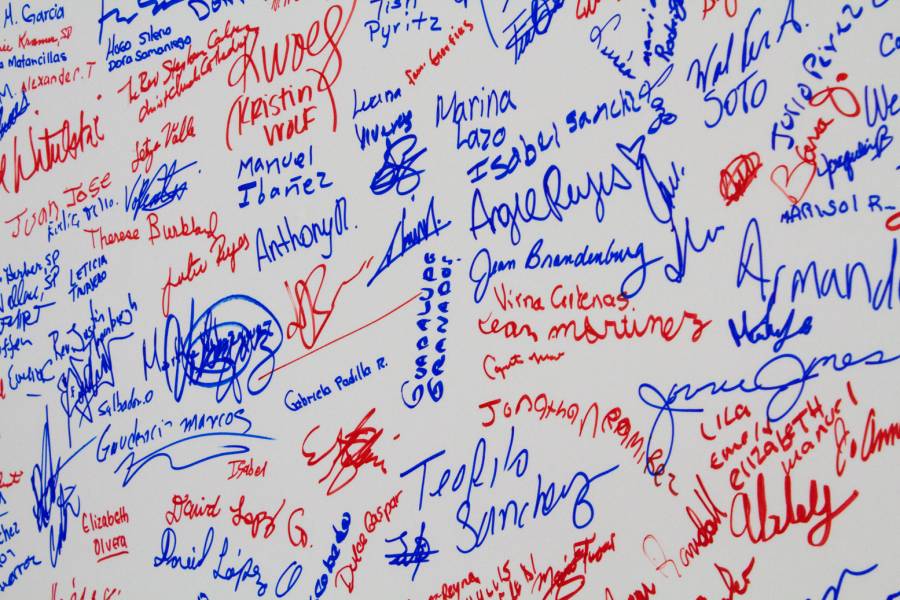 A board at the Sunday rally shows dozens of attendees' signatures. Above it, a message for Marion County Sheriff John Layton reads, "People of faith urge you to stand with vulnerable families and institute a policy to honor the U.S. Constitution and end the practice of ICE detainer requests that violate the 4th Amendment and separate families. (Photo by Drew Daudelin)

Faith leaders who spoke at the event called for inclusivity in Indiana. The rallying cry throughout was "One body, one voice, united we stand."
Marion County Sheriff John Layton was scheduled to speak but didn't attend.
IndyCAN representatives ended the rally by asking for a group of delegates to meet at Layton's office Monday morning to discuss their concerns.