State expects gains in Arlington students passing end of course exams yet some juniors and seniors have never taken the required math and English tests

English teacher Kevin Sandorf explains some writing techniques to student Daniel Berverena during the Arlington High School's "intersession" for remedial math and English classes. Photo: Eric Weddle/WFYI Public Media
After three years under management of a private charter company and nearly a decade of chronic failure, Arlington Community High School has returned to Indianapolis Public Schools. It's the first school under state intervention to transition back to its home district and school leaders are under pressure from the community and state to make it work. In the series A New Day, WFYI education reporter Eric Weddle is spending a year reporting from inside the school on its successes and challenges.
---
On a regular day, the halls and classrooms of Arlington can teeter on a low rumble until an outburst, fire alarm or students skipping class can shatter any hope of focus.
But for the past two weeks, it's been a much different vibe.
"It is just a very calm, a very soothing environment in here," says English teacher Kevin Sandorf as a near-silence envelopes the school. "You are not addressing all those little pieces -- the dress code and things like that. We're getting focused on the instruction in here."
Sandorf is one of a handful of teachers who have given up all or part of their fall break for an intensive, teaching session held during the fall break. The goal is help students bone up on math and English skills -- so they can pass exams required for graduation.
Yet few students took advatange of the extra help.
Of the 104 Arlington juniors and seniors ordered to attend the two-week session, held 7:30 a.m. to noon daily, only 35 attended the first day. By the second day attendance dropped to 25 students and eventually an average of just 15 students remained for the next eight days the "intersession" was offered.
This academic disregard could come back to haunt Arlington when the state asks next year whether the school increased scores and graduation rates as IPS promised it would.
Those who did show up, got veteran teacher Sanorf's hyper-active, highly interactive teaching style. During two days, students worked their way through -- "Heritage or Hate," an article about the current debate over the Confederate flag.
The lesson gave Sandorf the opportunity to zero in on the stumbling blocks of individual students, such as how to formulate short-form essay responses and narrow down the correct answer when multiple choices are given.
Around the corner in another class, math instructors Tim Davis and Rolanda Gardner split their attention with a just handful of students. That lets them target different topics at the same time -- from graphing to quadratic equations. The two also emphasize testing tips.
"You've got the numbers in here right now where you can do a one-on-one, pause, ask -- 'do you understand this?,'" Sandorf' says. "We can back up and look at this a little more."
Teachers and students agree -- this is the first time there's been peace and quiet in the school this year. Arlington's transition back to IPS has been fraught with many challenges, including the new staff trying to earn the trust of more than 600 students while setting a cultural tone.
'Exhaust every opportunity'
The students have come to Arlington from across the city and schools, from IPS, township and charter schools. Those who attended Arlington last year, under the management of Tindley Accelerated Schools charter company, say they are still adjusting to the IPS staff and hundreds of new students.
While eating lunch in the cafeteria, Junior Monyae Peavy says she wants Arlington to be frozen in time like it is right now -- free of distractions and rambunctious students. The clam she says, allows teachers to put all their focus on teaching.
"I have to have a teacher right there showing me the steps, not just talking in front of the class, cause then I won't understand," she says. "You know, that is how I learn better."
And as a junior, Peavy should have taken these exams last year or earlier. Yet since IPS took back control of the school, Arlington administrators discovered that some students were never given the opportunity to take the Algebra I and English 10 End-of-Course Assessment exams even though they're required for graduation.
Other students who failed the test had no idea how close they were. A junior in Sandorf's English class was told during the intersession he was just two points shy of the 360 point passing score when he took the test last year.
"When he found out, his confidence shot up," the teacher said. "No one had told him. If I was his teacher, I would have asked for a rescore (of the test) and squeeze out a few more points."
While Arlington staff try to figure out why some students slipped through the cracks, administrators say it's critical for them to spend their fall break prepping.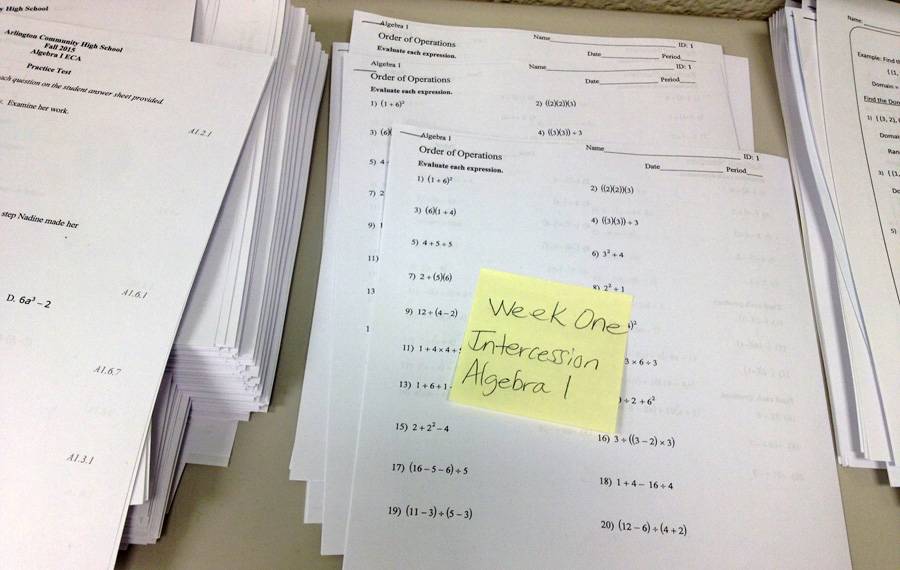 Some of the assignments for Arlington students reviewing algebra during the fall break "intersession." Photo: Eric Weddle/WFYI Public Media
"For one, because, a lot of the students have never been exposed to the test and so they really don't know what it looks like and what they need to specifically study for," says Ezalea Allen, an associate in the guidance office. "But it is also important because you need to exhaust every opportunity you get in order to be able to pass the test."
Allen says she had to explain to some parents the importance of the tests.
Without the diploma, students can't earn a full high school diploma. And that's a big problem -- not just for them -- but Arlington.
That's because IPS promised the State Board of Education that it would improve Arlington's pass rate on these exams from 2014 when the school was run by Tindley. Last year, first time testers passed the English exam at a rate of 46.9 percent and math at 31.9 percent pass rate.
Overall, Arlington needs to hit a graduation rate of 60 percent -- that's an increase of 16.5 percentage points from last year. That was all a condition of IPS taking control of the school again.
The option of students seeking a waiver to graduate because they have not passed the end of course exams, is rare. IPS has cracked down on the practice. In 2011 more than a quarter of IPS graduates were granted a waiver. In 2014 only 6.9 percent got one.
Fall break is just the start of Arlington's push to ensure these students pass the required math and English exams. After school tutoring will be offered until the December exam. If students don't make the grade then, they can expect more class time during spring break.
Classes at IPS resume on Tuesday -- Monday is a professional development day for teachers.
Contact WFYI education reporter Eric Weddle at eweddle@wfyi.org or call (317) 614-0470. Follow on Twitter: @ericweddle.