Indianapolis Public Schools Superintendent Lewis Ferebee was awarded a $26,999 bonus Thursday.
The payout was based on an annual review of Ferebee's performance by the IPS Board. The five commissioners present at Thursday's meeting voted unanimously to pay Ferebee 77.14 percent of a possible $35,000 for meeting predetermined goals in 2015-2016.
Board president Mary Ann Sullivan defended the extra pay as it was approved the same day state ISTEP results showed only a quarter of IPS students passed both the English/Language Arts and math sections for the standardized exam.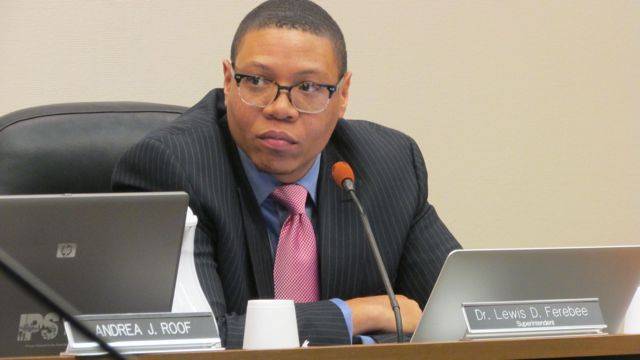 Sullivan said the "dips" in overall ISTEP scores are not unusual this year compared to other cities and school districts.
The IPS passing rate dropped by 4 percentage points to 25.3 percent in 2016 for students who passed both sections. The statewide average slid by about 2 percentage points to 51.6 percent.
"The strategies we are engaged in, in the district are long term. We don't expect quick fixes but we expect fixes," Sullivan said. "We are looking forward to long term growth."
Ferebee later said that he agreed with Indiana Associate of Public School Superintendents who are arguing that the exam is flawed and should not be used for teacher or school accountability.
"This will not be a red flag for us. We look at at many indicators for success," Ferebee said. "And we are not discouraged by the data we have seen today."
Sullivan did not mention other difficulties the district faced in the past year, such as a scandal around sexual abuse allegations between a high school counselor and a student. Two employees were charged in connection of how the district handled the allegations.
According to a document provided by the district, Ferebee was evaluated on 10 goals, including: developing and implementing a plan for schools to become an autonomous; changing the teacher assessment system; and getting 95 percent of freshman students complete a four-year course planning guide.
Three academic guidelines were also used to evaluate Ferebee: district graduation rate; pass rate of the Indiana Reading Evaluation And Determination, IREAD-3, assessment; and "college and career readiness."
District officials declined to say how Ferebee was graed on each of the goals. The complete goal list is below.
Last December, the board gave Ferebee a $21,000 performance bonus -- 84 percent of a possible $25,000 he was eligible for under his previous contract.
Then in February, the board approved a new contract for Ferebee, that included increasing the performance bonus to a potential $35,000. The new contract provided a 6 percent raise, increase in retirement benefits. Coupled with the performance-based bonus that could ultimately bump his annual compensation to more than $276,000.
Ferebee's performance goals
[1.1] IPS will develop and implement an autonomous schools framework that will allow schools greater flexibility by 2016, as measured by district data. [1.2] IPS will develop and implement a list of philosophical and functional imperatives for all schools by 2016, as measured by district data.
Reengineer teacher assessment system to ensure inter-rater reliability and consistency.
Attractive and comprehensive magnet redesign and strategic expansion plan created to address need, interest, and student achievement.
Ninety-five-percent of freshman students complete a four-year course planning guide. One hundred-percent of IPS graduates will have a postsecondary success plan.
Weighted-student funding formula created and explained to school leaders.
Implement a technology refresh plan for schools based upon per-pupil allotments.
Automated services implemented to achieve a 50% reduction in manual tasks, increase productivity and responsiveness, and eliminate information gaps.Create a transition plan for expanding contracted services.
Internal communication standards and protocols established and implemented throughout the district.
Expand Superintendent Advisory and Ambassador Councils to include students, teachers, and non-certified staff.
Academic indicators: Graduation rate, IREAD3 and college and career readiness
Updated Friday Nov. 18, 2016 to include the performance goals.
Contact WFYI education reporter Eric Weddle at eweddle@wfyi.org or call (317) 614-0470. Follow on Twitter: @ericweddle.