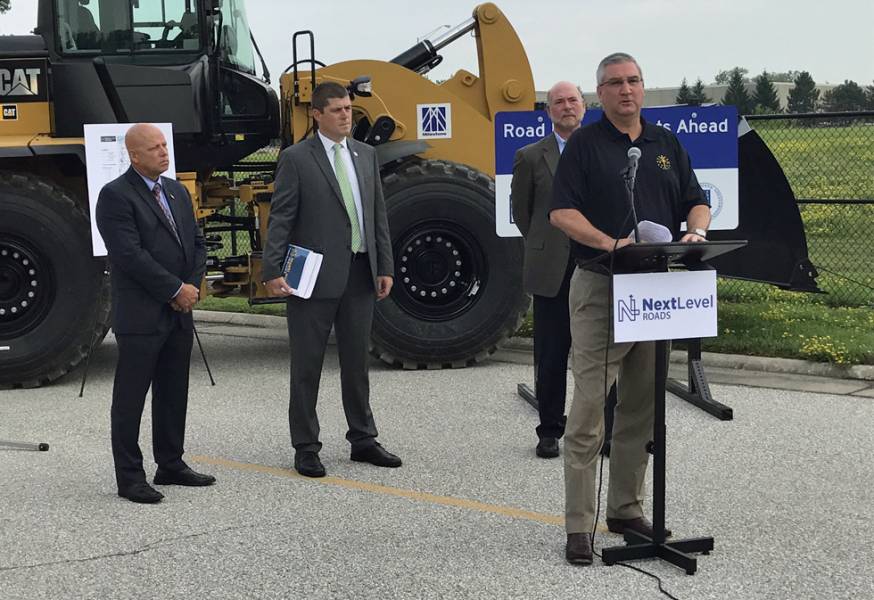 Gov. Eric Holcomb announces the priorities for the next five years of road and bridge repairs. (Photo by Drew Daudelin)

Gov. Eric Holcomb talked Thursday about the first five years of a 20-year initiative to improve the state's roads and bridges.
The plan would result in 10,000 miles of existing highways being resurfaced and about 1,300 bridges being repaired or replaced.
Holcomb says the initiative, called Next Level Roads, outlines about $4.7 billion in investments over the next five years.
Lawmakers passed a road funding bill this year to help pay for state and local-level projects. Money will be generated in several ways, including a 10-cent gas and diesel tax increase and a new $15 registration fee for all vehicles.
Holcomb says the funding model is sustainable, and makes the ambitious initiative possible. And he talked about what he thinks is the most important aspect of the plan.
"We're also giving more resources to the locals, so that they too can determine what their destiny of their neighborhood, their community, their county will be," Holcomb says.
Holcomb is touring the state to tout his five-year strategy and highlight the plan's impact on each part of Indiana.
Replacing bridges on Interstate 465, resurfacing areas on Interstate 65, and replacing a bridge on Keystone Avenue are some of the major projects planned around Indianapolis.