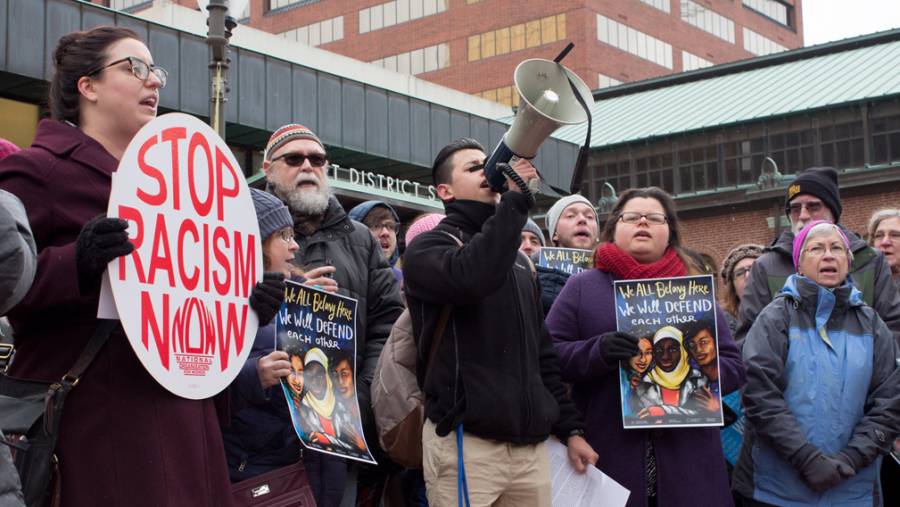 Jesus Ramirez, center, was among dozens who rallied Friday against President Trump's expected ban on certain refugee and immigrant populations. (Photo by Drew Daudelin)

Updated 9:55 PM ET
President Trump signed an executive order Friday that enacts the anticipated bans.
The act does the following:
A 120-day suspension of the entire U.S. Refugee Admissions Program and a 90-day ban on all entry to the United States from countries with terrorism concerns
A three-month ban applied to Iraq, Syria, Iran, Sudan, Libya, Somalia and Yemen - all Muslim majority nations
An indefinite ban on Syrian refugees until the president determines that changes to the refugee assistance program ensure that admitting them won't compromise national security
The order makes no mention of a plan to provide safe zones in Syria and the surrounding area. A draft of the order had directed the Pentagon and the State Department to produce a plan for safe zones in the war-torn Mideast nation.
Original article:
Advocates for refugees and immigrants are waiting to see what actions President Donald Trump might take on the issue, but they aren't waiting to protest.
Trump is expected to place bans soon on certain refugee and immigrant populations.
Among the series of executive actions Trump could sign, one puts a 120-day ban on all refugee admissions and an indefinite ban on Syrian refugees. Trump has indicated there could also be a 30-day ban on immigrants from seven countries, all with Muslim-majority populations.
Supporters say the bans mean increased security to the United States, allowing the new administration to beef up what they see as an insufficient vetting process.
But Rima Shahid, executive director of the Muslim Alliance of Indiana, says the process is "extreme" in its current state.
"It's basically a death sentence for thousands of people, that have already been in a war-torn country, that have already seen the devastation of war and violence," Shahid says.
Some who oppose the action consider the security argument a veil for underlying racist sentiments. Shahid agrees.
"There is, in my mind, no clear reason for this besides racism," Shahid says.
The argument behind the bans might be familiar to some Hoosiers. Vice president and former governor Mike Pence attempted to block federal funds from Syrian refugees last year, citing security concerns. A federal judge blocked the action on grounds that it was discriminatory.
Exodus Refugee Immigration, a group that helps refugees from Syria and other countries get settled in Indiana, released a statement Friday denouncing the proposed action.
"We fought against this discrimination once before, but this time, the fight is national," says Cole Varga, the group's executive director. "It is essential to send a message to the new administration that we will continue standing with refugees and condemn all forms of discrimination."
Exodus was part of the fight against the Pence administration in the 2016 case.
Trump is also expected to reduce refugee admissions to the U.S. this year from the planned 110,000 to 50,000.
Leaders from the Indiana Undocumented Youth Alliance, Muslim Alliance of Indiana, Jewish Voice for Peace-Indiana, and American Friends Service Committee spoke at the Indianapolis event.
The Associated Press contributed to this report.