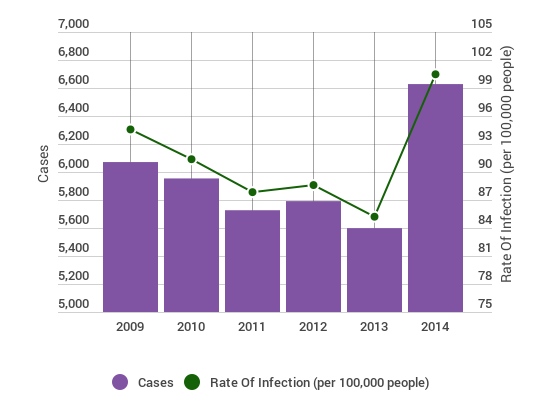 The Centers for Disease Control and Prevention have listed hepatitis C as the most deadly infectious disease in America. Deaths associated with the illness reached an all-time national high in 2014. In Indiana, however, mortality data tells a different story.
Here, the number of hepatitis C cases is going up at a significant rate. Between 2013 and 2014, the number of reported cases increased almost 20 percent.
State health department officials say reasons for that increase could include more testing, an increase in test accuracy and a rise in injection drug use.
However, state epidemiologist Pam Pontones also names Indiana's drug epidemic as factor in the hepatitis C increase. She says half of the people in Indiana exhibiting acute forms of the disease in 2014 were drug users.
"One of the primary risk factors, and the top risk factor that is reported in Indiana, is injection drug use," she says.
But despite a spike in 2011, reported hepatitis-related deaths in Indiana have actually been on the decline. Ninety-nine deaths were attributed to hepatitis in 2014, the latest year in which data is available. That's the first time since 2006 the number has dipped below 100.
Pontones says that number could still be higher, though. Hepatitis can cause liver cancer and cirhossis, but unless a death certificate specifically mentions "hepatitis," as the cause of death, Pontones says that death won't be counted.
"It really depends on how that is indicated and then how it gets coded," she says. "That's what goes into the basis of our statistics."
Pontones also says provisional data from last year indicates an increase in diagnosis of both long-term, chronic cases and new, acute cases of the disease.