The 2020-2021 school year has been riddled with challenges for teachers during the COVID-19 pandemic. They have had to navigate instructing in-person and online students, engaging students while remaining socially distanced and helping students stay on track after lost instruction during the previous academic year.
As the school year comes to a close, districts across the state are announcing their choices for teacher of the year. Staff in each school district nominate their top teachers while considering educator's teaching philosophy, professional accomplishments and instructional practices.
Each local winner will advance to the state level for consideration for the 2022 Indiana Teacher of the Year, which is announced in the fall. Last year, all of the state's teachers collectively were awarded that title.
Franklin Township Community School Corporation District: Sabrina Cooper
The teacher of the year for Franklin Township Community School Corporation District is Sabrina Cooper. She is a kindergarten through third grade English language teacher at Bunker Hill Elementary School. This past year, Cooper supported approximately 110 students learning English both online and in person.
Bunker Hill Elementary School Principal Dr. Heather Finn said Cooper actively pursues opportunities to help support non-English speaking students.
"Mrs. Cooper is respectful of all people in our school community," Finn said in an email. "Parents and students who struggle with English feel heard and cared about by her. She is brilliant at building relationships. The students in our school whom she serves most often look forward to spending time with her in their own classrooms among their peers, as well as in Mrs. Cooper's classroom for focused, intensive instruction. I appreciate her dedication to our Bulldogs. She makes certain that all students feel welcome in our school."
Indianapolis Public Schools District: Sarah TeKolste
Sarah TeKolste is teacher of the year for the Indianapolis Public Schools District. She is a Shortridge High School Spanish teacher and has been an educator for six years. TeKolste said she wants to see educators provide more culturally responsive teaching.
"As a Spanish teacher, I have a really unique lens into the way that languages barriers can either uphold or dismantle systems of oppression," TeKolste said. "And I think that's part of a district wide conversation about equity. And I'm really excited to lift up that conversation to both a district and a state level."
TeKolste was nominated for multiple accomplishments, such as starting a peer mentoring program, and a virtual speaker series that allows community leaders to engage one-on-one with students. She hopes these programs will be replicated across IPS, as well as other school districts.
Lawrence Township Schools: Hillary Pyle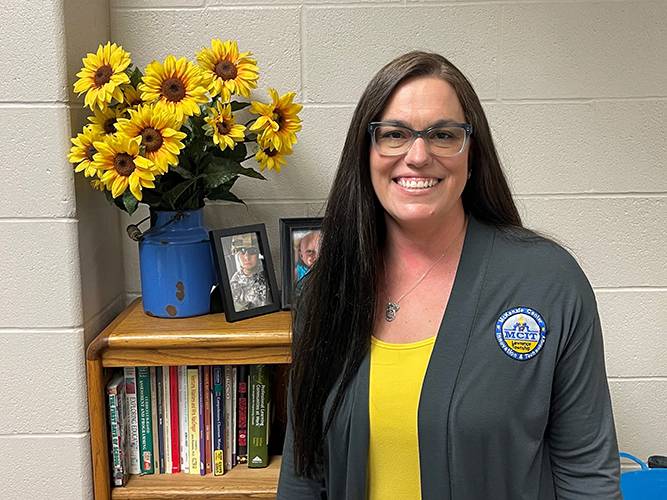 Hillary Pyle is teacher of the year for the Lawrence Township Schools District. She has been an educator at the McKenzie Center for Innovation & Technology, a career and technical high school, for more than 20 years.
This year, Pyle became the Supported Employment Coordinator at MSDLT, which included helping students prepare to enter the workforce and fine-tuning their English skills. During the pandemic, she found ways for her students to gain employment experience even when they couldn't work in the community.
"In the future, I would like to expand our work study program to assist more students in gaining employment," Pyle said. "Students being ready for life after high school with independent living and employment skills allows them to have a successful start in the world of work."
Additionally, Pyle oversees the school's job coaches and resource instructional assistant. She also provides activities to support the social and emotional health of students and staff. This includes organizing teacher bingo and staff salutes, which the district said has helped with anxiety. In return, this helps educators to better assist students who need more support.
Perry Township Schools: Alison Scott
Alison Scott is the teacher of the year for the Perry Township Schools District. She is an educator at Homecroft Kindergarten Academy and has worked at the district for 17 years. In order to help students during remote learning, the district press release said Scott would record all of her virtual session plans in order to provide more individual student support. She was also recognized for continually seeking professional development opportunities, and planning weekly after-school meetings with educators in order to discuss effective teaching techniques.
Pike Township Schools: Ashley Greaves
The MSD of Pike Township teacher of the year is Ashley Greaves. She is a sixth grade reading and writing teacher at Guion Creek Middle School and has worked at the district for four years.
"Mrs. Greaves is one of the most instructionally talented teachers I have come across in my career," wrote Guion Creek Middle School Principal Greg Nunley. "The fact that she is doing this in a non-traditional year makes it even more remarkable. She has been there all year to assist her colleagues with technology issues. Her Canvas page is second to none. Her students consistently perform at a high level and she goes out of her way to support parents. Great teachers always figure it out and Mrs. Greaves has absolutely figured it out."
Washington Township Schools: Carrie Jacques
Carrie Jacques is teacher of the year for the MSD of Washington Township Schools. She is an educator at the J. Everett Light Career Center -- a career and technical high school.
Washington Township has had at least four Indiana Teacher's of the Year.
This story will be updated as more teacher of the year awardees are announced in Marion County school districts.
Contact reporter Elizabeth Gabriel at egabriel@wfyi.org. Follow on Twitter: @_elizabethgabs.