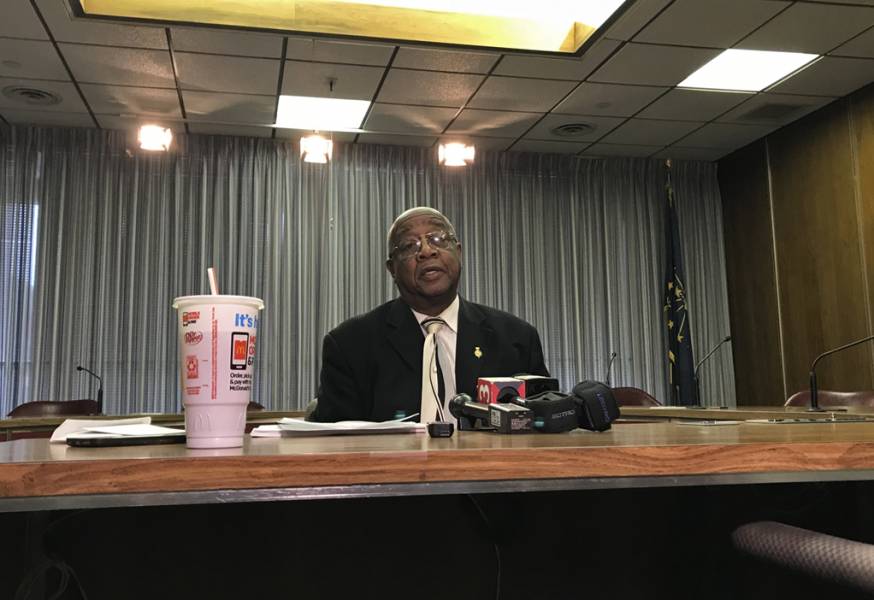 Councillor William Oliver says he wants to slow gun trafficking, and what he calls the "easy accessibility" of weapons in the community. (Photo by Drew Daudelin)

Gun violence resolution
Before the meeting, Democrat Councillor William Oliver announced a new resolution meant to address gun violence in Indianapolis.
Oliver says he wants to slow gun trafficking and what he calls the "easy accessibility" of weapons in the community. The Council lacks power over the state to change gun laws, so Oliver's proposal urges state lawmakers to discuss possible legislation.
Oliver says lawmakers should consider a ban on high-capacity magazines.
He also mentions a ban on assault weapons. He says he's unable to define assault weapons, and is using the term loosely to get attention on the issue.
"I'm trying to be proactive, get out ahead of the homicides, that's all," Oliver says. "And [if] we reduce the number of guns accessible, out here in the street, we think that we'll see a downturn in homicides and aggravated assaults."
Oliver says the city will hold community events to collect public input on the issue.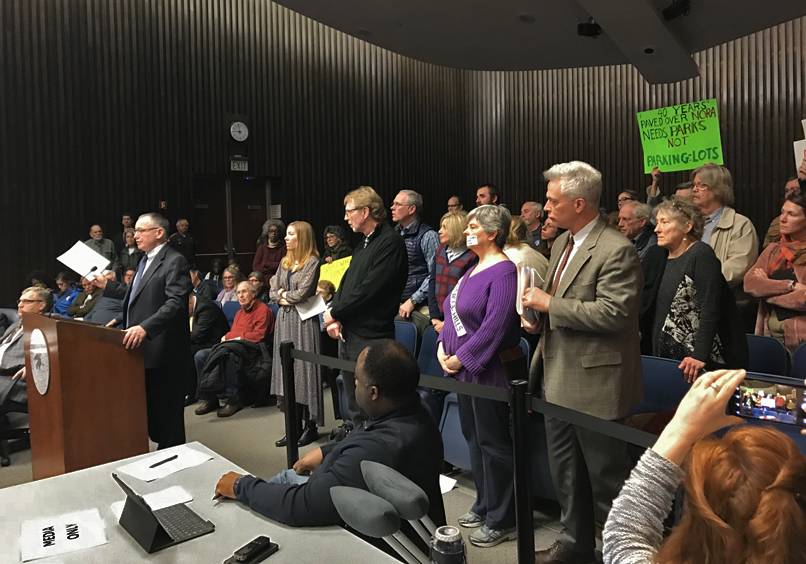 Russell Sipes, a lawyer representing the Driftwood Hills Neighborhood Association, says local residents have been excluded from rezoning negotiations on a wooded plot of land. (Photo by Drew Daudelin)

Nora neighborhood development
A group of residents involved in a controversial and complex zoning case in Indianapolis were denied their last chance to take part in negotiations.
Last year, Keystone Realty Group's petition to develop on a wooded plot of land near the corner of Keystone Avenue and 86th Street, in Indianapolis's Nora neighborhood, was rejected. The group then negotiated a new plan, and began moving forward with it.
Russell Sipes, a lawyer representing the Driftwood Hills Neighborhood Association, says local residents have been excluded from the process ever since, and says they deserve a chance to weigh in.
"We now have a new plan, with an entirely new building approved that was never the subject of a public hearing, that was never the subject of a petition before the commission," Sipes said.
This illustration shows the Nora neighborhood site, and three development plans created through negotiations. (colleenfanning.com)

Republican Councillor Colleen Fanning, who led the project, says the process was followed correctly.
"You did get a voice, even if you weren't specifically…" Fanning said, interrupted by objections from the audience. "You did, yeah, you did. January 20th, March 4th, dozens of emails on my phone. There's lots of communication that happened here."
The council voted against holding a new public hearing on the negotiation. They moved straight to a vote, where they approved the latest renegotiation for the project.

Non-privatized jails
The Council voted to adopt a bill that requires the administration and operation of county jail facilities be non-privatized beginning in 2023.
Republican Councillor Marilyn Pfisterer spoke against the bill. She argued they shouldn't make decisions for future councillors.
The proposal passed with a vote of 18 – 4.