When the pandemic hit, shelters didn't make sense for people experiencing homelessness. Federal money allowed the city to do something it'd never done before -- house people without shelter in a hotel.
Deputy Mayor of Community Development for Indianapolis Jeff Bennett said the hotel provided opportunity. The housing-first approach provided people with private rooms and gave them time -- in a safe space -- to work to get back on their feet.
"It was never meant to be permanent. It was meant to be a bridge to whatever came next and it just so happened that a considerable amount of federal attention and then federal funding came in to help support our housing first strategy," Bennett said.
While people stay in private rooms, with no hard deadline to leave, care providers connect them to wraparound services - like food, and financial guidance. Bennett says it's well known this holistic approach works, and this was one of the city's first opportunities to really go for it, because it had the influx in federal money.
"Like we didn't have to spend weeks or months or years convening, you know, working groups to figure out how to spend this money. We were able to just say, Hey, we have a plan that calls for housing first," Bennett said.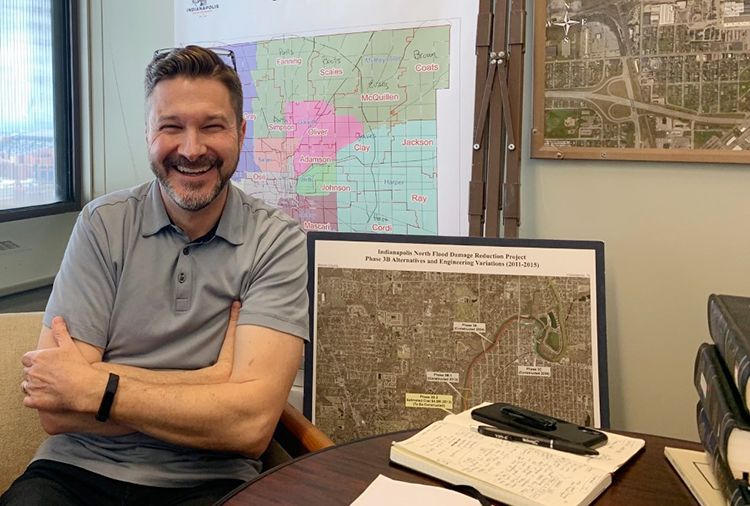 Alongside the Coalition for Homelessness Intervention and Prevention, or CHIP, the city's 2018 plan to end homelessness by 2023 hinges on the housing first strategy.
The model argues that people need stable housing to address the issues that knocked them off their feet in the first place -- like unstable work or personal tragedy.
Growing evidence shows housing first works. When people are quickly and permanently housed without barriers, between 70 to 90 percent remain housed for at least a year.
READ MORE: Foster Youth At Greater Risk Of Homelessness
Situated next to the site of the old Indianapolis airport terminal, for the past year and a half, the Crowne Plaza has been closed to the public and open to those seeking shelter. Inside the five story building is an airy lobby.
Almarie Taylor has been a resident at the hotel for a few months. She said her room has been great.
"I have a really nice one," Taylor said. "I have a couch, a king sized bed, a TV, a bench refrigerator, microwave. You know, my room came with that."
Her fiance died unexpectedly last year.
"We had planned to move in right then and I didn't have my disability," Taylor said, "So I became homeless right away. So it was a shock. It was scary."
She spent a few weeks at Wheeler Mission before a case worker pointed her towards the hotel.
"When I got in here, I was a mess crying and everything," Taylor said.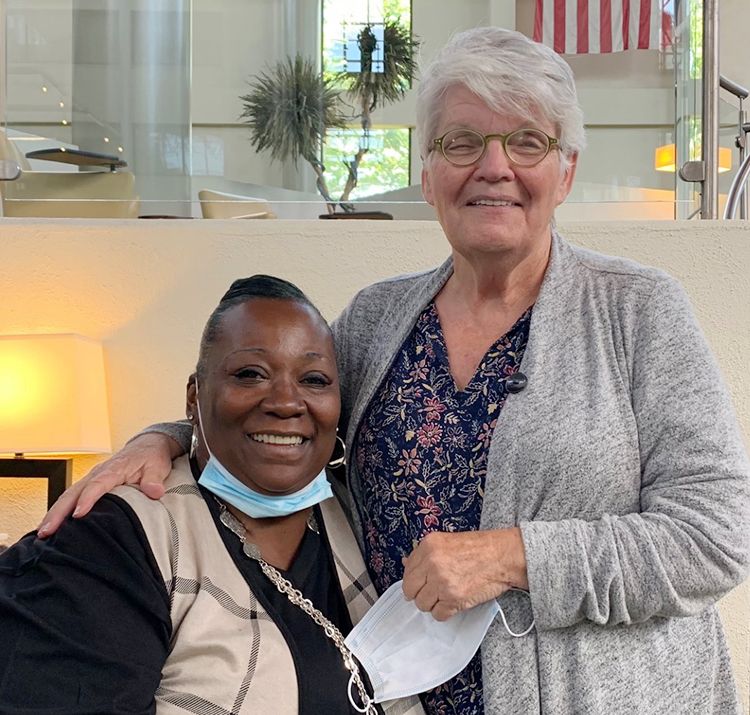 The hotel ballrooms are set up for residents to sit down and talk to service providers. It's become the headquarters for a new effort called Home Now, part of the city's plans to house people with the help of an infusion in federal assistance.
People can also connect with important documents, funds, food assistance, mental health help and transportation. Taylor said the staff has been committed to her wellbeing. She expects to be in a new apartment this month.
"They furnish your whole house, a truck comes and furnishes your whole house. You get everything you need," Taylor said.
Barbara Williams works onsite with the local HUD team. She said in all her years of social work, there has never been an opportunity like this.
"If there's one good thing that came out of COVID it is the fact that we have all this funding to provide where we don't normally have a fifth of this funding," Williams said.
Williams said people need more than shelter to get back on their feet.
"You can't do it without an entire holistic approach, and then we have case management where somebody walks alongside them for a year," Williams said.
The city has spent more than $15 million renting hotel space for people over the past 18 months. Another $13 million in federal relief money has gone towards supportive and rapid rehousing as well as other services.
---
---
Service and health provider Aspire has been coordinating at the hotel since late last year. Manager Kathleen Bowers said they've been able to permanently house more than 200 people so far. More than 500 people have utilized the hotel program.
"I mean, one of the coolest things is when I sit in there and a resident comes running into one of the staff out there, it's like, 'Oh my god. Oh my god. I just got housed. I just got housed,'" Bowers said.
Bowers says the hotel also provided a safe place for people to heal.
"Having the safety the place that you can go and lay your head at night and not have to worry about, you know, the outside world, I think has just given people the emotional leg up that they needed to move forward in their life.
---
---
The hotel has stopped taking people in and will close in September with a goal of having everyone permanently housed. Deputy Mayor Bennett said the hotel residents who do not connect will still be offered help to find housing and other services.
City officials say the resources that made the hotel possible are likely a once in a lifetime opportunity.
Contact WFYI city government and policy reporter Jill Sheridan at jsheridan@wfyi.org. Follow on Twitter: @JillASheridan.