Just hours before Election Day candidates for the Indianapolis Public Schools Board and their supporters are putting in last ditch attempts to sway voters to pull the lever in their favor. Cable TV advertising and neighborhood canvassing are some of the get-out-the-vote efforts that took place Monday.
Ten candidates are vying for four seats in the election that could maintain or drastically change IPS Superintendent Lewis Ferebee's vision to reform the struggling district. If incumbents maintain control, the district will continue with a plan to partner with outside groups and charter schools to turnaround failing schools and close underused high schools. But if challengers can win enough seats -- the momentum could be slowed or even derailed.
A few education election watchers I've spoken to are unsure on how some races will play out, such as District 4 between incumbent Diane Arnold and challenger Larry Vaughn.
In the 2012 election Arnold ran unopposed with no fundraising to win a third-term with 5,498 votes. This year Arnold has raised more than $16,000 and as you'll read below, support from an outside group.
That same year Vaughn, who has been bolstered this season with TV ads and campaign signs but little-to-no donations, captured 22,239 votes, or 37 percent, when he lost the At-large seat to Sam Odle.
Door-to-Door
Early Monday afternoon I followed Debra Pasha as she walked door-to-door on the city's Westside in District 4 to speak with voters about candidates Arnold and Odle. Pasha has a granddaughter who attends IPS School 14.
The 52-year-old is campaigning for Stand For Children, an advocacy group that endorsed three incumbent candidates -- Arnold, Odle and Michael O'Connor (District 1) -- and one first-time candidate for the District 2 seat, Venitia Moore.
She and two other workers walked along the North Alton Avenue near 10th Street talking to residents on their porches, in doorways and handing out information on the candidates. Since September, they said, they've spent up to eight hours, five days a week getting the word out about the four candidates.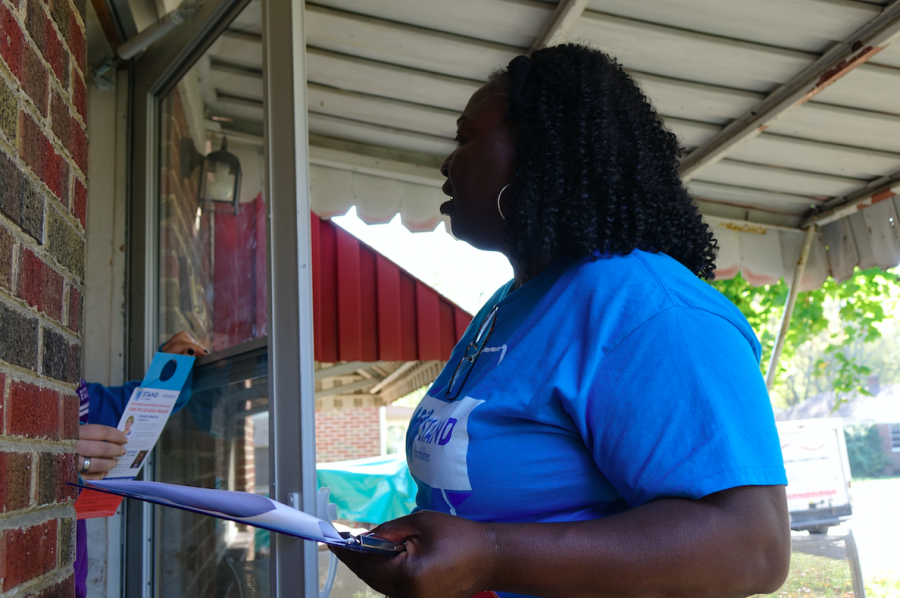 "We have a good team. I feel like we have the cream of the crop that we have chosen," Pasha said about the candidates endorsed by parents and other community members involved with Stand For Children. "I really do believe (the four candidates) will win. I went in and sat in on the school board last Thursday. I watched Diane and Sam work -- they put their all into their work. I appreciate at."
Stand For Children is also spending an undisclosed amount of money to support the four candidates with campaign mailers to city residents, workers like Pasha and Election Day assistance at the polls. While the issue of the nonprofit's financial support has raised concerns among some candidates and local critics of Ferebee and the board, it wasn't an issue to voters we saw Monday on the Westside.
Instead, Pasha said, some residents have no idea there is an IPS Board election or that the candidates are nonpartisan and won't be included in a straight Republican or Democrat vote.
"I stress to some, there are more important things on the back of the ballot to vote for," she said. "You have to stop and take time to flip it over."
Cable Ads
While Pasha walked door-to-door, two other candidates were reaching potential voters with cable TV ads.
Ramon Batts (District 2) and Larry Vaughn (District 4) are airing ads on CNN, BET. Lifetime and Home networks through Comcast cable in the Indianapolis area. A 30-second commercial on CNN can reach 30,000 viewers, a Comcast representative said.
The ad package, expected to run through Election Day, cost the candidates around $500 to $600, both said.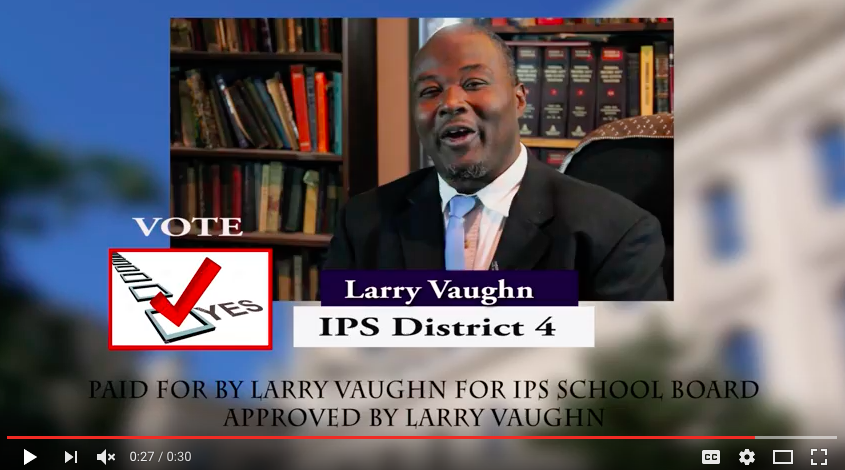 Vaughn planned to not spend money during the election but the cost of ad buy was too good to pass up, he said Monday. Vaughn had not filed a campaign finance report -- a requirement due on Oct. 21 -- but said he planned to do so Monday. State code requires school board candidates to file a campaign finance report if they spend or receive more than $500.
Vaughn's add focuses on defunding charter schools and innovation network schools that are under contract with IPS -- an issue he repeatedly brings up in public comment during IPS Board meetings.
Asked how he thought the election would turn out, Vaughn said: "When you put a dime in the machine, you hope a few Cokes come out."
Batts, who lost out in the last IPS Board election, echoed Vaughn's reasoning for the ad. He says he is feeling "up and down" about chances of beating out candidates Moore and Nanci E. Lacy for the seat.
"There is a lot more energy around my campaign this time," said Batts, who reported $950 in donations. "It just feels different."
In Batts' ad, he promises to bring transparency to board actions and ensure recruitment and retention of "culturally competent teachers."
A surprise twist in the race came late Monday when IPS Commissioner LaNier Echols announced her resignation. Whoever wins election Tuesday will be part of the board to appoint a replacement in the next 30 days.
Contact WFYI education reporter Eric Weddle at eweddle@wfyi.org or call (317) 614-0470. Follow on Twitter: @ericweddle.