So, how much money is Stand For Children spending on the Indianapolis Public Schools Board election?
Candidates challenging the incumbent IPS board members and some local education activists want to know the answer. They're asking for Stand to "open its books" on expenses for mailers, volunteer drives and other get-out-the-vote efforts focused on four board candidates the organization has endorsed. They also want details on where Stand is getting money from -- is it local donors or out-of-state special interest groups?
The non-profit is not saying -- and U.S. tax law allows them to keep it private -- even as the question is raised for the third consecutive election cycle.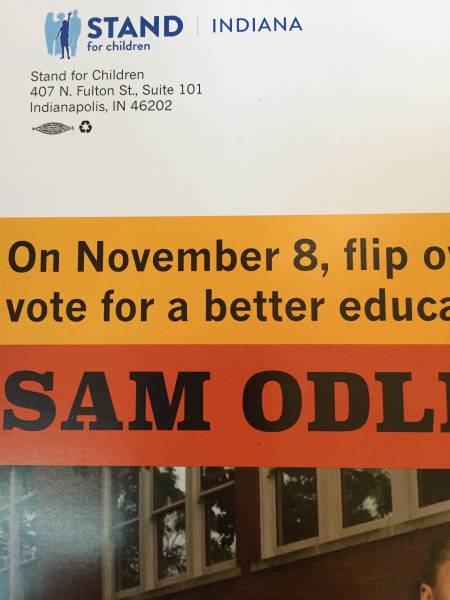 But a WFYI News review of Stand For Children's Form 990 federal tax returns gives some insight into how much and where campaign and lobbying dollars are spent. Five years of filings show the Portland, Ore.-based nonprofit continues to make Indiana -- one of its 11 state affiliates -- a focal point for school reform efforts.
At least $1 million was spent in Indiana during the past five years. The bulk of that money appears to go toward lobbying state legislators to pass laws, including the controversial bill that led to "innovation network schools" supported by IPS Superintendent Lewis Ferebee and the Indianapolis Mayor's Office.
But it's unclear just how much was spent on direct support of IPS school board candidates in the 2014 and 2012 elections. Though for 2012, Stand For Children wrote in its tax return that the election of three board candidates was a top accomplishment for the organization that year.
For the November election, Stand for Children endorsed and is promoting four candidates: Michael O'Connor (District 1), Venita Moore (District 2), Diane Arnold (District 4), and Sam Odle (At-Large).
According to IRS filings:
In 2015 Stand For Children does not list Indiana in its summary of top "program service accomplishments" and expenses. A total of $1.95 million was spent on programs at all Stand affiliates last year.
In 2014 Stand For Children spent $473,172 on lobbying Indiana lawmakers to pass Public Law 1321. That law allows the district to partner with charter school operators or independent companies to remake struggling schools or underused buildings into autonomous schools not bound by collective bargaining. Stand Indiana also "helped draft and pass" House Enrolled Act 1388, which tracks the evaluations of educators who graduated from teaching programs at public and private Indiana colleges. In 2014 a total of $3.57 million was spent on program expenses at all Stand affiliates.
In 2013 Stand For Children's Indiana office received $614,753 from the action fund -- the most financial support out of Stand's state affiliates that year. The money went to "expand student access to high-quality schools in Indianapolis" and combat efforts to kill the state's adoption of Common Core State Standards in wake of a conservative backlash. Stand conducted a poll about Common Core and "led a coalition to coordinate speakers and testimony for three legislative hearings" on Common Core. In the end, Gov. Mike Pence was successful in repealing the math and English academic standards. In 2013 a total of $2.7 million was spent on program expenses at all Stand affiliates.
In 2012, Stand For Children spent a total of $1.29 million in Indiana and five other states. The money went to supporting candidates for election and lobbying for education-related legislation. "All three of our endorsed school board candidates were elected in Indiana," according to a IRS filing. The candidates elected to the IPS board that year were Gayle Cosby, Caitlin Hannon and Sam Odle. In 2012 a total of $4 million was spent on program expenses at all Stand affiliates.
In 2011, Stand For Children spent a total of $947,362 in Indiana and five other states. In Indiana the money went to "help pass" a bill to reshape evaluation system for teachers from experience and education to a metric effectiveness and "ties teacher tenure and layoff decisions to teacher evaluation ratings." In 2011 a total of $3.2 million was spent on program expenses at all Stand affiliates.
Those wanting more details won't find them in these IRS filings.
Stand For Children is not required to disclose detailed expenses, such as the cost of mailers for one candidate, or from whom they receive contributions, because the organization is registered as a social welfare organization, also known as a 501(c)(4).
"This is the so-called 'dark money,'" said Notre Dame University professor and campaign finance expert Lloyd Mayer. "When you want to hide who your donors are or you want to not have to report your expenditures in detail … you use your 501(c)(4)."
But if Stand's Indiana PAC supported these candidates instead of Stand For Children's national 501(c)(4), Mayer explained, then it would have to disclose more details. Such as in 2012, when the Indiana PAC reported it gave more than $10,000 to Gayle Cosby in her successful bid for the District 2 seat.
Stand's Indiana PAC, or political action committee, is under much different reporting requirements than a 501(c)(4), Mayer said. It must disclose donors and where the money was spent.
Late last month I spoke with Justin Ohlemiller, executive director of Stand for Children Indiana, about a few issues, including the lack of information available on how much is spent supporting candidates in the 2016 school board election.
He said the Stand Indiana PAC is not used, because the his office is not coordinating with the candidates.
"We run our own issue-focused campaign with parents involved. It easier and better this way -- we can speak to the issues in the context of our organization's values without having to partner with candidate committees," he said.
As for the source of the money to pay for get-out-the-vote efforts, such as mailers promoting a candidate?
"It is paid for by the money that we raise, a lot of which is local, that comes through donors that care about the fact that too often the destiny of our kids, in terms of education, is being driven by zip code," Ohlemiller said.
In a just-released Concerned Clergy of Indianapolis video, pastor David W. Greene makes a veiled reference to Stand For Children as he endorses four other candidates -- Christine Prince (District 1), Ramon Batts (District 2), Larry Vaughn (District 4), and Jim Grim (At-Large).
"Often times during an election we will vote simply by who sends us the most by the mail," Greene said.
Ohlemiller defended the undisclosed amount of money Stand For Children spends on school board elections as a reaction to the growing interest in IPS governance by the public and media.
"The race is being elevated to the level of importance that I've never seen before," he said of the 2016 school board election. "Does that take resource to get these messages out? Absolutely."
Notre Dame professor Mayer said opponents of 501(c)(4)s often believe candidates change their positions in response to support they have received from an organization during a campaign.
"But sometimes what happens is a group has an agenda and they identify those candidates with the same agenda and they support those candidates," he said. "They are not trying to influence a candidate, they're trying to influence the election."
Stand For Children offers classes for parents to learn about empowerment and leadership issues, organizes parents to demand changes at failing schools and lobbies for reform-focused laws and policies.
Read the previous post about all IPS Board candidates' campaign finance reports.
Correction: This story was updated to clarify that more than $1 million in expenses was reported by Stand For Children for activities in Indiana during a five year span.
Contact WFYI education reporter Eric Weddle at eweddle@wfyi.org or call (317) 614-0470. Follow on Twitter: @ericweddle.