Students have weathered more than two years of disruptions, anxiety and uncertainty during the COVID-19 pandemic. They've struggled with maintaining friendships and school work. WFYI's Elizabeth Gabriel talked to two students about their journey and future plans as the 2021-22 school year comes to a close.
Jasmine, 15, rising junior at Columbus North High School
When I first found out about everything shutting down, I was downstairs in the kitchen with my family. And when the news first came out that we wouldn't be coming back after spring break, I guess I was just kind of in shock and I didn't really expect it to happen. Like, I didn't really expect us to get hit by it, like, so hard that schools would have to shut down.
I was in eighth grade when the pandemic started. I mean, high school was something that was brand new to me. It was brand new to all of my friends. And so having to navigate such a different environment compared to middle school was definitely difficult because nobody else had gone through this experience before. So nobody could really help you. You just kind of had to go with the flow with all the changes that were happening as the year went on.
In terms of my kind of outlook on life, with the pandemic in school I guess I was kind of worried that I would never have, like, a normal high school experience. Because something that is always talked about in like movies and stuff like that is just how high school is such an important experience to taking that next step to college. And I was just kind of worried how that would actually end up changing anything in my future or anything like that.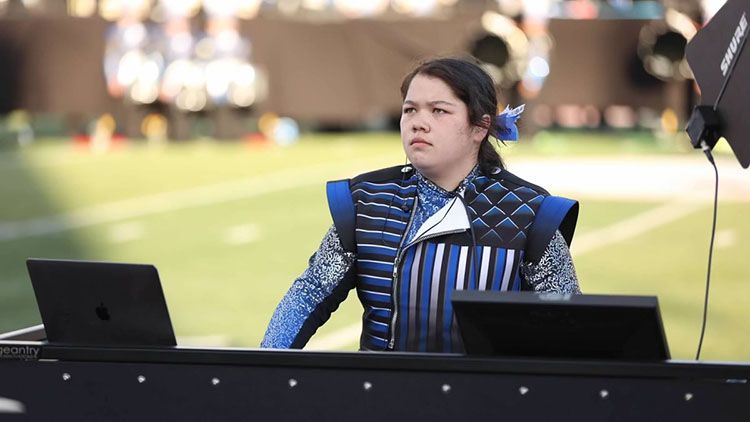 I'd been involved with music my whole life, but I hadn't actually joined band until my freshman year. I'm involved in, like, marching band, concert band, actually a lot of bands at North.
The pandemic kind of just inspired me to start trying new things. Because you'll never know when certain experiences will just be taken from you.
Ryan, 15, rising junior at Purdue Polytechnic High School
The high school I was going to at [the start of the pandemic] was Franklin Central High School. And it was very weird at first, especially from going from a full in-person schedule to going completely online. Now with me, I have autism. So I definitely stick to a lot of specific schedules – especially when it comes to school. And going from the schedule of going to in-person school every single day of the week, it was definitely a really rough transition for me to be able to switch to full online during the week.
So my grades before the pandemic, I had an A, B constant [honor] roll. My grades during the pandemic definitely took a very bad turn. I had a lot of D's, a lot of C's. And so, definitely after the pandemic, I saw a very big increase in those. As of now I'm back on that A, B honor roll and hoping to keep that throughout high school.
Honestly, I feel a little ill prepared, seeing as I missed an entire year of high school. Especially my first year of high school, which was sort of my orientation to high school. So I definitely feel a little ill prepared and a little nervous about it. Especially with, you know, having to worry about college applications, finding colleges, SATs, dual credits, stuff like that. But I definitely think I have a great support system around me, especially with my family and my school, so I definitely think I can make it.
Contact WFYI education reporter Elizabeth Gabriel at egabriel@wfyi.org. Follow on Twitter: @_elizabethgabs.