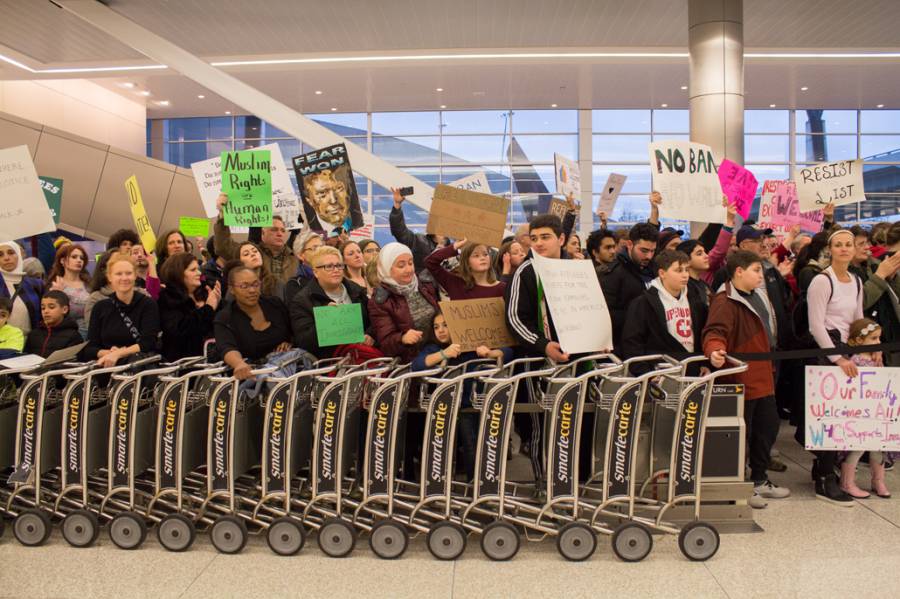 The Indianapolis Airport rally was one of several protests held in the state this weekend. (Photo by Drew Daudelin)
Hundreds rallied Sunday at the Indianapolis International Airport to support refugees and immigrants, in light of the recently signed executive order from President Donald Trump.
Hanna Omar was born and raised in New York and lives in Columbus, Ind. But her parents are from Yemen, one of seven countries whose citizens are temporarily banned from entering the United States.
Omar was joined at the rally by family and friends, but one relative who couldn't make it might be affected by the ban. As Omar explains, her relative is planning to bring his wife here from Yemen on Feb. 1.
"It took him about four to five years, it's a four- to five-year process, and now we don't know," Omar says. "We don't know if he will be able to bring her here. They have a baby boy, who's an American citizen. So now he's in limbo."
Many at the airport rally echoed Omar's nervous anticipation, including speakers from the ACLU, local faith groups, and the Indiana Democratic Party.
"To shut the door, to slam the door, in fact, on refugees and other entrants is just…completely un-American," says Cole Varga, executive director of Exodus Refugee Immigration.
Varga says Exodus, which helps refugees resettle to Indiana, has been calling refugee families throughout the state to give them the best advice they can offer.
"There's still a lot of uncertainty here, in the next couple of weeks, with what this actually means," Varga says.
The protest at the Indianapolis International Airport was one of several held in the state this weekend.