A local charter school is trying to find its footing after its contract to operate within Indianapolis Public Schools was not renewed.
Ignite Achievement Academy is in the process of searching for a new building as it prepares to meet ambitious student academic standards next school year.
"Not at all dwelling on the past," said Shy-Quon Ely, Ignite co-founder and head of school. "I think we learned from the past, but our focus is on the visions of our future, the vision of our model and the ultimate expression of it."
IPS ended its contract with Ignite, which had been operating Elder Diggs School 42 since summer of 2017, in December. District leaders said the decision was based on several factors, including instability among teachers, low academic performance and deficiencies in compliance with special education requirements.
Ignite will cease operations at the school once the academic year ends in June.
Ignite has prided itself for its community engagement activities and unique student experiences, such as classical music playing in the halls and 'king' and 'queen' bathroom signs. The goal was to uplift its students, who are 80 percent Black and 11 percent Hispanic. A majority of students come from low-income families — 92 percent receive free and reduced lunch, a national standard for identifying childhood poverty, according to the IPS data.
Ely said he wants to create a similar K-6 learning environment next year at a different location.
"We believe that there's a genius in every person," Ely said. "Whether that's an adult, whether that's a child — doesn't really matter. The genius in there is waiting to be unleashed, and creating the right environment can do it."
Ely said Ignite is considering multiple building options for the new location. It could stay on the westside or move to another area of the city. The school plans to provide transportation for students, regardless of the new location.
Ignite hopes to serve 250-350 students in the fall. It currently serves 350 students at Elder Diggs, but enrollment has consistently decreased. In the 2017-2018 school year, when it first started operating the school, roughly 500 students were enrolled.
The school is working with Enroll Indy to evaluate and confirm enrollment projections, and according to Enroll Indy, roughly 150 families have indicated an interest in staying with Ignite for next school year. Ely hopes that number will increase once the school's location is announced.
Staff will also have the opportunity to continue with Ignite. But that's another area where Ignite has struggled in the past. In 2021, teacher retention plummeted to just below 50 percent — the lowest in IPS, and 20 percent lower than the next-lowest school.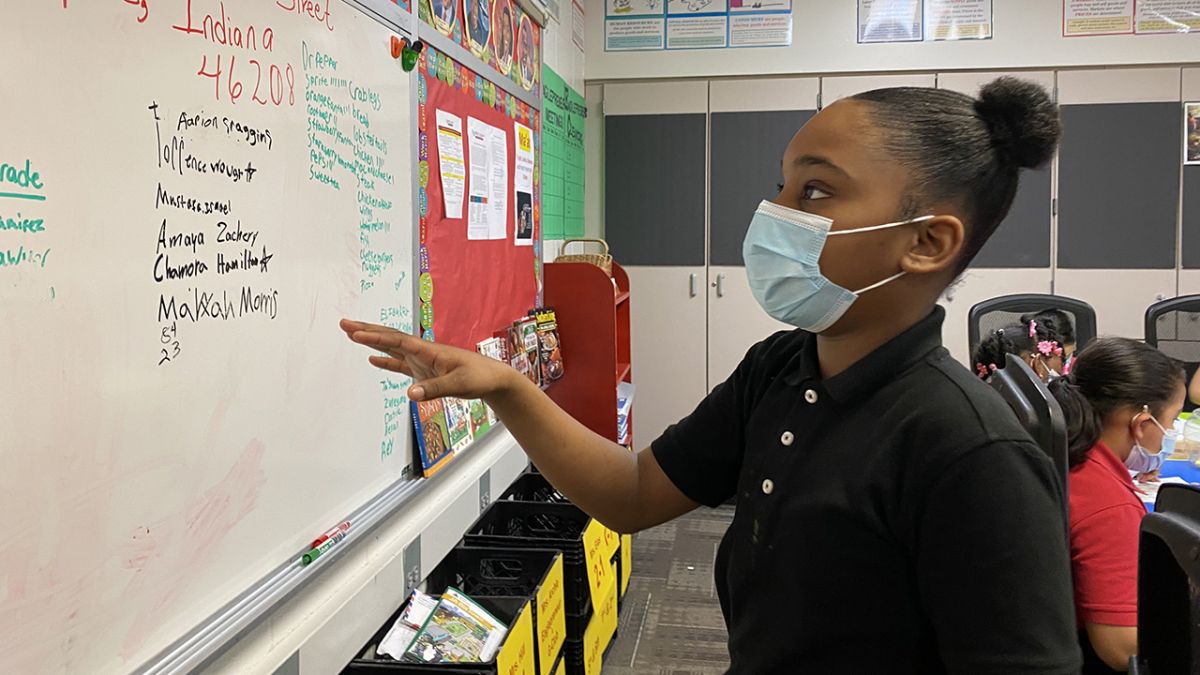 Ignite's probation status, academic goals for next year
The city's Office of Education Innovation — which authorizes and oversees the school's charter — warned Ignite in August 2019 that the school wasn't meeting its standards and must improve student attendance and academic proficiency in both math and English Language Arts. In December 2021, the mayor's office threatened to revoke the school's charter, placing it on probation.
Ignite must meet the following goals by fall 2023:
Improve student growth on the school's formative assessment from fall 2022 to spring 2023. At least 60 percent of students must show a year's growth. This must be accomplished by spring 2023.
Meet 90 percent attendance for the 2022-23 school year. This must be accomplished by summer 2023.
A proficiency rate of 8.9 percent for both English and math ILEARN assessments during the 2022-23 school year.
A passage rate of 74 percent on the IREAD-3 assessment for the 2022-23 school year.
Outperform students' assigned schools (the neighborhood school the student would have attended if they did not opt to attend Ignite) on ILEARN in 2022-2023.
Ignite would have to make significant improvements to reach those standards. For example, Ignite had a chronic absenteeism rate of about 50 percent during the 2019-2020 school year. But in 2020-2021, the attendance rate was 84 percent, according to IPS data. And according to state data, less than 7 percent of students were proficient in English and just more than 4 percent were proficient in math during the 2018-2019 school year. About 46 percent of students passed the IREAD-3 assessment in the 2018-2019 school year. That increased to 56 percent in the 2020-2021 school year.
Despite the school's challenges, Ely said he believes Ignite has the right strategies, partners and environment to improve student success.
"If we're just looking at a data point, like ILEARN in a pandemic, I don't think that's the best way to determine if children are learning or if they're growing socially, emotionally and academically," Ely said. "It's a holistic approach that we're taking."
The city's Office of Education Innovation will meet with the school at least three times a year to discuss academics.
Clyde Posley, who's also a local pastor, has supported the school by providing professional development instruction and helped navigate the school's position with OEI. Posley has commended Ely's school model and efforts to help students who may experience domestic abuse or food and housing insecurity.
"I expect Ignite to do well, I really do," Clyde said. "I would not put my name and my reputation, my relationships, behind a person or concepts I didn't believe in."
Why Ignite wanted to leave IPS
Ely said one of the biggest challenges the school faced during its partnership with IPS was switching school models.
He initially designed his charter program as part of local education reform group The Mind Trust's two-year school design fellowship. The goal was to create a school for kindergarten through second graders on the eastside of Indianapolis, then expand it to other grade levels over the years.
But when the opportunity arose to run Elder Diggs School 42, Ely chose to switch gears.
Ely said students began to show some academic improvement during the first year at Ignite — IREAD scores improved, but ILEARN/ISTEP scores dropped. Then the COVID-19 pandemic hit.
"I think the biggest challenge is being able to make progress through a global pandemic, when children and adults have to wear masks, and they have to social distance and you're in and out of school — it just makes an already arduous task that much more difficult," Ely said.
Ely said he appreciated the partnership with IPS and the ability to serve the westside community, but over the past few years he has considered continuing without IPS — by either opening a second school without IPS or moving Ignite — so the school could have its own building and transportation.
According to a school facilities report, the building is one of 12 that received a poor facility composite score, which is based on a school's physical and exterior condition, ability to support learning and technology infrastructure.
Ely also said IPS bus transportation has been unreliable.
"Particularly given a restart [school], we need students to be in their seats when class starts so that we can deliver on our promise," Ely said.
Families interested in enrolling in Ignite can sign up online.
Contact WFYI education reporter Elizabeth Gabriel at egabriel@wfyi.org. Follow on Twitter: @_elizabethgabs.
Correction (April 1, 2022): This story previously said Ignite's attendance was 50 percent in the 2019-2020 school year. That was incorrect. The percentage represented the school's chronic absenteeism rate. This story has also been updated to correct when Ignite was placed on probation by the city's Office of Education Innovation. It received a performance warning in 2019 and was placed on formal probation in 2021.