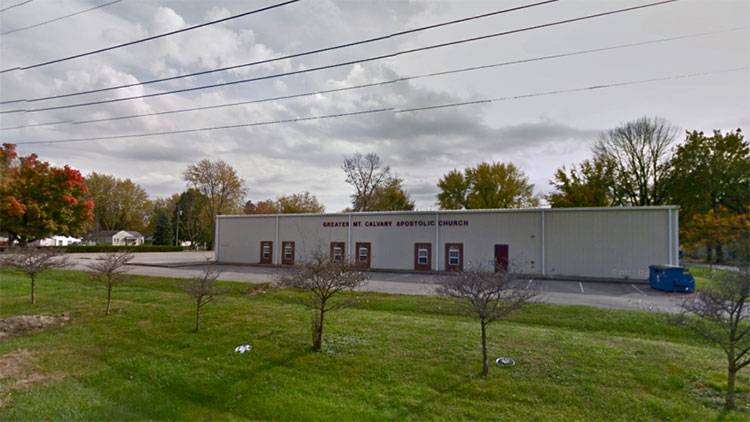 The incident occurred during an evening service at Mt. Calvary Apostolic Church, located at 6635 E. 42nd St. in Indianapolis. (Courtesy of Google Maps)
Eleanor Northington's daughter says her mother was suffering from depression in early February, and had stopped eating and sleeping. On Feb. 6 she brought her mother to an evening service at the east-side Mt. Calvary Apostolic Church, in an attempt to lift her spirits.
IMPD officials say more than 20 witnesses are helping them understand what happened in the hour and a half that followed. The incident left community members with a lot of questions, and on Thursday the police department gave members of the media an update on their own investigation.
The Witness Account
Witnesses tell police Northington was disruptive throughout the service, making loud noises during quiet moments, walking laps around the room and singing into microphones from the front of the church.
After members of the congregation tried to calm Northington down, witnesses say she became violent, grabbing a mother who was holding an infant, then yelling and spitting at pastors who tried to intervene.
Members of the congregation, police say, restrained Northington and prayed over her.
At this point an off-duty police officer, who was in attendance and serves on the department's Behavioral Health Unit, called 911. An officer arrived, recognized the situation as a mental health issue, and called for an ambulance.
Then, police say, a second officer entered the church. Two officers approached Northington, and she hit one of them in the face. Witnesses tell police this resulted in a scuffle, with officers attempting to restrain and handcuff Northington while she punched, kicked and spit on them.
Two more officers showed up. IMPD says it ultimately took five officers, and help from a pastor, to get Northington restrained and handcuffed. Police say she was placed into three handcuffs chained together, to allow for more movement.
Witnesses tell police a member of the congregation placed some kind of cloth over Northington's mouth during the scuffle, in an attempt to stop her from spitting on the officers and pastors.
Police say Northington's breathing became labored after she was handcuffed. Officers unlocked the handcuffs and removed the cloth, which witnesses say had shifted and was located around her nose. Officers began performing chest compressions on Northington.
When EMS arrived, police say Northington had a pulse. She was taken to a hospital and died two days later.
IMPD Chief Standing By Officers
Police Chief Bryan Roach says he does not believe the officers acted inappropriately. But he says an internal investigation is ongoing, and an initial autopsy report shows no signs of outward trauma.
"I think they dealt with this appropriately," Roach says. "Although they were getting hit, there were never any strikes. I think that's significant."
Roach says all witnesses are cooperating with investigators, and he says none of them have a problem with how police handled the situation.
All five officers involved in the incident are on administrative leave, as IMPD's investigation continues.
Northington's daughter told police her mother was diagnosed with schizophrenia, and was not taking any medication. Roach says the incident is a reminder that IMPD needs to strengthen its training on mental health and behavioral issues.
Officers at IMPD go through CIT training, a 40-hour course designed to help them recognize and address crisis situations. Roach says they want to incorporate that training into the entire academy process.
"We have to learn from situations like this, and see if we could have done anything better," Roach says.
Two years ago IMPD launched a program to create Mobile Crisis Assistance Teams, or MCAT – first responders who are specially-trained to handle people with mental health, behavioral or substance abuse issues. City officials this week announced IU researchers will conduct a year-long study to evaluate its effectiveness.