La'Kiyah Muhammad recently pivoted her professional attention to her personal hustle — natural cleaning products. The idea came to her five years ago, when she was still working at a daycare and dissatisfied with her job.
"I happened to be in conversation with one of my sister's friends, and we got to talking about a hack that she liked to clean out her tub," she said.
That's when a lightbulb went off in Muhammad's head.
"I was like, 'Oh my goodness — I can try this,'" Muhammad said. "I've been a little scientist since I was a child, always concocting something. So I definitely just went into my mental lab and started creating a formula."
With that, Earthly Clean Products was born. Muhammad began with an all-purpose cleaner and later a baby oil, which she started selling to friends and later her broader community. It went well enough that she could quit her daycare job and focus on the business full time. Still, she's had to put down and pick up her business a few times in the five years since she hatched her first product idea.
But just before the COVID-19 pandemic, Muhammad launched an anti-viral spray — and that boosted her business just as the economy began to get tough for entrepreneurs like herself.
"Everyone is becoming more conscious of health, and no one wants to clean their home at the expense of health," she said. "So actually, my customer base has grown, because people want green cleaning products."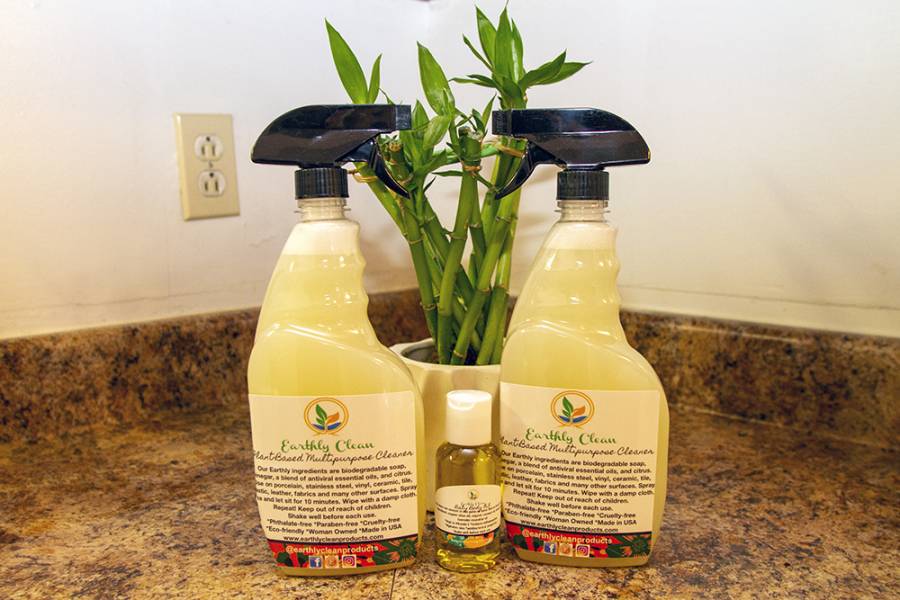 Muhammad isn't the only one focusing more on personal hustles this year. According to Indianapolis' Office of Minority and Women Business Development (OMWBD), the number of business consultations it has offered to aspiring entrepreneurs has more than doubled in the past year, from 176 consultations in 2019, to 379 in 2020.
Business owners from historically marginalized backgrounds — whether on the basis of race, gender, disability or veteran status — can apply to be certified through the OMWBD, which in turn allows them to compete for city contracts and become part of a statewide database of minority-owned businesses.
Camille Blunt, director of the public agency, said the increase in consultations is a positive sign given the history of disparities in small business ownership.
"Many white families have generational wealth, and it has been challenging for minorities to reach that level of wealth and that level of success," Blunt said "Encouraging entrepreneurship in diverse communities is really a way of helping our community be stronger, and helping individuals really just leave a legacy for their families."
An increased interest in entrepreneurship among communities of color is especially significant in a state like Indiana, which has historically lagged in that category. According to data from the Brookings Institution, while minorities make up 22 percent of the state's overall population, minority small-business owners constitute just 16 percent of Indiana businesses.
In Indianapolis alone, people of color represent 26.2 percent of the population but only 8.9 percent of business owners with employees. Similar trends play out in cities across the state.


But while an increase in certification interest at the OMWBD presents a positive sign, both anecdotal and quantitative data suggest that entrepreneurs of color have a uniquely hard time getting their businesses off the ground and to a financially viable place.
As Larry Williams at the Indianapolis Black Chamber of Commerce attests, much of this comes down to access to capital.
"With our white counterparts, they can ask for friends and family for money," he said. "But if you look at the Black community, most of us are not on the upper pay scale."
A federal congressional paper on The Economic State of Black America in 2020 cited that even before COVID-19, the median Black household in Indiana earned about $25,000 less than white households. Black Hoosiers are also more than twice as likely to face unemployment or to live under the poverty line.
Williams points to the legacy of racism in the United States as a major contributing factor.
"If you think about it, 60 years, 70 years ago we couldn't even go into the same restaurant, or we couldn't use the same bathrooms," Williams said. "So, we're behind the eight ball as far as accumulating wealth. It's hard for us to start businesses when you don't have money to start it."
But there are certain types of organizations and lenders trying to bridge the gap between financial capital and communities of color. Community development financial institutions — or CDFIs — are one of them. There are more than 1,100 certified CDFIs across the country, with 16 in Indiana.
The Indy Chamber's Business Ownership Initiative is one of them. According to Zikeia Walker, the director of lending for the organization, figuring out how to write loans for those harder-to-reach business owners is one of the highlights of her job.
"It's actually a little bit of fun to us, right? We think of creative ways to help them, where they just want to actually provide for their family," she said.
In addition to having less access to capital to begin with, lower-wealth entrepreneurs are often denied loans from traditional financial institutions, like banks.
"At the CDFI, we have a way of saying, 'Well, how can we combat that denial,'" Walker explained. That includes dedicated lending coaches and personalized business coaching.
Just like the Office of Minority and Women Business Development, the Indy Chamber's CDFI saw a jump during the pandemic in the number of people of color seeking support for business ventures during the pandemic. Thanks in part to new sources of federal funding through the Paycheck Protection Program, the CDFI rapidly scaled up the loans it's offering — from a typical 12 a year, to 1,800 since March 2020.
Over half of those loans went to minority and women businesses. Angel Hicks, owner of 28Boutique, was one of the small business owners to receive a loan from the Indy Chamber's CDFI.
Hicks started her business 10 years ago and has had her fair share of financial hurdles since. She admits that while she knew plenty about how to dress women and pick out fashionable clothes, she didn't always know how to navigate the back end of a business — and that sometimes set her back.
"I was so horrible with the bookkeeping, [or] how to pay my sales tax," she said with a laugh. "I've gotten some really interesting lessons."
When Hicks approached the Indy Chamber for a loan in the middle of the pandemic, she wasn't sure what she'd find. But that all changed when she walked through the door.
"When I went in there, there was this ray of sunshine," she recalled.
It was Zikiea Walker.
"We connected immediately, because she had on this really cute jacket," Hicks said. "When I saw her jacket, I was like, 'Oh, yes, she is my customer. This lady's going to like me. And she's going to like me because I cater to the people that look like her.'"
Walker helped Hicks secure a loan at the end of last year. Hicks said that money has made all the difference for her small business.
"I was like, skating by," Hicks said of her business' financial state at the start of the pandemic. "The only thing I knew what to do was to just go to work. Even if it was a couple hundred dollars $100 every week, just throw it into the business. That money's gonna come back. But to really have a small amount of working capital made such a difference. It has made such a difference."
Contact WFYI business and economy reporter Pria Mahadevan at pmahadevan@wfyi.org. Follow on Twitter: @priamaha.
——————
Editor's note: As a general rule, WFYI tries to avoid using the term "minority" to reference communities of color. However, since the name of the public office referenced in this story includes the term "minority," and the data from the Brookings Institution uses "minority" as a category, we've included it in this article as sparingly as possible.