Indiana's four-year high school graduation rate slipped by less than one percentage point in two main categories, according to state data released today.
Indiana's waiver rate, which includes a small portion of students who received a waiver from completing some requirements, is 88.9 percent.
The rate for students who did not get a waiver is 82.8 percent.
Friday the Indiana Department of Education released statewide, corporation and school level data
as part of its annual reporting.
Database: Lookup your school's graduation rate
"I am pleased with the progress that Indiana's schools have made in recent years to increase the number of high school graduates," Indiana's Superintendent of Public Instruction Glenda Ritz said in a prepared statement. "However, there is still work to be done to address the diverse needs of students across our state and to close the achievement gaps between student populations."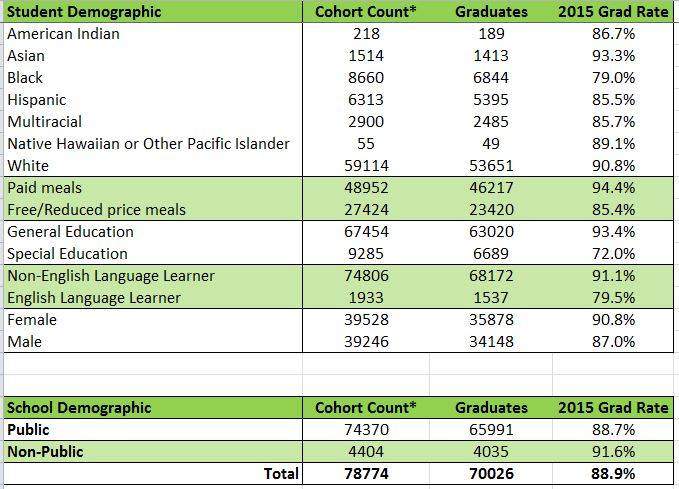 Indianapolis Public Schools saw an uptick of the 2015 graduation rate to 72.1 percent, from 71.8 precent.
But IPS also saw an increase in its use of waivers to 9.4 percent. That's a bump of 2.5 percentage points from 2014 despite a district-wide effort to nearly eliminate the use of this alternative graduation route.
District leaders had hoped for a waiver rate of around 3.5 percent in 2015.
In a statement Wanda Legrand, IPS deputy superintendent for academics, said the district is committed to improving overall graduation rates, including non-waiver graduations.
"As we work diligently to reduce the number of waivers, in all cases our focus remains on what is best for the students - and sometimes that means graduating with a waiver," she said. "The 2015-16 school year brings us a dedicated 10-member Graduation and Alternative Services team; these staff members are focused on identifying students at risk of missing their graduation goals well in advance to continually improve student achievement by providing wraparound supports to ensure success."
Fort Wayne Community Schools, who was the state's largest district in 2015, is at 86.8 percent -- a decline of 2.2 percentage points.
Muncie Community Schools' gradution rate dropped nearly 5 percentage points to 87.7 percent.
Indiana's 2015 four-year graduation rate of 88.9 percent is higher than the national rate released last month -- a record 82 percent for 2013-14.
Correction: An earlier version of this article stated the graduation rate for Indianapolis Public Schools decreased in 2015 from the previous year -- that is incorrect. The Indiana Department of Education miscalculated the IPS rate and published incorrect information in its initial release of data. IPS actually saw a small increase between 2014 and 2015.
Contact WFYI education reporter Eric Weddle at eweddle@wfyi.org or call (317) 614-0470. Follow on Twitter: @ericweddle.