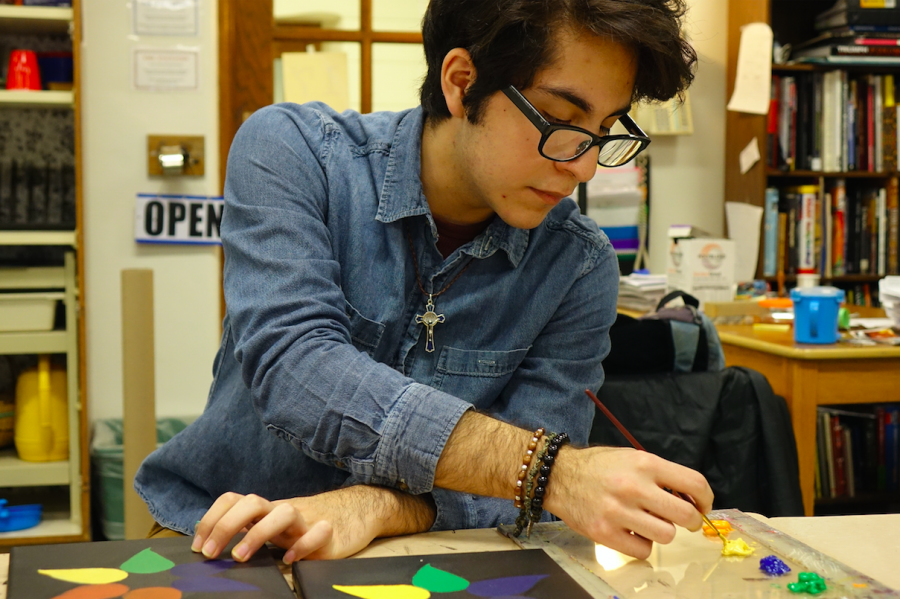 Senior Gustavo Flores works on a series of paintings in the art room at Shortridge High School in Indianapolis on Monday, Nov. 22, 2018. (Eric Weddle/WFYI Public Media)
As Gustavo Flores sat through a presentation on how to apply for a program to help first-generation students get into an Indiana university, he anticipated it could be an option to afford college.
Then the applications were passed out.
"First page I opened it and it says, DACA students did not qualify," Flores says. "And I've been told about this program since freshman year. So it's was like, 'OK this is one way I could pay for college.' And then just seeing that boldly right there it's now, 'Oh, there goes one thing that I can't do. And that applies for a lot of other scholarships too."
Flores, a senior at Shortridge High School who has attend Indianapolis Public Schools since a child, is one of the nearly 10,000 students and others in Indiana approved for DACA, the Deferred Action for Childhood Arrivals program that protects immigrants brought into the country illegally as children before June 2007.
Under the federal program, the 18-year-old says "doors have opened" for him -- getting driver's license and open a bank account have become possible. College, too, has seemed within reach even though he does not qualify for any financial aid outside of private organizations.
Most Indiana colleges offer the resident tuition rate to DACA recipients. Without it, undocumented students have to pay the out-of-state or international rate – a cost that can be up to five times more, according to a fiscal analysis by the Indiana nonpartisan Legislative Services Agency.
That's because Indiana is one of three states with a law that prohibits state colleges and universities from offering in-state tuition to undocumented high school graduates.
But then last year, President Donald Trump ordered the Obama-era DACA program to end on March 5. Since then, federal lawmakers have fought over how to legislate the protections offered by the program. That led to a three-day federal shutdown that ended after Congressional Republicans and Democrats pledged to find a permanent fix on DACA by Feb. 8.
As of last September, nearly 690,000 immigrants were enrolled in the program, according to the U.S. Citizenship and Immigration Services.
Without DACA, Flores, he and others won't be able to afford college.
"It's a very fearful thing because like at any given time after my DACA expires it's like I could be deported," he says. "And what if I take out a loan to go to one of these colleges and then I get deported and then I have these loans in America and but then I can't pay them? What happens then?"
Democrat state lawmakers want to help ease the college affordability concerns for students like Flores and those who don't qualify for DACA. They've filed four bills in the 2018 General Assembly to address it.
"We have this opportunity to clarify state law, and we want to make sure we at least have this, this option if everything falls apart at the federal level," says Bloomington Democrat and bill author Sen. Mark Stoops.
Each of the bills has the same end goal -- a clear policy of how an undocumented high school graduate can qualify for resident tuition at a state public college or university.
Senate Bill 227 requires a student attend a school for 12 months before graduation. SB 319 expands that requirement to at least three years. In the House, HB 1020 requires a student to graduate and sign an affiliate that they will attempt to legalize their immigration status as soon as possible. HB 1205 would no longer require state colleges to verify a student's citizenship.
Stoops says the Republican-majority Statehouse should back the plan, as it would further Gov. Eric Holcomb's efforts to better prepare students for workforce and college. Holcomb has called the need to fill the state's skills gap the "defining issue of the decade."
"I just find it hard to believe that we can't say, 'We are not helping you with tuition we are just letting you pay the in-state rate. Because you are an in-state student,'" Stoops says.
But It's a longshot if Stoops' bill, or any of the legislation, will be heard this year.
'We Need To Wait'
There's little to no support in the Statehouse to debate the issue. Sen. Dennis Kruse (R-Auburn), chairman of the Senate Education Committee, says he won't call the bills to be heard.
"That issue is basically a federal government issue," he says. "So hopefully the federal government will take action and give us direction on what to do."
And when that happens, Kruse says, there still are many details to consider what would get into altering the tuition law. Such as how would students even become eligible.
"Somebody who is here one day, someone here one year, five years, 10 years, half of their life?," he says. "So when does that eligibility begin? That's a big part of that."
In the House, Education Chairman Robert Behning (R-Indianapolis) says the two bills assigned to his committee are not scheduled for debate.
"I'm undecided," he says about hearing the bills. But later adds, "We need to wait for the federal government."
If the bills are not called by the chairmen this session, the legislation will die.
A Good Distraction
Last fall a legislative study committee looked into changing the 2011 tuition law. The issue did not receive enough votes to be recommended for legislation during the this General Assembly.
Yecenia Tostado, Indiana Latino Institute's senior program director, says without changing the law, undocumented students face a financial hurdle that their classmates and neighbors don't have.
"I understand that immigration is a federal issue, but the state does have an obligation to allow students who have gone through our K-12 systems here in the state, to further their education," she says.
Flores was brought to America from Mexico when he was one. Shortly after, his family moved to Indianapolis. A reason his family came here, he says, is for him to have opportunities, like college.
Attending and graduating college, he says, is expected of him by his family. But he fears federal and state policies could block that and he'll become "one of the thousands of minorities that just drop out.
And I don't want to be part of that minority," he says. "I want to be the part those that actually go to college finishes it and gets a successful career.
For now, Flores says he's trying to stay focused amidst the national – and local – debate that will affect his future. He's working on a series of paintings for Shortridge High School's IB Diploma Art show that starts Feb. 10.
"It's a good distraction. Something to keep me at ease. Level myself out," he says about one project that is based on different types of color blindness. "I'm going to keep my hopes up but not too high up. Cause if something was to not happen in my favor, I don't want to be so high up that the fall is going to devastate me, if that makes sense."
Contact WFYI education reporter Eric Weddle at eweddle@wfyi.org or call (317) 614-0470. Follow on Twitter: @ericweddle.