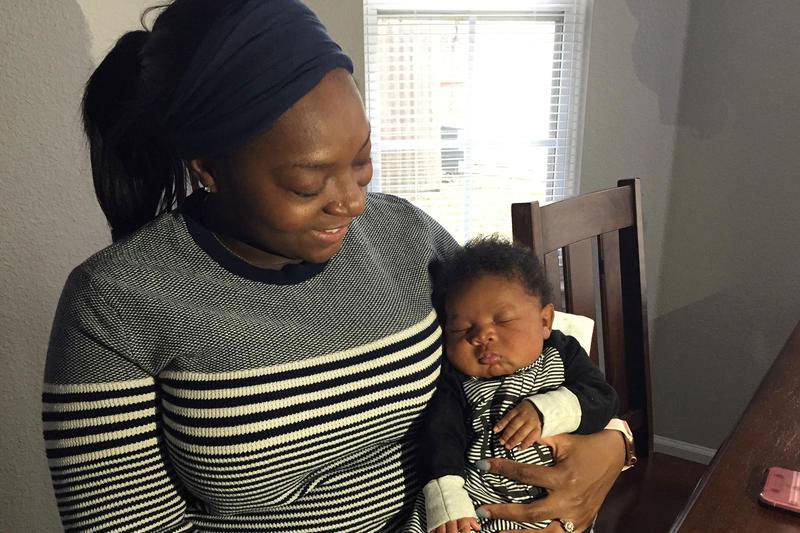 Zuri Davidson with baby Hendricks at their home in Indianapolis. (Jill Sheridan/IPB News)

UPDATE: Lawmakers stripped funding for the doula Medicaid expansion out of the budget right before the end of the legislative session. Although the bill is now law, it's uncertain how it moves forward without funds.
READ MORE: Funding For Doulas Cut Out Of Budget
---
Gov. Eric Holcomb has signed new legislation to make Indiana the third state to extend Medicaid coverage for doulas.
Doulas provide physical and emotional assistance for mothers – including labor coaching and breastfeeding support. The hope is the move will reduce Indiana's high rates of infant and maternal mortality, especially among minority populations.
Doula means "woman who serves" in Greek. Doula Andrea Zepeda says the women who need her services are sometimes the hardest to find.
"The people we need to serve are not always the women going to prenatal," says Zepeda. "So it might not always be in a doctor's office, you know, we need to find them in the community."
The Bridge community church in Logansport, Indiana hosts a coffee shop and an immigrant legal office. The city has experienced a surge in the number of Hispanic families moving to the area in recent decades.
Zepeda and other doulas don't deliver babies, they assist and educate mothers – provide support and resources on nutrition, safe sleep, postpartum and many other issues related to birth.
"We talk about it all the time in our program, you know helping our moms not feel like labor is happening to them, that they're more in control of the process, more than they'll ever know," Zepeda says.
The pregnancy program targets racial and ethnic minority women in three Indiana counties. Zepeda says many of these women face significant barriers.
"Maybe she can't care for the child as well as she would want to as well as the doctors would want her to," says Zepeda, "But what's going on with them personally, that's not allowing her to do what's being asked of her, you know?"
With Medicaid expanded to cover doula services in Indiana more women would have access to this service. Half of Indiana pregnancies are paid through Medicaid.
The Logansport-based pregnancy program was conceived with help from the state.
Indiana State Department of Health Commissioner Dr. Kristina Box says the initiative actually started in St. Joseph County, one of the areas with higher rates of infant mortality in the state. She says its success is rooted in community.
"They really went to their community and hired women out of that community and women that have actually benefited from the doula program are now going back and saying they want to be trained," says Box.
Women like Kelli Brien, program director for Speak Life. Brien became a doula after her third pregnancy, but it was her first birth experience that made her want to help others – a time, she says, when she would have benefitted from a doula.
"I just needed love. I wanted affection. And so I was pregnant young, and I was on Medicaid. And my first delivery was so scary even though I read all the books," says Brien.
She thought she was prepared. She went to all the prenatal appointments.
"But when it was time for my son to be born, I was in labor for 24 and a half hours and he was born blue," says Brien.
No one at the hospital would communicate with her. He survived but she still doesn't have answers for what happened to him 21 years later.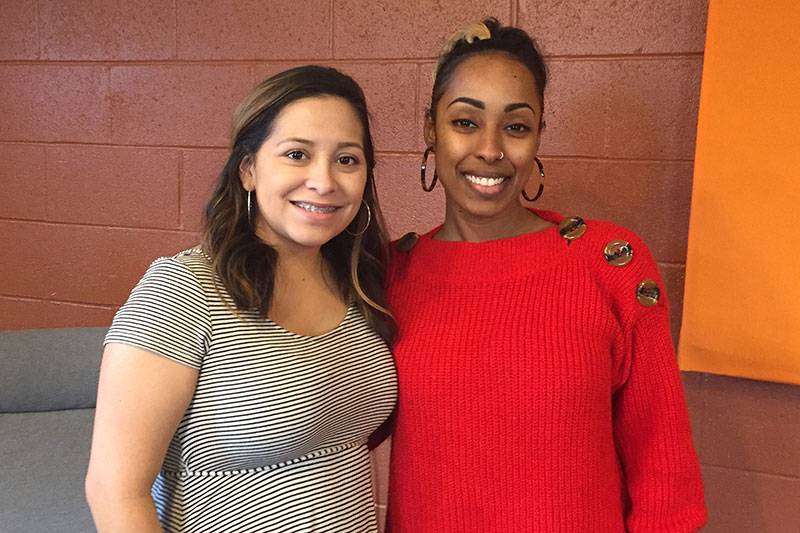 Doulas Andrea Zepeda and Kelli Brien in Logansport. (Jill Sheridan/IPB News)

Today, one of her clients is Zuri Davidson.
She's well aware of the statistics that show African American mothers are more likely to die or have their child die during or after pregnancy.
"There's been lots of articles, lots of studies a lot about women of color. And I'll say specifically African American women, where there's negligence that goes on at times," says Davidson.
Davidson had gestational diabetes and wanted to make sure she had an advocate. She says Brien was a valuable resource and eased her mind.
"She was able to share with me different ways to help manage it and helping me to understand diabetes better," says Davidson.
Brien says the new law to expand this service to all mothers covered by Medicaid will help bring the infant and maternal mortality rate down.
She says more women – especially those from more vulnerable demographics – need providers that consider them personally.
"You don't see the bruises on her back that he gave her before we got here and I can," says Brien. "So if you and I can work together, then she can get through this birth easier."
The new doula Medicaid law will go into effect July 1.