Imagine this: instead of taking your baby to daycare, you bring your baby with you to work. It's a reality at one Indiana company, where new parents have the option to bring their babies to work until they turn six months old.
Employees say the program helps boost morale and lets them navigate the tough job of balancing their new roles as parents with their careers.
Bring Your Baby To Work Program Gives Employees Flexibility
As the end of Whintey Pflanzer's maternity leave approached earlier this year, the thought of returning to work actually brought her a sense of relief.
"It's been so nice to not have to worry about sending him off to a babysitter or daycare after maternity leave," Pflanzer says.
When Pflanzer came back to work, she brought her son Roman along, too.
"Roman was born in December and he joined us here at Borshoff at the end of March and he'll be here through mid-June," she says.
Pflanzer works at Borshoff, an advertising and public relations firm in Indianapolis. For the past 17 years, the company's offered new parents the opportunity to work an alternate schedule through its Bring Your Baby To Work program. They can scale back their hours and bring their babies to work from the ages of six weeks to six months.
"It started in 2000, and here we are in 2017 almost a baby a year, averaging," says Borshoff Principal and Owner Karen Alter. "There have been a couple of times we've had two babies overlap by a little bit."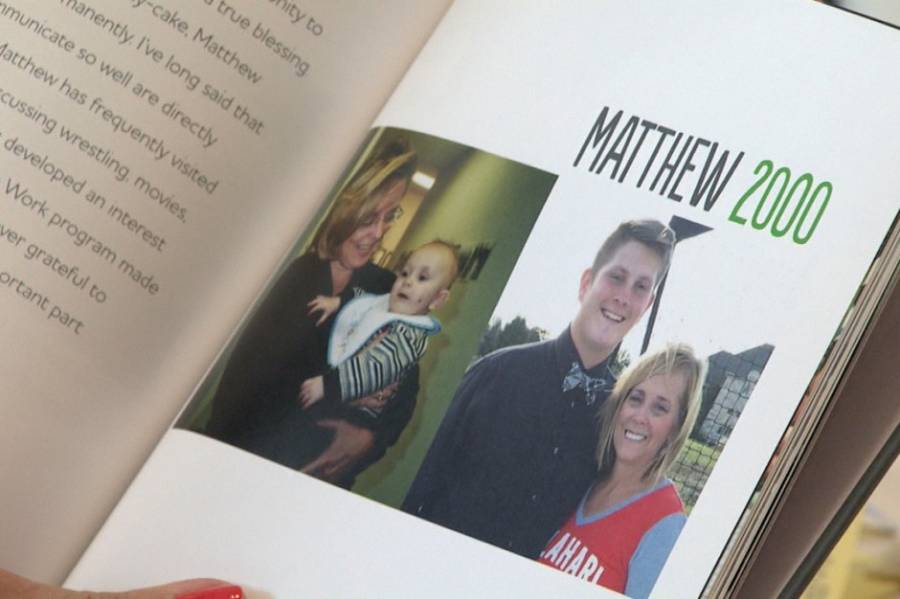 Karen Alter's son Matthew was the second baby to participate in the program. Now, Borshoff is on baby number 18. (Photo: Steve Burns/WFIU)

Alter's son Matthew was the second baby to participate in the program. She says having Matthew at work helped her figure out how to juggle a career and motherhood.
"I felt like I really achieved the best of both worlds because I was able to have that time with him for the first 12 weeks of maternity leave and then also bring him with me for the next twelve weeks because I wasn't ready to drop him off at a child care," Alter says.
She brought along everything she needed to keep Matthew happy, including a playpen, ExerSaucer and toys. Borshoff also has a private baby room where moms can go to breastfeed or to put their kids down for naps.
That's not to say having a baby at work doesn't come with challenges. On top of client meetings and deadlines, parents participating in the program find themselves having to juggle feedings and unexpected melt downs.
"There are days I have spit up on me, there are days he has blow outs and we just roll with it," Pflanzer says.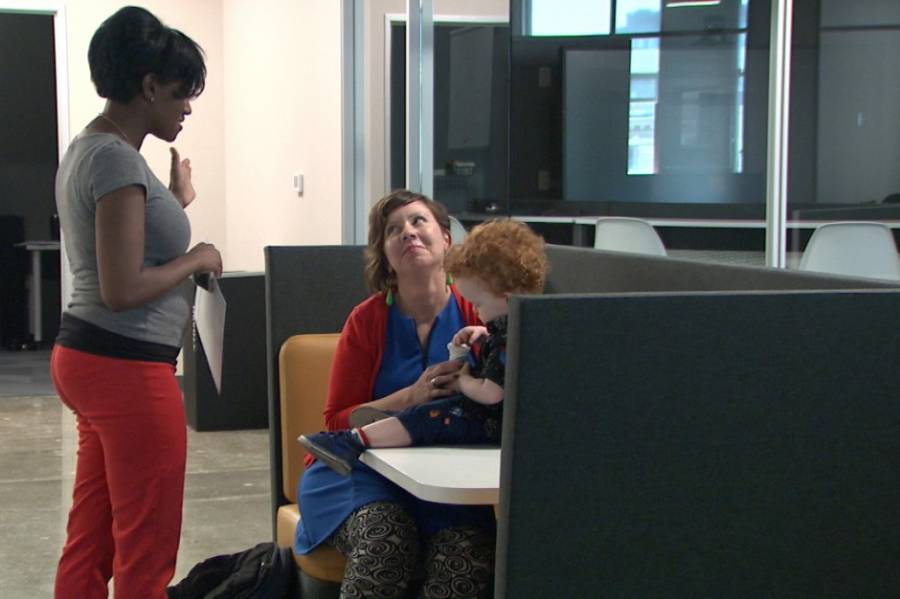 Moms say bringing their kids back to work once they've graduated from the program is like a family reunion. (Photo: Steve Burns/WFIU)

Program Benefits Business By Boosting Morale, Increasing Retention
You might think having a baby in the workplace could be distracting, but the moms' co-workers don't seem to mind. In fact, they enjoy having the babies around.
"It's never too much," says Vice President and Creative Director Steve Beard. "I feel like it's too much at time for the moms, but they have a lot of help and we all kind of help out and watch the kids from time to time when they're in meetings."
Bring Your Baby To Work participants say that's one of the unexpected benefits of the program – they're not in it alone. Pflanzer found herself looking to coworkers like Lindsay Hadley for advice. Hadley's two-year-old Milo also spent some of the first months of his life in the office.
"I'm very loyal to Borshoff now because of this," Hadley says. "I feel like they helped raise me, helped raise Milo. And, it just seems like you get better employee retention."
It's a recruiting tool Hadley says she's surprised more Indiana companies don't take advantage of. Like most other states, Indiana doesn't guarantee any paid leave for new parents. So, many working parents are left with no choice but to put their newborns into daycare early on. Hadley says she's not sure what her family would do without the Bring Your Baby To Work program.
"I think probably I would have had to quit my job or my partner would have had to quit his," she says. "There's just no other way. I can't imagine."
The program gives parents the rare chance to bond with their children during the precious first months of their lives. And, while there's no scientific proof, moms here think the program has a big impact on the personality of their kids.
"He was a lot more social, I think, because he was around a lot of people all the time and he didn't mind just going to anybody," Hadley says.
You don't have to take her word for it. Just hear what Bring Your Baby To Work graduate Matthew had to say about how he thinks the program shaped his life.
"My mom's basically my hero," Matthew says. "She conquered a lot. She's just a good role model to have in life. And, she's just an all-around awesome person."
While the program is offered to both mothers and fathers, no men have participated.