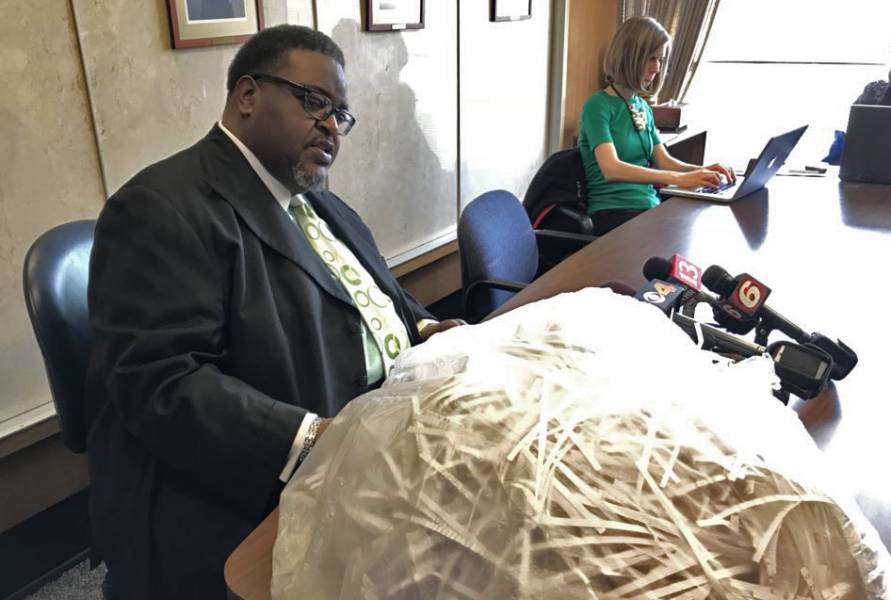 Clay says shredded city documents were found one day after he fired two staffers over what he alleges to be illegitimate pay raises. (Photo by Drew Daudelin)

Stephen Clay, the recently elected president of the Indianapolis City-County Council surrounded by multiple controversies, says illegitimate pay raises were given to two council staffers under former president Maggie Lewis.
Last week Clay fired the council clerk and the clerk's assistant (and, seemingly unrelated to this new allegation, the council attorney). The following day, Clay says, city documents were found in a paper shredder at the City-County Council office.
Clay suspects it might be an attempt to cover up unfair pay raises to the former clerk and clerk's assistant, as he says certain files are also missing from the office.
"The file tabs on the empty files were noted as 'Historical pay information of employees, and employee timesheets,'" Clay says.
Clay alleges there was no notice of the raises, to the public or to councillors, which he says is a violation of city policy if the raise is more than a 10 percent increase.
In response he says he'll initiate a forensic audit of the office, "to make sure the field is clear."
"This proves why we need a sense of understanding in this office," Clay says.
Some have raised questions about whether Clay holds the authority to fire the staff members in the first place. Clay maintains that the firings were compliant with city policy.
In a press release, Clay says the suspected pay raise cover-ups are "organized efforts to undermine his presidency."
In the absence of their staff legal counsel, who Clay fired for unexplained reasons, Clay says he's receiving legal advice pro bono from outside sources. He refuses to name them, but says he intends to at a later date.
Less than two weeks from now, Clay could be voted out of the position. After the election he quickly lost support from fellow Democrats, as many allege Clay made backroom deals with Republicans to ensure his victory, then rewarded them with committee seats.
As of Monday last week, the council appeared to have enough votes to remove Clay as president. The vote is scheduled during their next full meeting on Feb. 19.