"I want the audience to remember and be like, 'Wow, you know, we've persevered through a lot.'"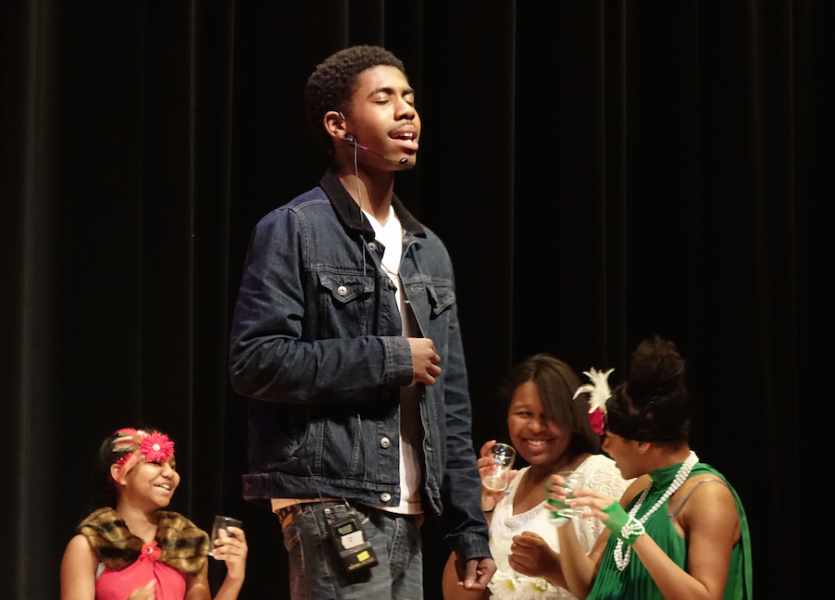 Arlington High School students act out a scene in "Broken Bondage: A Time To Celebrate" Us at the Arlington theatre on February 18, 2016. Photo by Eric Weddle/WFYI Pulblic Media.
The stage lights are back on at Arlington High School this Saturday for the first theatrical performance in the northeast side school since it restarted last summer.
Thirty students make up the cast and crew for "Broken Bondage: A Time To Celebrate Us" -- a play balancing an historical narrative with true-to-life family challenges, foot-stomping soul music and even some comedy.
Playwright Keiana Whatley sought out Arlington not just to find eager student actors, singers and dancers but teach them about the perseverance of African Americans.
Whatley says the family at the center of the play is possibly like some at the school.

"The mother is tired of seeing her kids just drowning, you know, just mentally, spiritually and emotionally because their father got shot and killed because of a mistaken identity," the Indianapolis native said after a recent practice. "And once you take the father out of the home it leaves the kids, it leaves the family, unbalanced. And so she basically takes them on a journey to encourage them about their history."
That journey begins in Africa and winds its way through slavery in the American south with a dramatic retelling of the Nat Turner rebellion. From there, it continues on to numerous milestones and figures, such as Madam C. J. Walker, The Temptations and others 1960s and '70s soul music, President Barack Obama and up to today's Black Lives Matter movement.

Harlem of the 1920s is also a focus. During a beauty parlor scene, students gab about hair products and plans for the evening before sophomore Joi Moseley belts out a solo while decked out in glittering flapper clothes.
"I normally don't sing in front of big crowds and stuff like that, I've been a in a few other school productions and stuff like that but I didn't have major roles like this one," Mosley said about approaching the bluesy swagger she projects. "People always say I have an old soul. So I pretty much -- I live in it, honestly, so it really wasn't as hard."
Freshman Meikah Childress says the play balances history with the concerns of her generation. She plays the daughter of the man killed and her character's outlook is one she thinks other students can relate to.
"I am playing a character that is not interested in school anymore, who is not inspired anymore, and I'm trying to get my inspiration back by hearing about my history," she said. "And that's pretty good."
Besides learning about their own history, Whatley, who the students call Miss Ki Ki, gives lessons about responsibility and respect -- on and off the stage.
There are also a lot of lessons on how to be actors.
During another scene, students dressed in white Klu Klux Kan robes and hoods storm into a Harlem bar. Tables are knocked over, slurs are yelled and the red curtain closes quickly.
Kimberly Reed, a local author who helped write some of the dialogue and designed the stage set, is not happy.
Instead of expressing terror the teen actors' seem too exaggerated, almost silly, she says. So Reed and Whatley get on stage and give direction:
"Walk in like you all own it. Walk around. Don't everybody scatter like that. I need two girls -- grab each other, be scared," Reed said forcefully. "You're scared, you're afraid, they getting ready to burn the whole building down, how are you going to get out of there…?"
Whatley makes no apologies that her message is aimed at black families. She hopes mixing history, inspiration and entertainment will lead to tough and loving conversations at the dinner table.
"I am speaking to the families to teach them, to continue to teach their kids about their history. To continue to inspire them so they can come in here and can learn and they can find their way in the world," she said. "I want the audience to remember and be like, 'Wow, you know, we've persevered through a lot.'"
The play was produced a few years ago at Vincennes University. But Whatley wanted to update and restructure it for a new audience. In seeking a new home to relaunch it, she and Reed found an open door at Arlington.
Whatley recruited students for the play during lunch.
Arlington's vocal music program had been on hold after the choir teacher left last fall. A permanent music teacher began last month.
Broken Bondage: A Time To Celebrate Us is 7 p.m. Saturday at Arlington High School, 4825 N. Arlington Ave. Tickets are $3 and available at the door.
Contact WFYI education reporter Eric Weddle at eweddle@wfyi.org or call (317) 614-0470. Follow on Twitter: @ericweddle.