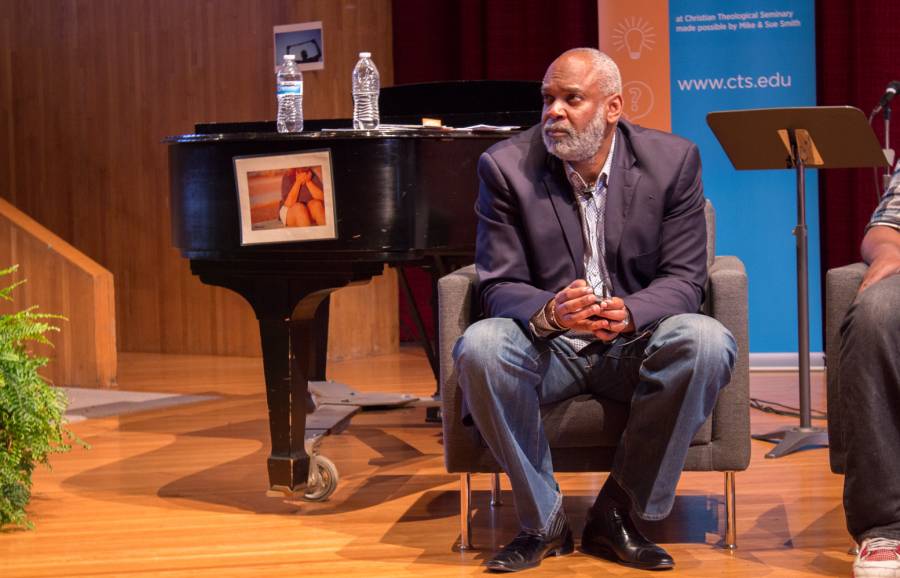 Damon Lynch, a pastor from Cincinnati, Ohio, says there's a fundamental problem with the way most social service agencies approach their work in poor communities. (Photo by Drew Daudelin)

This week hundreds of faith leaders gathered at Christian Theological Seminary for a day of workshops focused on fighting poverty. I met up with one of the event's speakers to talk about a central theme of the conference – the role of social service programs in people's lives.
Damon Lynch is a pastor from Cincinnati, Ohio. And he thinks there's a fundamental problem with the way most social service agencies approach their work in poor communities.
For years, Lynch lived and worked in a Cincinnati neighborhood called Over the Rhine.
"For a long time it was one of the most impoverished communities in the state of Ohio," Lynch says. "So God saw fit to put me there to pastor for 23 years, and I fell in love with the people."
Lynch says the prevailing goal for most service agencies in Over the Rhine was to provide poor residents with things they needed. But he says despite having access to a wide variety of services like drop-in centers, soup kitchens and food pantries, its residents remained some of the poorest in the state.
"So clearly at some point you wake up and say, obviously servicing people does not make them whole," Lynch says.
For Lynch, the answer is what's called asset-based community development.
Cups of water
His favorite analogy for explaining the concept involves a half-full cup of water. The water represents everything people have in a poor neighborhood, and the empty part represents what they need.
Lynch says social services focus almost entirely on that emptiness, ignoring the potential for real community growth, and leaving many people to believe that they're nothing more than their problems.
To illustrate the point, Lynch tells the story of a man who showed up in his neighborhood office one day. The man had been stabbed in the arm with a screwdriver, and he wanted pain medicine.
"He comes up to my office, and he slouches down, and proceeds to give me the saddest story you ever want to hear," Lynch says. "He's from down South somewhere, came to Cincinnati, thought he'd have a better life, somebody stabbed him trying to rob him.
"So at some point I said, 'Tell me what you do. And what you do well. And he said, 'I lay floors.' I said 'What kind of floors?' He said, 'Linoleum, hardwood, tile – you name it, I can lay it.' Now as he says 'I lay floors,' he starts to sit up straight. And I'm watching this guy grow right in front of me.
"At the end of the conversation I sent him back downstairs to my secretary, to do whatever it is she does. She called upstairs and said 'What did you do?' I said 'What do you mean what did I do?' She said 'He left here crying and said that he had forgotten he was a man.'"
While stories like this explain how Lynch cemented his belief in asset-based development, what ended up happening to Over the Rhine might explain his passion.
Gentrified
Starting in 2011 the neighborhood went through a dramatic transformation. It was gentrified, home now to sushi restaurants, microbreweries and Belgian waffle cafes.
Lynch says the change was seen by many others as a great success.
"We didn't eradicate poverty in Cincinnati, we just moved it. It's a totally different place. But the poor people are gone," Lynch says.
He's quick to point out that this isn't an argument against the existence of social service agencies, just an argument against how they operate. For the glass of water to get full, Lynch says, it needs to be filled from the inside.
"We've poured millions and millions of dollars into the emptiness of people's lives," he says. "While we were there providing services, we weren't making any real change."

---
"That has to be the question. What do we have?"
– Damon Lynch
---

And as a pastor Lynch says he's seen faith-based organizations become just another social service agency, not only making some of the same mistakes, but neglecting core Biblical lessons like this one from the New Testament.
"Jesus was preaching one day, and there's 5,000 or more people there. And the disciples say 'Hey, they're hungry, send them away.' He says, 'We don't send people away, we're gonna feed them.'
"Now he's Jesus, he could have just said 'Alright we're gonna feed them. Father, I need manna from Heaven and quail to fall down, because these people don't have anything. So if you would just send some stuff we'll feed everybody.' Instead, he says, 'What do we have?'"
"And that has to be the question," Lynch says. "What do we have?"
Lynch is no longer working in Over the Rhine. He works now with faith leaders around the country to push for growing communities, and the people in them, with the assets they already have.