It's now been a year since Emma Donnan Elementary School became the second "innovation" school for Indianapolis Public Schools and progress isn't great, says pretty much everyone involved.
A lot of effort went into getting the Charter Schools USA company and IPS to agree on adding a K-6 elementary school to Emma Donnan middle school.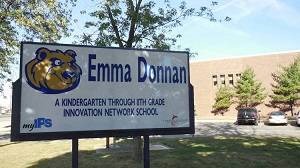 The Florida-based charter manager has operated the middle school since 2012 when it was taken over by the state for academic failure.
Then in early 2015 CSUSA sought to use the IPS-backed Public Law 1321 to expand Donnan so there would be pipeline of students flowing through the CSUSA curriculum before entering middle school and later, one of the former-IPS high schools it also has control of: Howe or Emmerich Manual.
The law allowed the IPS Board to contract with CSUSA to manage the new school, in exchange for IPS to receive the school's enrollment count and ISTEP scores. It also lets CSUSA run the school free from collective bargaining and other district-wide mandates.
IPS Board member Gayle Cosby was the only member to vote against the plan. Most of the State Board of Education heavily favored it and were eager to make it work.
"I think for Emma Donnan this is the best approach, which contains clear accountability and performance metrics," Dan Elsener, a now former state board member said at the time. "We have good leadership guiding this partnership and I look forward to seeing the progress."
But no one is happy with the progress.
"It's not as much as we'd like to see," principal Michael Dunagan said last week at an IPS Board meeting.
Students starting at the school in Fall 2015 were "one to two grade-levels behind in math and reading," according to a presentation by CSUSA. By the end of the 2015-16 school year, students were "averaging a year lag behind" in both subjects based on national data.
The report also found three grades fell "significantly below" the national average in reading skills while three other grades were merely below average.
"You guys have a whole lot more to prove. So hopefully next year we will see a lot more improvement," Kelly Bentley, IPS Board member for District 3, said. "You have a lot to prove and you haven't done it yet."
Diane Arnold, the former board president who oversaw the CSUSA's contract approval asked at what point the district could cancel the five-year deal.
The answer? At end of the 2016-17 school year IPS can terminate the contract if academics don't improve.
Sherry Hage, CSUSA chief academic officer, said she wasn't too taken aback by board members' comments.
"I think we made a lot of progress in terms of the growth we did see. Look, we are in a place where we can not allow students to continue to be below grade level," she told me. "We understand their sense of urgency, we have a sense of urgency. Am I surprised? No because we all really want really great things for our kids."
But did she feel the board's expectations for a one-year-old school were greater than what other traditional district schools might face?
"I do think we need to be realistic with where we are and where we want to be," Hage said about how much academic progress students can make in one year. "We should expect great things from all schools."
The Southside school enrolled 188 students last year. Of those, about 40 percent were either black or white students, according to state data. The school reported no students receiving free or reduced meals.
Enrollment had grown to 221 students as of July 28, before classes began this year, the school reported.
Contact WFYI education reporter Eric Weddle at eweddle@wfyi.org or call (317) 614-0470. Follow on Twitter: @ericweddle.