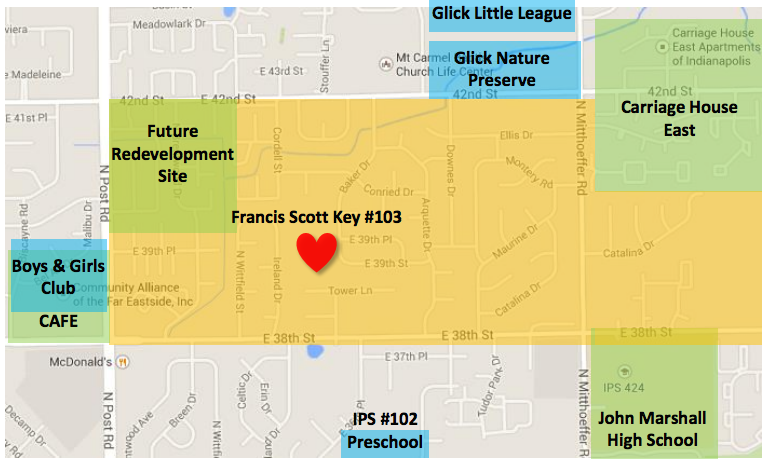 The map shows the scope of the proposed "Far Eastside Success Initiative" by Indianapolis Public Schools, The Glick Family Foundation, United Way of Centeral Indiana and other community groups. Image provided by IPS.
Indianapolis Public School Superintendent Lewis Ferebee is proposing an ambitious plan to provide education and social services from birth to tuition-free college for Far Eastside residents.
The "Far Eastside Success Initiative" will be be anchored by the new Phalen Leadership Academy at School 103 and draw on services for parents, preschool, daycare and college scholarships.
"It's huge -- cause we are going to try and serve preschool, even down to maybe three-year-olds, and ensure that everyone in that community can go to college at no cost," Ferebee said Tuesday after an IPS board meeting.
Document: Far Eastside Success Initiative proposal
Details about the program were still unclear Tuesday evening -- the first time the initiative had been discussed in public.
The total cost of the project is still unknown, Ferebee said, but millions of dollars are expected to be invested by the Glick Family Foundation, United Way of Central Indiana and other groups.
The proposal focuses on the nearly 400 residents under age 24 and their parents at the Carriage House East apartment complex.
The geographic area of the initiative is generally around East 42nd Street on the north, East 38th Steet on the South, and Post Road on the west and just east beyond North Mitthoeffer Road. The area encompasses around 4,500 people, including 750 children age 5 or under and 40 percent under age 18. Nearly a third of the residents have an annual income less than $10,000
Ferebee said the plan is based on similar community transformation projects, such as East Durham Children's Initiative in North Carolina and Tangelo Park Program in Florida.
The IPS board will vote Thursday on a portion of the initiative to redraw the boundaries for schools 94, 103 and 105. It's not yet know when the "Far Eastside Success Initiative" would officially begin if the board approved the redistricting.
Contact WFYI education reporter Eric Weddle at eweddle@wfyi.org or call (317) 614-0470. Follow on Twitter: @ericweddle.