Jennifer McCormick says education changes will come from the grassroots -- or it won't happen at all.
That could be easier said than done based on the past four years.
The Republican Yorktown Schools Superintendent will be Indiana's 44th Superintendent of Public Instruction -- an elected position charged with implementing the policies and procedures adopted by the state legislature and the Indiana Board of Education, in addition to helping the board determine state policy.
Of course, Democrat Glenda Ritz's one-term as superintendent saw Republicans overwhelm the office at-times with political maneuvers. There were back-and-forth fights too.
During Ritz's tenure, Republican lawmakers reconsidered pushing a bill to make the position appointed but did succeed in removing the superintendent as the automatic chairman of the state board starting in 2017.
Since McCormick's campaign kicked off, she's promised to rebuild relationships in the Statehouse.
Chalkbeat Indiana's Dylan Peers McCoy and I spoke with McCormick briefly in a JW Marriott hallway Tuesday night before her victory speech.
Weddle: First off, why do you think you won?
McCormick: We had a lot of hurdles, funding being one that the press picked up on. Obviously Glenda has been in office for four years. Our message was powerful. People understood that leadership was needed; partnerships were a problem in Indiana. They understand the assessment piece is a mess. So people understood, they heard our message and obviously agreed with it tonight. It also helped that we had a very successful night for the entire Republican ticket. It was a good night for us.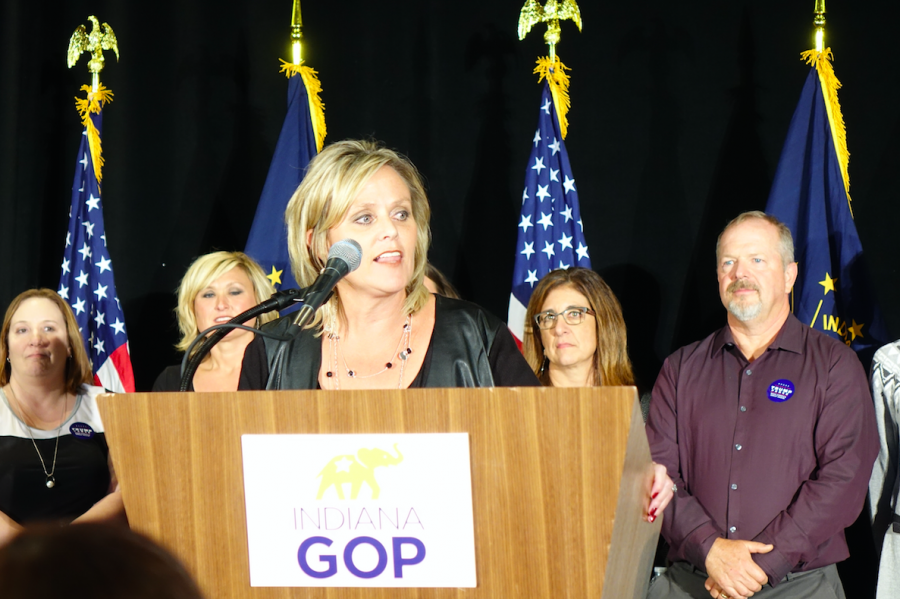 McCoy: What are your plans and priorities?
McCormick: Priority number one, obviously, is the development of those partnerships. We can not do this alone and we can not do this in isolation. The other piece is we can't ignore the (statewide standardized exam) assessment and (A-F school) accountability piece. We've got to make it fair, we have to be transparent and we are under a timeline. So with ESSA coming in and the situation with the review panel, we've got a lot of work to do in a short amount of time.
Weddle: How will you be staffing the department, have you thought about who it will be?
McCormick: We are going to try to develop the capacity at the department of education. We will work on that and make sure that we have research practitioners and that we have the capacity to get things done.
McCoy: Do you think you will end up with a lot of Tony Bennett's people?
McCormick: I am not sure I will end up with Tony Bennett's people or not but if they are highly qualified and they are the best person for the position, then maybe.
Weddle: As you've said, the past eight years have been a difficult time for educators -- with the fast paced change under Tony Bennett and the volatile relationship with Glenda Ritz and the Statehouse. How are you going to communicate your focus and what you want to do with the department?
McCormick: Right -- superintendent and principals that I've talked to understand when you come in aggressive and try to make movement that quickly it obviously did not work. So we need to make sure anything that we tackle that we prioritize. We have input from a lot of stakeholders. We watch that pace and know that change happens from the grassroots. So if it is not happening at the local level, it is not happening in Indiana. So we just need to get that message out and be a really good listener and a really good partner.
Weddle: How do you think the race went. When the campaign was launched, you said there would be no negative ads. How did that work out?
McCormick: It is interesting. I watched the entire election over 2016 and as a principal and superintendent I have suspended and expelled students for activities and comments that I saw. So I was very proud of our race. We kept it positive, we kept it clean. I feel like Glenda Ritz's team tried to do much of that. Social media at times, got a little dicey and I just wasn't going to go there because I feel like we teach our students about social responsibility and digital citizenship. It was important for me to model that and stay true to that.
Weddle: A lot of the social media sought to align you and Tony Bennett. Do you feel that you need to address that again or answer those critics?
McCormick: Tony Bennett was not on the ticket. I ran my own race. I am my own person. I have proven leaderships and I am excited to get in and show Indiana what we can do with that type of leadership.
Contact WFYI education reporter Eric Weddle at eweddle@wfyi.org or call (317) 614-0470. Follow on Twitter: @ericweddle.