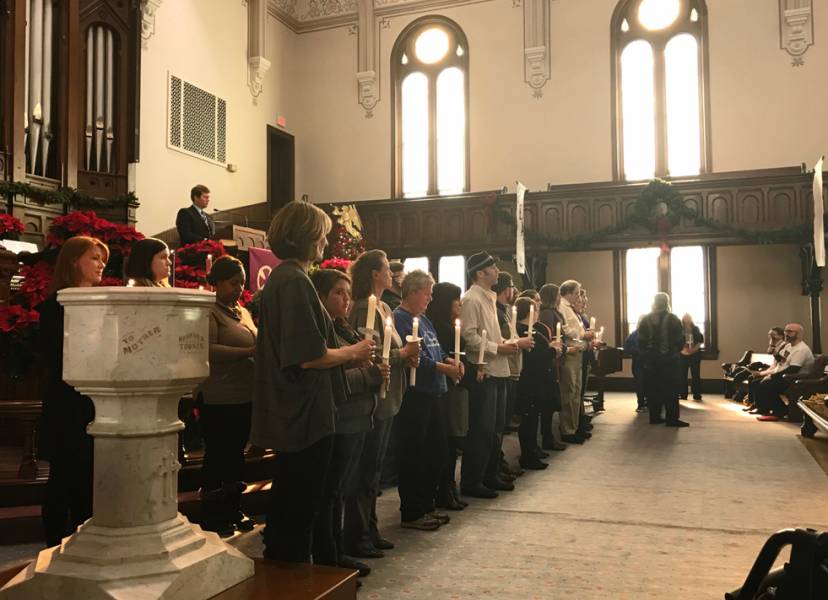 Candles were lit to commemorate 58 people who died while experiencing homelessness in Indianapolis this year. A moment of silence was also held for unreported deaths. (Photo by Drew Daudelin)

A ceremony to remember those who died while experiencing homelessness was held Thursday in downtown Indianapolis.
A choir, made up primarily of people experiencing homelessness, sang during the service at Roberts Park United Methodist Church.
Alan Witchey is executive director of CHIP, the Coalition For Homelessness Intervention & Prevention. The group says 58 people died in 2016, the highest number in five years.
Witchey says the top three reasons individuals become homeless are job loss, addiction, and the impact of incarceration. But he says long-term help starts with stable housing.
"Clear and simple, we need more homes for people. Every day we have people who are living outdoors who would like a place to live, and we simply don't have them here in Indianapolis," Witchey says.
CHIP's surveys report an estimated 12,000 people experienced homelessness in Indianapolis this past year. Witchey says it's a challenge to gather accurate data on homeless populations, but says the group is concerned about the five year increase.
Mayor Joe Hogsett spoke at the ceremony. He says the city needs a system to act as a pipeline for housing solutions and essential supportive services.