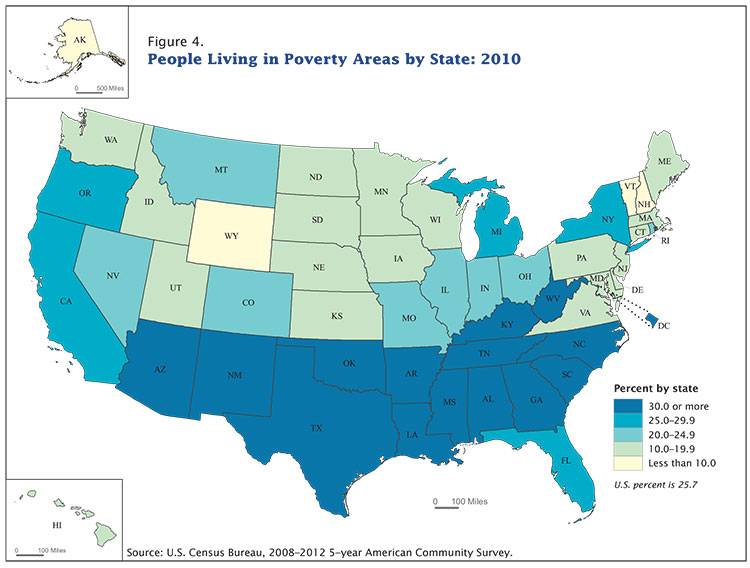 The United States Census released a new report this week indicating that the amount of Hoosiers living in poverty areas has grown faster than any other Midwest state between 2000 and 2010.
A poverty area is described as a place where at least 20 percent of residents are living at or below the federal poverty level.
Over the first decade of the millennium, the amount of Hoosiers living in poverty areas grew from about a 500,000 to almost 1.5 million.
About 23 percent of Indiana residents live in a poverty area, which is below the national average, but up almost 14 percent from the beginning of 2000.
Christy Shepard, executive director of CHIP, a coalition for the homeless in Indianapolis, says the state's increase is mostly due to drop offs in the manufacturing industry resulting in job losses.
"Most of the residents in Indiana are living in rural areas or heavy industrial manufacturing areas," she said. "We know that the manufacturing business has not really come back hard and strong since the recession."
And she says while there are signs of economic recovery, those in poverty are often the last to rebound.
"Those that are generally in the deepest or hardest effects of poverty have a lot of other barriers to their financial income to their living situation," she said. "They need more intense services. They need more interventions to get them back on that uptick."
The report finds that almost 15 percent of the country's population lives in poverty.
But, Shepard thinks investment is helping reverse the trend, locally.
"I do think that Indianapolis has a bit more of opportunity right now. We've got a lot of development going on in our downtown area," she said. "I think outside of Center Township communities are starting to come back and flourish and even outside of Indianapolis those surrounding communities are doing really well, nationally recognized for livability, walkability."
You can read the full report here.