A new Black-owned bookstore on wheels wants to rev up interest in reading about the Black experience. The goal of the Black Worldschoolers Mobile Bookstore is to provide people with more stories that uplift and positively reflect the lives of Black people.
Bookstore owner Natalie Pipkin said harmful opinions of Black culture have shaped how people view themselves. But Pipkin wants to reclaim those narratives.
"If we don't tell the story correctly, we're going to continue having the same racial disparities, continue to have the same issues with the curriculums in the school, and the arguments and debates on Facebook, until we get the story corrected," Pipkin said. "So when I bring the stories to the forefront, when I highlight the stories and I highlight the truth of who we are and share it with the world, the world is a better place."
Pipkin and her family launched the fully renovated shuttle bus this summer during the Juneteenth celebration at White River State Park. The exterior of the white vehicle plays music, and once people step inside, they're immediately surrounded by books. Pipkin calls it "a bookstore on wheels with ice cream truck energy."
The mobile bookstore includes baby books with hard-to-tear pages, adult books, games and puzzles. The curated books span various topics, from Black joy and heritage, to superheroes and everyday life. Many are read by her and her family before they hit the shelves.
Pipkin's goal of centering Black stories is obvious by scanning the shelves. At least 95 percent of the books are written by Black authors.
"Our books, first and foremost, are mirrors to Black people, to Black children, so they can see themselves in a positive light and wash away the negativity that's been poured on them," Pipkin said. "But also, our books are windows because it gives other people who are not Black an opportunity to step into a world to see us in the correct light, in the correct way, and learn something that they are not going to learn in the schools, they're not going to experience from the news every day — that the statistics are not sharing."
There is an increased focus in Indiana now on the literacy skills of Black students. In Marion County, some school districts only had 2 to 4 percent of Black students pass both the English Language Arts and math standardized tests during the 2021 school year.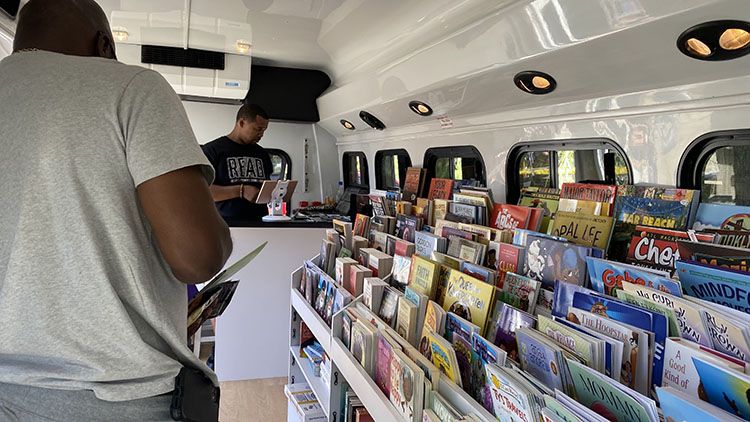 Pipkin often wonders who has access to reading materials and whether they positively reflect the stories of diverse populations — a deterrent for some readers. An analysis published in the New York Times found just 11 percent of books published by major publishing houses in 2018 were written by people of color. Now, she hopes having a mobile bookstore will create more excitement and engagement around reading and learning, as well as self love.
Pipkin's journey to creating the mobile bookstore began four years ago when her children — who were in kindergarten and third grade at the time — wanted to be homeschooled. Pipkin started curating her family's library as they were visiting Black history museums, neighborhoods and other sites. And once their library reflected her children — their heritage, culture and interests — she said their love for reading skyrocketed, and they became "flashlight-under-the-cover" readers. Pipkin said her children's literacy journey even reignited her own love of reading.
Along the way, Pipkin received backlash when she started blogging about their experiences, as well as racism in schools. But she refuses to be intimidated by people who don't support her efforts to change reading culture.
Once the COVID-19 pandemic hit and students were stuck at home, Pipkin wanted all children to have the same love for reading. She started a story-time hotline in April 2020 that allowed kids to call in and hear a story read by Black authors. Then she launched an online bookstore in December 2020.
Pipkin isn't an educator or a librarian. She's a mother who's fueled by her desire to support her community.
"A lot of my inspiration and why I gain the confidence to do what I do is remembering that [enslaved and freed African Americans have] always done this," Pipkin said. "We didn't have options. That's our history, right? We had to figure out ways to make things work for us. We had to educate ourselves."
The Black Worldschoolers Mobile Bookstore makes stops at community events around the city. The bus will be at the Black Wall Street Outlet at the Silver Centre Event Hall on Saturday, July 16. It is also available to rent for private or community events.
Contact WFYI education reporter Elizabeth Gabriel at egabriel@wfyi.org. Follow on Twitter: @_elizabethgabs.