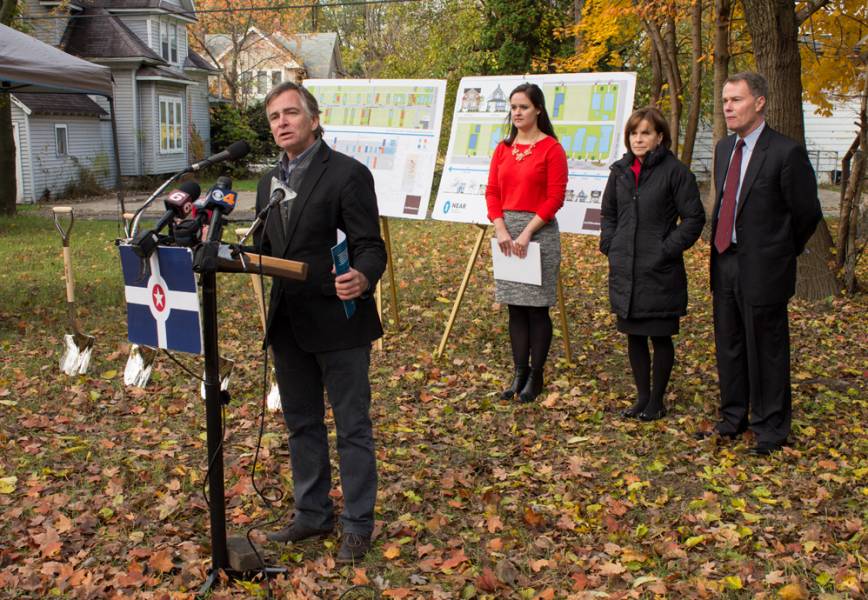 John Franklin Hay, executive director of Near East Area Renewal (NEAR), says the group wants to create a place where teachers can live as neighbors, and have a lasting impact on their neighborhood. (Photo by Drew Daudelin)

Indianapolis Mayor Joe Hogsett Tuesday helped kick off a project encouraging teachers to buy homes on the near east side. It also aims to fix some of the city's abandoned properties.
Near East Area Renewal, or NEAR, is the local nonprofit in charge of the project.
They call it The Teachers' Village – about 20 new and rehabbed homes one mile east of downtown.
Legally, anyone will be able to buy them. But teachers will get financial benefits as long as they make 120 percent of the area's median income, or less.
At a groundbreaking ceremony, Mayor Hogsett said they hope to attract teachers with Indianapolis Public Schools and Mayoral Sponsored Charter Schools.
From IPS alone, the city says, around 400 teachers move away each year.
"Not only are these homes an investment toward their future, as educators, they offer our city's teachers a chance to establish their roots in the very same community that they serve," Hogsett says.
NEAR plans to lead the development of 21 three-bedroom homes on the near-east side, all located near North Rural Street. (Photo by Drew Daudelin)

Funding is planned to come from the city, through federal block grants ($500,000) and from the Indiana Neighborhood Housing Partnership ($2.6 million).
NEAR recently celebrated its 100th home construction in St. Clair Place, part of a project to redevelop vacant lots and abandoned homes and sell them to people with low-to-moderate incomes.